Introduction
Romance has been a part of our culture since the 18th century when there was a rise in romantic marriages. During the 18th century, it was more encouraged for the younger generations to choose marital partners based on their romantic attachments. Romance and love remind us every day what is important. Our pet companions help enforce that with the unconditional love and support that they provide their owners with. Even the smallest interactions with our pets can brighten any bad day. They can provide stability, strength, and support in areas of your life that other people or things can't. So, it would only be fair that the name of these companions deserves to be something as great as their personalities.
Romantic Dog Names in Pop Culture
Featured Famous Romantic Dog
Lassie
Since 1945, we've been hearing about the Rough Collie dog named Lassie. She started off by appearing in a short story which was later expanded into a full-length novel, television show, and various movies throughout the years. There were earlier depictions of Lassie as early as 1859 by Elizabeth Gaskell, a British writer. Lassie is described as an intelligent and apprehensive Collie. Lassie is also one of the very few animal actors to have a Hollywood Walk of Fame star.
As is depicted in the countless renditions of Lassie, Rough Collies generally show no aggression or nervousness. A medium to large sized dog, they are typically great with other animals and children. Due to the origin of Rough Collies being herding dogs, they can be quite vocal but they can be trained to not bark. Regardless of all that, Rough Collies are one-family dogs that are very loyal. They show love through their gentle play with children and their owners. Though the name generally just means a young unmarried woman, it can also mean the want for companionship, whether that be in the form of love from a friend,  or from a partner.
Another breed that is famously known for their loving personality is the Labrador Retriever. This breed is usually very active and high-spirited. They are always eager to please their owners while still playing well with others. Prince William, Duke of Cambridge has a black Labrador named Widgeon. Former U.S. President, Bill Clinton, has two Labradors, named Buddy and Seamus.
Golden Retrievers are well known for their friendliness and loving manner. This breed is very devoted, amicable, and intelligent. They are eager to please and have bounds of energy that they need to constantly burn off. This breed is also one of the most owned family dogs, and can also be proven by the countless Retrievers owned by famous celebrities. One of the more notable Golden Retriever owners is Oprah, who owns two, named Gracie and Luca. Ryan Reynolds, a Canadian actor, has a Golden Retriever mix named Baxter. The Tonight Show host, Jimmy Fallon, also owns a Golden Retriever named Gary. Betty White also has one who goes by the name Pontiac. Nick Jonas, a singer and actor, has a Retriever named Elvis. The list goes on and on for the number of celebrities that own Golden Retrievers.
Though these names may not strike you as 'romantic' dog names, they might be romantic for their owners. For example, Nick Jonas's dog Elvis is named after his love for Elvis Presley and Elvis Costello. Thus, his love for the singer-songwriters translated into this love for his dog, Elvis. As well, both singers were crooners of many a romantic song.
Romantic Dog Name Considerations
Choosing a dog name that fully embodies your pet's personality and little quirks can be quite difficult when you first get them, regardless of whether you get a pup or a fully-grown dog. Whatever name you choose, you'll most probably be saying it or hearing it several times a day. The name can also hold a strong positive or negative significance towards the training and bonding between the owner and their pet. A name that your dog reacts to as well as one that is simple for the household members to pronounce will produce the highest results.
For dogs that have stronger personalities, names such as Simba and Nala from the Lion King will hold a strong significance. For goofier breeds, or ones that have more puppy-like personalities, names like Mickey and Minnie from Mickey Mouse Clubhouse will suit them better. All of it truly just depends on the personality both inner and outer of the dog in question. For dogs that have honey colored coats, the name 'honey' might resonate with them. Similarly, dogs with a golden coat might respond better to the name Goldie. If the dog is great all around, names such as Baby, Cupcake, Precious, and Sweetie would be great. If they are worth more than any stone, they could be appropriately named, such as Ruby, Opal, Onyx, and Jasper.
Votes
Name
Vote
2

Asta

Norwegian for love

1

Alonso

Germanic for one that is ready and noble

1

Beau

For your one and only love

1

Boo

A 'pet' name for your love

1

Han Solo

From the cherished Star Wars couple of Han Solo and Princess Leia

1

Harry

Named in homage to the movie When Harry Met Sally

1

Napoléon

Named after Napoleon and Josephine's love story

1

Prim

Hindi translation of love

1

Prince

For the dog always treated like royalty

1

Ricky

Named after Ricky Ricardo from I Love Lucy, Lucy and Ricky

1

Romeo

Named after Shakespeare's Romeo and Juliet

1

Snoopy

For those that are just too lovable

1

Tramp

From the children's classic tale of Lady and the Tramp

-1

Beast

Named in homage to Beauty and the Beast

-1

Bow

Short for Rainbow as they are colorful and full of surprises

-1

Clyde

From the famous outlaw couple Bonnie and Clyde

-1

Cupid

For the dog that shot you with a love arrow

-1

Diego

Named after the romantic yet fiery relationship of Frida and Diego

-1

Dino

For your brave and loving dinosaur

-1

Fred

Named after Fred Astaire, as in Fred and Ginger

-1

Fudgy

Named aptly for your love of sweets and for a dog that is sweet

-1

Gaston

From Beauty and the Beast, as he always loved himself first

-1

Ife

African translation of love

-1

Mickey

Named after Mickey Mouse, as in Mickey and Minnie

-1

Mr. Darcy

From the renowned book and movie Pride and Prejudice

-1

Scooby-Doo

Named after the cartoon characters Scooby-Doo and Shaggy

-1

Shaggy

Friends who loved each other, Scooby Doo and Shaggy

-1

Simba

Named after Simba from The Lion King, Simba and Nala
Female Romantic Dog Names
Votes
Name
Vote
1

Amora

Spanish translation of love

1

Angel

For the cute, innocent, and lovable dog

1

Belle

Named in homage to Beauty and the Beast

1

Bijou

French translation for Jewel

1

Juliet

Named after Shakespeare's Romeo and Juliet

1

Lady

From the children's classic tale of Lady and the Tramp

1

Leia

From the cherished Star Wars couple of Han Solo and Princess Leia

1

Lucy

Named after Lucy Ricardo from I Love Lucy, Lucy and Ricky

1

Nala

Named after Nala from The Lion King, Simba and Nala

1

Willow

Named after the TV couple Tara and Willow from Buffy the Vampire Slayer

-1

Agape

The Greek translation of 'love'

-1

Valentino

For the pet that might have been a Valentine's Day gift or a gift from your loved one

-1

Adora

Latin translation of 'loved child'

-1

Ai

Japanese translation of love

-1

Amy

French for loved

-1

Aoife

Gaelic translation for beautiful

-1

Baby

For the ones that you care for just as much as you would your own baby

-1

Beautiful

Named in homage to Beauty and the Beast

-1

Bonnie

From the famous outlaw couple Bonnie and Clyde

-1

Calla

Greek translation of beautiful

-1

Cuddles

For the dog that just knows when you need a good cuddle session

-1

Cupcake

For the dog that is just everything good

-1

Elizabeth

From the renowned book and movie Pride and Prejudice

-1

Frida

Named after the romantic yet fiery relationship of Frida and Diego

-1

Ginger

Named after Ginger Rogers, Fred and Ginger

-1

Josephine

Named after Napoleon and Josephine's love story

-1

Lilac

For the dog that loves flowers or the outdoors

-1

Minnie

As in the cute Disney couple, Minnie and Mickey

-1

Precious

For the one that is irreplaceable

-1

Sally

Named in homage to the movie When Harry Met Sally

-1

Sugar

For the dog that is just too sweet to handle

-1

Tara

Named after the TV couple Tara and Willow from Buffy the Vampire Slayer
Community Dogs With Romantic Names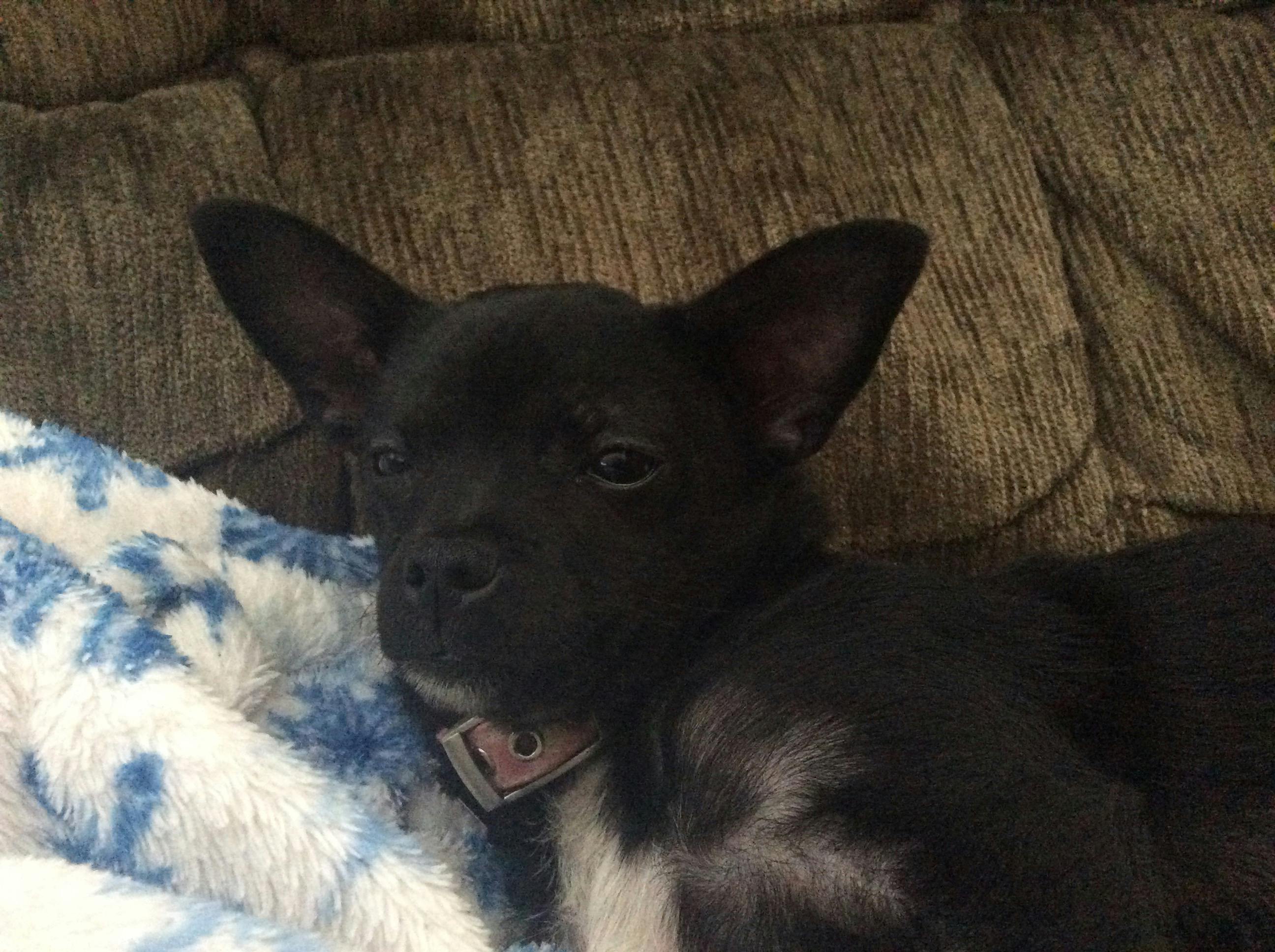 Queen
Female
Chihuahua
Burton, MI
Dogs very demanding as a queen is, she actually lives up to her name, we have a Great Dane at least 30x bigger than her, she actually barks at him, no matter how big, how huge, how small,Even if another dog has the same personality as her it's like they can't control her. She is very needy, everything has to be perfect for her, my dog fits her name PERFECTLY even when we picked her out she was calling for her mother a lot. Sheesh even asa baby my dog is the queen of almost everything. WHAT YOU GOT ON MY CHIHUAHUA QUEEN ELIZABETH