Introduction
Have garish ghosts and ghastly ghouls been giving you a hard time? Have rowdy werewolves and vicious vampires given you a reason to be afraid of the dark? Thinking about calling the Ghostbusters but can't afford to pay for their services? Well, get in touch with Mystery Incorporated, or Mystery Inc. for short, this crack team of burgeoning crime solvers has racked up quite an impressive record when it comes to demystifying faux-paranormal phenomena and putting the con men behind-the-mask behind bars. The Mystery Inc. gang have been in business for more than 40 years and counting, so give them a call the next time a scandalous swamp monster tries to swipe your swag!
Scooby-Doo Where Are You! Dog Names In Pop Culture
Featured Famous Scooby-Doo Where Are You! Dog
Scooby-Doo
Who else could hold the distinguished title of this article's Featured Famous Dog other than the very namesake of the entire Scooby-Doo franchise!? Scoobert "Scooby" Doo was born many years ago, at the  Dooville Veterinary Hospital. His expecting parents, Mama and Dada-Doo were elated when they first laid eyes on their bubbling baby boy and were eager to give him a name. The newly born puppy coincidentally helped his parents out by inexplicably exclaiming "Scooby-Doo" while he was being handed over to his mother. Taken aback but no less delighted by their child's miraculous display of intelligence, Mama and Dada-Doo named their new born son Scoobert Doo because of this.
Scooby and Shaggy would first meet years later, while both of them were still toddlers.  As it happens, the juvenile Shaggy and Scooby-Doo were being watched over by the same baby sister. As revealed on the television special Here Is Your Life, Scooby Doo, Shaggy and Scooby's baby sister was a female Frankenstein-esque woman who absolutely terrified the two toddlers. Because of their mutual fear of this bizarre woman, Shaggy and Scooby Doo agreed to stick together and assist one another in hiding from their baby sitter from hell, as far as the dimwitted duo were concerned. 

Shaggy and Scooby survived the ordeal and became incredibly close friends in the process, paving the way for Scooby to come into Shaggy's care and meet the rest of Shaggy's friends during the TV series A Pup Named Scooby Doo. During this time, the Mystery Inc. gang were all junior high students and Scooby Doo was still in his puppy stage. For reasons still unknown to this day, Scooby reactions to eating Scooby Snacks were much more vivid and volatile than the reactions we'd eventually see once Scooby reached his adult age; whenever the pup named Scooby Doo would eat one of his self titled snacks, he'd often fly into the air like a rocket or twist and contort his body into an impossible shape. The side effects would always have a humorous overtone to them, and they'd even help the gang best various villains and solve the case at hand, but they were still wildly different than the reactions he'd experience as an adult.
Speaking of Scooby's adult stage, the crime solving Great Dane, as well as the rest of the Mystery Inc. team, really began to come into their own around he time Scooby had matured; The original series Scooby Doo, Where Are You! took place around the time Fred, Shaggy, Daphne, and Velma were 17, 16, and 15 respectively (Fred and Shaggy were the same age), and it was during this time that Scooby and the gang became known to the world at large as those meddling kids who solved crimes.
Scooby-Doo Where Are You! Dog Name Considerations
As mentioned before, the Mystery Inc. team is comprised of a dedicated group of aspiring crime solvers with more than 4 decades of experience under their belts. The team consists of Frederick "Freddie" Herman Jones, the charismatic leader of the team and the primary driver of the Mystery Incorporated's world famous Mystery Van. Next up, we've got Daphne Blake; she's the most presentable of the team, considering her well known love for fashion and beauty, but she's also become a much more competent and self sufficient member of the team over the years (having ventured into journalism, martial arts, and the celebrity world when she's not solving mysteries with the group.)
Velma Dinkley is the smartest member of the group and the brains behind their operation. She's also the youngest and most impressionable member of Mystery Inc. which often leads her to defer to Fred or Daphne in certain situations. Norville "Shaggy" Rogers, despite his lethargic and lackadaisical demeanor, is one of the older members of the group and a royal air at that. Among the many worldly possessions Shaggy has inherited, the most valuable of all is perhaps the most famous member of the Mystery Inc. Gang, the incredibly smart, incredibly cowardly Great Dane of legend; Scooby-Doo himself. If you see your dog in any of these personalities, then a Scooby-Doo Where Are You! name will be the perfect fit.

Male Scooby-Doo Where Are You! Dog Names
Votes
Name
Vote
1

Scooby-Doo

This talking Great Dane is the Mystery Gang's mascot and Shaggy's best friend

1

Scoob

The name that Shaggy often calls Scooby-Doo

0

Donald

The fully extended version of Don Messick's first name

0

Don

Scooby-Doo's first voice actor was the late, great Don Messick

0

Franklin

Franklin Wendell Welker voiced over Scooby, Fred, and many other characters

0

Frank

In honor of the legendary voice actor Frank Welker, Scooby's current voice

0

Wendell

Frank Welker's middle name

0

Shaggy

The carefree, cowardly member of Mystery Inc. and Scoob's best friend

0

Norville

Shaggy is just Norville Rogers' commonly used nickname

0

Roger

Derived from Shaggy's last name "Rogers"

0

Scoobert

The entire version of Scooby-Doo's first name

0

Casey

Shaggy's first voice actor, who portrayed the character from 1969-1997

0

Kemal

The first part of Casey Kasem's birth name

0

Amin

Casey Kasem's full on birth name was Kemal Amin Kasem

0

Scott

Scott Innes voiced over Shaggy and Scooby-Doo for a time during the 1990's

0

Billy

Based off of Billy West, Shaggy's voice actor for a long period of time after Innes

0

William

Billy West's first name is actually William

0

Richard

Billy West's full birth name is William Richard West

0

Fred

The brave and fearless de facto leader of Mystery Inc.

0

Freddie

The name that Daphne often calls Fred by

0

Frederick

The extended version of Freddie's first name

0

Herman

Taken from Fred Jones' middle name

0

Matthew

Shaggy's live action actor, Matthew Lillard

0

Geoff

One of the prototype names given to Fred while the series was in development

0

Harvey

Another of Fred's old prototype names that was in consideration for a while

0

Wickles

The name of the first villain the Gang exposed

0

David

David Mook helped compose the now world famous Scoody-Doo theme song

0

Ken

A reference to Ken Spears, one of the co-creators of the series

0

Joe

Joe Ruby is the other co-creator of Scooby Doo Where Are You!

-1

Earl

Don Messick's middle name
Female Scooby-Doo Where Are You! Dog Names
Votes
Name
Vote
2

Daphne

The first lady of Mystery Inc. who is cool and capable in her own right

2

Daph

The nickname the rest of the Gang often call Daphne by

2

Luna

The redheaded keyboardist of the Hex Girls

1

Ann

Daphne's middle name

1

Stefanianna

Daphne's first voice actress' full name was Indira Stefanianna Christopherson

1

Velma

The first name of the brainiest member of the Mystery Inc. team

1

Dace

Velma Dinkley's middle name

1

Bj

The famous voice actress BJ Ward portrayed Velma from 1997 to 2001

1

Betty Jean

The"BJ" in BJ Ward's name stands for Betty Jean

1

Thorn

The lead singer of the Hex Girls band who was voiced by Jennifer Hale

1

Dusk

The drummer of the Hex Girls as well as a back up singer

0

Indira

The first name of Daphne's first voice actress from 1969 to 1970

0

Heather

Heather North voice Daphne over from 1970 to 2003

0

Grey

Famed voice actress Grey DeLisle is Daphne's current VO

0

Sarah

Buffy voice actress Sarah Michelle Gellar portrayed Daphne in the films

0

Michelle

The middle name of Daphne's live action actress and a few other Scooby-Doo characters

0

Mary

One of Daphne's voice actresses during the 1990's

0

Nicole

Nicole Jaffe voiced Velma over from 1969-1973, reprising her role in 2003

0

Pat

Velma's second voice actress, Pat Stevens, portrayed the character from 1976-1982

0

Marla

Marla Frumkin was Velma's voice actress alongside Pat Stevens

0

Linda

Actress Linda Cardellini portrayed Velma in the live action films

0

Mindy

Mindy Cohn was Velma's voice actress for much of the 2000's, up until 2015

0

Kate

Kate Micucci is Velma's current voice actress, as of this writing

0

Shannon

A world famous astronaut who tried to sabotage Daphne and Velma's friendship

0

Jennifer

World renowned actress Jennifer Hale has voiced many characters in Scooby-Doo

0

Jane

Taken from Dusk's voice actress, Jane Wiedlin

0

Kimberly

Kimberly Brooks voiced Luna over in the animated films

0

Googie

One of Shaggy's former girlfriends

0

Crystal

A girl who also had a talking dog, both of whom turned out to be aliens

0

Meadow

Another ex-girlfriend of Shaggy's who turned out the Cat Creature
Community Dogs With Scooby-Doo Where Are You! Names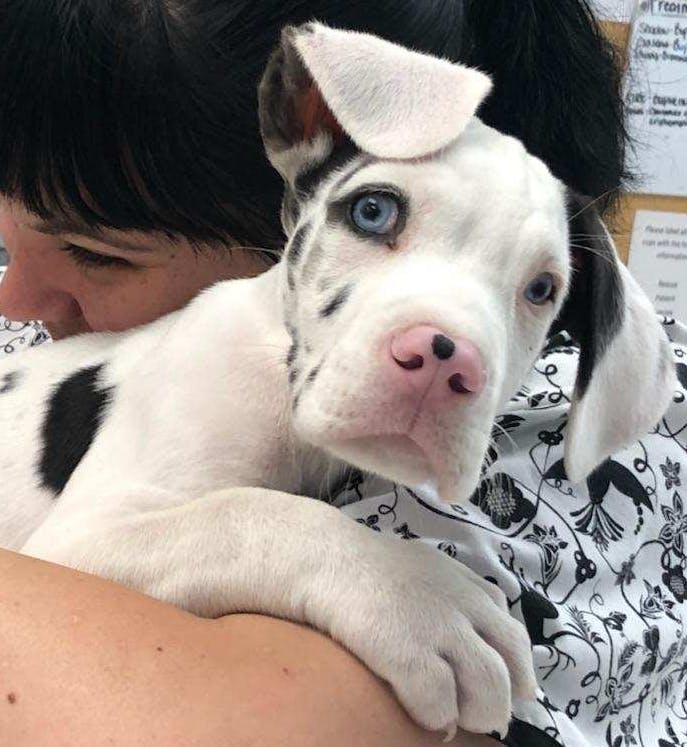 Jinkies
Female
Great Dane
Whitehouse, OH
I have always loved Scooby doo and wanted a great Dane. I finally got one so I wanted to give her a name associated with the show.