Introduction
Star Trek: The Original Series was one of the most beloved and iconic science fiction shows on television, with the original series spawning a legacy that would eventually include one animated show, five spin-offs, and over a dozen movies. People gather by the thousands at Star Trek conventions each year, shelling out billions of dollars to meet the creators and stars of the shows, listen to their stories and insights about the show, and to simply enjoy the company of other fans. Those who are fans of the show or who are dreaming of adventures in faraway places may want to consider names for their dogs that are inspired by Star Trek: The Original Series. 
Star Trek Dog Names in Pop Culture
Featured Famous Dog with a Star Trek Name
Khan
Dogs were rarely featured on the original Star Trek, although many viewers will remember the adorable one-horned canine from Alpha 177 as an unnamed dog in a fur suit. Dogs have featured prominently in the lives of the actors, however. Majel Barrett Roddenberry, the wife of Gene Roddenberry and an actor in every television incarnation of Star Trek, left four million dollars for the care of her dogs when she passed away in 2008. William Shatner raises Doberman Pinschers, and Leonard Nimoy owned dogs, cats, and rabbits, even running his own pet shop for a short time in the late 60s. It's not surprising that this beloved show headed by a number of avid animal lovers has spawned a number of animals named in its honor.
While data from dog registrations in New York City reveal that, in New York at least, Star Wars character names are currently more popular than Star Trek character names, there are still seven Spocks, six Khans, four McCoys, three Uhuras, one Kirk, and a Chekov. One particular Mr. Spock, a rescued Mastiff in Missouri, was named after the vulcan because the dog's left front paw was split in two by a rare developmental disorder known as ectrodactyly. The surgery to correct Mr. Spock's extensive deformity was both rare and complicated enough to make veterinary news, but following his podoplasty and several months of physical therapy, the canine made a full recovery and was able to run and play without pain. Khan is also a rather popular choice for fans of Star Trek, particularly those who have an interest in history, and was the name chosen by the Svilicic family from Atherton, Australia when they adopted an abused and neglected Doberman Pinscher in 2007. Just four days later while playing in the yard with his new family Khan shocked the Svilicic's by aggressively grabbing their seventeen-month-old daughter Charlotte by the diaper and tossing her several feet away. While it might have initially looked like Khan was a villain in this situation, a little investigation revealed that he was, in fact, the hero of the story. Unbeknownst to her parent, Charlotte had been sitting dangerously close to one of the most venomous snakes in the world, a brown king snake, and Khan was the only one who had noticed. Although he had gotten the child free of danger, the snake still managed to deliver a dose of powerful venom to the dog through a bite to the paw, and Khan was rushed to the veterinarian for anti-venom just in time to save his life as well. 
Star Trek Dog Name Considerations
The name you choose for your dog can be quite influential, the right name can encourage understanding and bonding between you and your pet, while the wrong name can hinder training and confuse both the animal and you. The best name is one that you and your family are able to easily pronounce, one that has meaning to you, and one that your individual dog responds to. Choosing a name for your dog can be a very personal decision, depending a great deal not just on the dog's breed, appearance, or personality but also on your interests and preferences as well as the relationship you have with your dog. Some Trekkies may be rather open with their enthusiasm for the show, naming their little fuzzball of a dog Tribble, or giving their smart, methodical dog the moniker of Spock or T'Pring, while others may choose names that are a little less obvious. The name Vulcan, although easily relatable to the show, also means volcano or volcanic in Latin and it was the name given to a dog owned by George Washington around two hundred years ago and only people with the similar interests will pick up on more subtle names like Majel, Redjac, or Nacelle. No matter where you fall on that spectrum, you should be able to find a name that suits your needs somewhere on this list. 
Votes
Name
Vote
7

Remus

One of two homeworlds for the Romulans, an alien race that values passion and cunning

7

Warp

The main propulsion unit for most ships in the Star Trek universe, including the USS Enterprise, is the warp drive

6

Kelvan

A sentient but non-corporeal species of alien from the Andromeda Galaxy

6

Saturn

Both Gene Roddenberry and William Shatner won Saturn "Lifetime Career" Awards, in large part due to work on Star Trek

6

Tellar

The home planet to the Tellurites, an antagonistic, stoutly-built humanoid race that has a porcine-like snout

6

Trelane

An alien child with nearly inexhaustible powers that encountered the crew of the USS Enterprise on the planet Gothos

5

Dr. McCoy

The practical but sardonic Leonard H. McCoy served as the chief medical officer for the USS Enterprise

5

Galt

The master thrall in charge of the humanoid gladiators forced to fight on the planet Triskelion

5

Gene

Gene Roddenberry was the creator and producer of the original television series

5

Khan

Khan Noonan Singh was an enduring villain in the Star Trek universe, introduced in the episode "Space Seed" in 1967

5

Pike

Captain Christopher Pike was the captain of the USS Enterprise prior to Captain James T Kirk

5

Talos

Talos IV is the home planet of the Telosians, a humanoid species dependent on illusion to live

4

Mudd

Harcourt Fenton Mudd, an extravagant con man and recurring character on Star Trek

4

Qo'nos

The homeworld of the Klingons, a warrior-like race of humanoid aliens that value strength and honor in battle

4

Vulcan

Vulcans, an intellectual and stoic species that values logic above all else, hail from the planet Vulcan

3

Apollo

The Greek god that the crew of the USS Enterprise encounters while exploring space near the planet Pollux IV

3

Chekov

Ensign Pavel Andreievich Chekov was the hot-headed Russian navigator aboard the USS Enterprise

3

Gorn

The warring reptilian race featured in the original series episode "Arena"

3

Sulu

Lieutenant Sulu worked as the department head of the Astrosciences Department aboard the USS Enterprise

2

Bones

Dr. McCoy was often referred to by the nickname of Bones, a great name for a dog as well

1

Spock

Mr. Spock was the half-human, half-vulcan science officer and first officer of the USS Enterprise

0

Kirk

James T. Kirk was the bold and passionate captain of the USS Enterprise

0

Kor

Commander Kor was a noteworthy Klingon commander that was first encountered on the neutral planet of Organia

0

Quasar

Captain Kirk had standing orders to investigate of all quasars and quasar-like phenomena

0

Romulus

One of two homeworlds for the Romulans, an alien race that values passion and cunning

0

Scotty

Montgomery Christopher Jorgensen Scott, the engineer to whom nobody on the original series ever said, "Beam me up, Scotty"

-1

Hugo

Both of the episodes "The Menagerie" and "The City on the Edge of Forever" won Hugo awards for Best Dramatic Presentation

-1

Redjac

A murderous, non-corporeal life form that was revealed to be the force behind the Jack-the-Ripper murders on Earth

-2

Kyle

Lieutenant Kyle was the transporter chief and engineering assistant aboard the USS Enterprise

-2

Phaser

While most of the officers were still armed with laser pistols in the original show, some phaser weapons were introduced
Female Star Trek Dog Names
Votes
Name
Vote
8

Nacelle

The part of a starship's hull that houses the warp drives

7

Yonada

A multigenerational spaceship built inside a large asteroid to transport the Fabrini civilization to a new world

5

Chapel

Nurse Christine Chapel served as head nurse to Dr. Leonard McCoy and was good friends with Lieutenant Uhura

5

Crystal

Several types of crystals, including lithium, rubidium, and dilithium crystals, are utilized in Star Trek technology

5

Dorothy

Dorothy "D.C." Fontana is a writer and powerful influence on the Star Trek universe, both the original television series and beyond

4

Andoria

Andoria is the homeworld of the Andorians, an emotional, antenna-ed, blue-skinned species first introduced in the original series

4

Andromeda

The Milky Way's closest galactic neighbor and the home galaxy to the Kelvans

4

Beam

People and objects were often transported long distances in seconds between ships and planets using a transporter beam

4

Janice

Janice Rand was the Yeoman, a personal assistant, to William T Kirk on the USS Enterprise for the first season

4

Noel

Dr. Helen Noel, a psychiatric doctor on Dr. McCoy's staff, accompanied Captain Kirk to a penal colony in the episode "Dagger of the Mind"

4

Slingshot

The "slingshot effect," also referred to as the light-speed breakaway factor, occasionally allowed the crew to travel in time

4

T'Pring

The Vulcan female that was bonded to Spock as a child, but preferred a different mate

3

Earth

The home planet for most of the humans encountered on the show

3

Uhura

Lieutenant Nyota Uhura was the head of the Communications Department aboard the USS Enterprise, Uhura means freedom in Swahili

2

Desilu

The studio, owned by Lucille Ball, that originally produced StarTrek

2

Tricorder

A handheld multi-function sensing device that was introduced early in the show

2

Yeoman

The term used for a personal assistant within the military in the Star Trek universe

1

Impulse

Impulse drives were used to power many spacecrafts at slower than light speed

1

Majel

Majel Barrett Roddenberry acted in every incarnation Star Trek series, starring as nurse Christine Chapel in the original series

1

Prosper

Mr. Spock's familiar farewell response of "Live long and prosper" was first uttered on the original series

1

Trekkie

Fans of Star Trek are frequently referred to as Trekkies

0

Brandy

A reference to an alcoholic beverage frequently featured in the Star Trek universe, Saurian Brandy

0

Lucille

Comedienne Lucille Ball was a key figure in assuring that Star Trek graced our televisions

0

Nyota

Lieutenant Nyota Uhura was the head of the Communications Department aboard the USS Enterprise, Nyota means star in Swahili

0

Tribble

One of the most recognized non-humanoid aliens developed in the original series, tribbles were cute, furry creatures who reproduced rapidly

-1

Capella

A planet that is a rich source of topaline, the rare mineral vital to the life support of many colonies

-1

Deneva

The exceptionally beautiful home planet of Captain Kirk's brother and family

-1

Marla

Lieutenant Marla McGivers was a historian aboard the USS Enterprise until she joined with Khan Noonan Singh in the episode "Space Seed"

-1

Turnabout

Dr. Janice Lester Turnabout, an ex-girlfriend to Captain Kirk and the antagonist in the final episode of the original series

-4

Enterprise

The USS Enterprise was a constitution class starship, piloted by James T Kirk during his five-year mission to seek out and contact alien life
Community Dogs with Star Trek Names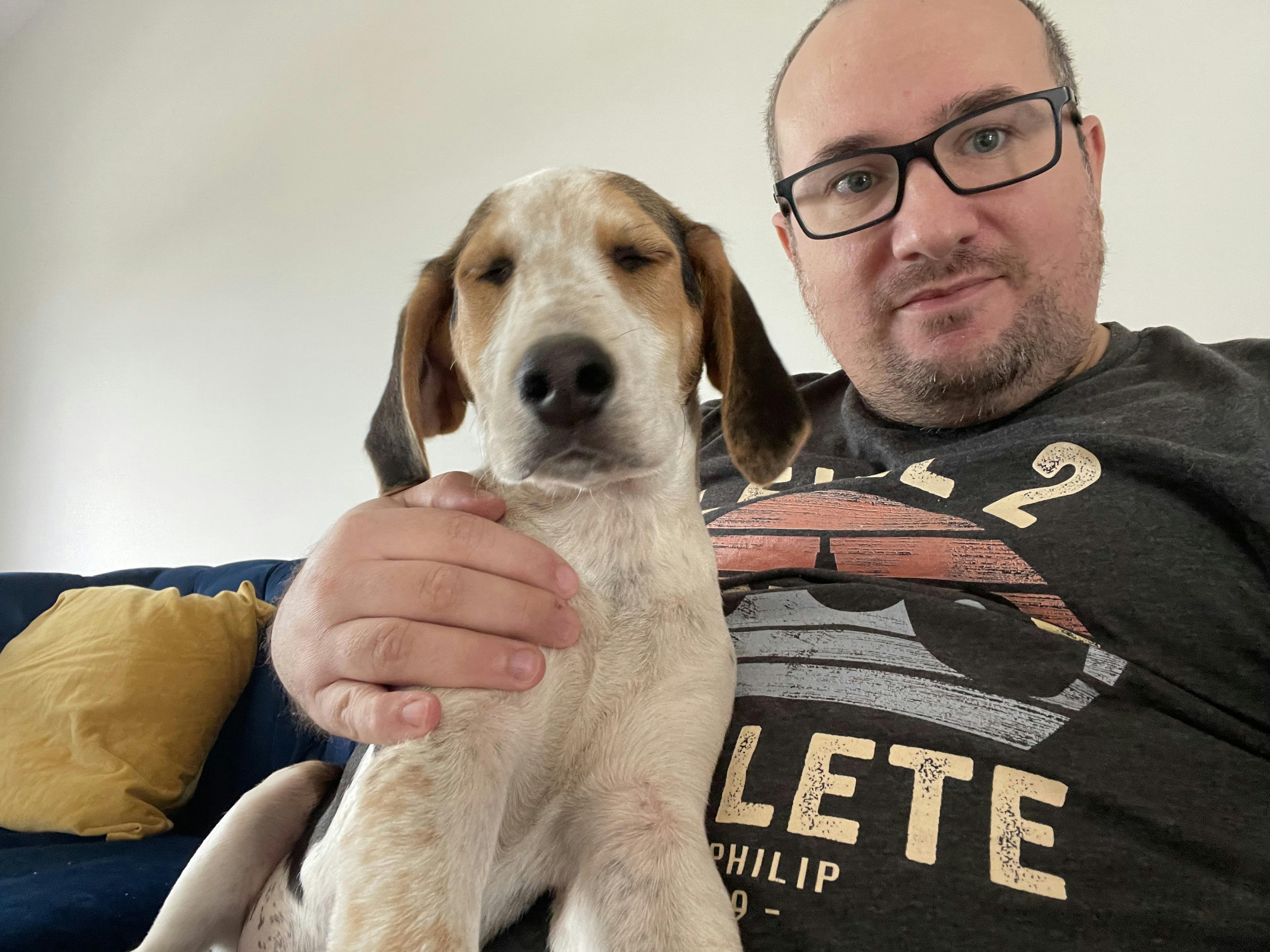 Worf
Male
Foxhound
Ireland, WV
Personality
Energetic
Lazy
Affectionate
Clumsy
My favourite character from Star Trek The Next Generation, and, I thought, a good name for a dog