Introduction
The Great Gatsby is a literary masterpiece. It delivers a scathing review of society that is still relevant nearly a hundred years later. It also helps that the movie has Leonardo DiCaprio in the leading role. It's a win-win, really, you can sound smart while watching Leo run around being a hero (or anti-hero depending on how you view the infamous Gatsby). The book has valid points that deserve to be mentioned. Just not here. This is where we focus on our precious dogs, the light of our lives. Now, let's find a name for your little Daisy or Gatsby. 
Book First Walk Free!
The Great Gatsby Inspired Names In Pop Culture
Featured Famous Dog with a Great Gatsby Inspired Name
Fido
In Chapter 2 of the book, we are introduced to Tom's mistress, Myrtle. Myrtle is everything that Daisy will never be, and this is exactly what Fitzgerald intended. She is loud, and desperate to be accepted. This does not mean that she should be dismissed as a character. She was written with a lot more depth than meets the eye. From the beginning of the book, she is dismissed as the typical mistress type. You know, the buxom flirt who doesn't care who she hurts. That is what appears on the surface, but when you start looking at her actions, you realize just how sad she is. In the same chapter, we see her begging Tom to buy her a dog. He agrees and buys her an Airedale mix off the street.
Airedales are a good breed since they are outgoing and lovable. It's no wonder Myrtle was so enamoured with the idea of a dog, especially a little Airedale pup.
We could go on and on for hours about the dynamic between the two, or about either character but we want to look at that little puppy. Fitzgerald never gave the puppy a name, but a few scholars refer to it as 'Fido'. Fido means fidelity, which neither Tom nor Myrtle are very good at, so why the name? Fido probably represents their morality and fidelity.
Myrtle wants the dog because she thinks that it will complete the domestic illusion that she has with her lover. Fido also represents their values. After being fussed over for a few minutes, the clearly sick little puppy is left in a corner and forgotten as the afternoon dissolves into debauchery. Fitzgerald clearly used the puppy to symbolize that America was losing touch of what is truly important. We aren't sure what became of poor Fido, since Tom and the others forsook their values by the end of the novel. We like to believe that someone, one of their friends or even the bellboy who was tasked with taking care of him, eventually took the puppy home.
We do know that Myrtle took care of him until the end. After her death, her husband finds a silver leash. So, we know that Fido survived and probably lived a very happy life with his new owners. After all, the whole point of everything is that not everyone abandons what is truly important to them. 
The Great Gatsby Inspired Dog Name Considerations
In the novel, nothing is as it appears. As with most literary jewels, there is more going on beneath the surface. When Gatsby throws a party, it's not because he's stressed out from all his shady business. Every single action or setting is a symbol of something else. The changing weather- reflects the actions of the people. Daisy switches off her light- she has decided to stay with Tom. This makes the book great. The 2013 film does a decent job of carrying it over which makes it an entertaining show.
The names in The Great Gatsby also have a lot of meaning, and the names fit the characters. They also fit their personalities. This is exactly what you need when looking for a name for the newest addition to your family. Your puppy needs a name that will suit them for years to come and that will fit their personality. The Great Gatsby is a wonderful place to look for a name. All the names on the list were chosen because they have a link to the book or movie in some way; whether it's a character, someone who worked on the project, or a symbol in the story. 
Male The Great Gatsby Inspired Dog Names
Votes
Name
Vote
0

Gatsby

Jay Gatsby is the main character

0

Tom

Tom Buchanan is the antagonist

0

Buchanan

Tom inherited all his money from his family

0

Nick

Nick Carraway is the narrator

0

Louis

Daisy is from Louisville

0

Jazz

The book is set in the jazz era

0

Wilson

George Wilson is the husband of Tom's mistress

0

Wolfshiem

Meyer Wolfshiem was Gatsby's shady business partner

0

Michaelis

George Michaelis is one of the few decent characters in the book

0

Klipspringer

One of Gatsby's friends

0

Cody

Dan Cody was Gatsby's mentor

0

Gatz

Henry C. Gatz was Gatsby's father

0

Baz

Baz Luhrmann directed the 2013 film

0

Leo

Leonardo DiCaprio portrayed Gatsby

0

Pearce

Craig Pearce co-wrote the screenplay

0

Amitabh

Amitabh Bachchan portrayed Wolfsheim

0

T.J

T.J Eckleburg's eyes are an important symbol in the book

0

Fitzgerald

F. Scott Fitzgerald wrote the novel

0

Az

A Hebrew name meaning powerful

0

Joel

Joel Edgerton portrayed Tom

0

Clayton

Jack Clayton directed the 1949 film

0

Redford

Robert Redford portrayed Gatsby

0

Nugent

Elliot Nugent directed the 1979 film

0

Elisha

Elisha Cook Jr. portrayed Klipspringer

0

Max

Max Cullen portrayed Owl Eyes

0

Carraway

After Nick Carraway

0

Alan

Alan Ladd portrayed Gatsby

0

McKee

The McKees are Myrtle's friends

0

Clarke

Jason Clarke portrays George Wilson

0

Myron

Myron Lupus was a character in the 1949 film
Female The Great Gatsby Inspired Dog Names
Votes
Name
Vote
0

Daisy

Daisy Buchanan is one of the main characters

0

Pammy

Pammy Buchanan is Daisy and Tom's daughter

0

Jordan

Jordan Baker is one of Daisy's friends

0

Myrtle

Tom's mistress

0

Catie

Catherine is Myrtle's sister

0

Lisa

Lisa Adam sang in the 2013 film

0

Adelaide

Adelaide Clemens portrays Catherine

0

Lizzie

Elizabeth Debicki portrays Jordan Baker

0

Isla

Isla Fisher portrays Myrtle

0

Emily

Emily Foreman portrays Pammy

0

Iota

An Orchestra leader

0

Olga

Olga Miller portrays a silent film actress

0

Kasia

Kasia Stelmach portrays silent film star Marlene Moon

0

Marlene

After the silent film star Marlene Moon

0

Sylvana

Sylvana Vandertouw portrays one of Gatsby's guests

0

Gemma

Gemma Ward is a famous model and actress who appeared in the 2013 movie

0

Nancy

Nancy Denis portrays Foxy Baker one of the speakeasy dancers

0

Kinsella

A character in the 1949 film

0

Bella

Meaning beautiful

0

Lara

Lara Goldie portrays one of the dancers

0

Ada

Meaning sophisticated, Daisy is renowned for her sophistication

0

Bertha

Meaning bright, the bright green light is an important symbol in the book

0

Emerald

The green light at the end of Daisy's dock symbolizes Gatsby's American dream

0

Anahi

This name means beautiful

0

Daria

Which means wealthy, wealth is the most important thing to Daisy and Tom

0

Mia

Mia Farrow portrayed Daisy

0

Lois

Lois Chiles portrayed Jordan Baker

0

Flora

Daisy was named after a flower

0

Carey

Carey Mulligan portrayed Daisy

0

Maisie

Meaning pearl, Tom gives Daisy a string of pearls which she snaps
Community Dogs With The Great Gatsby Inspired Names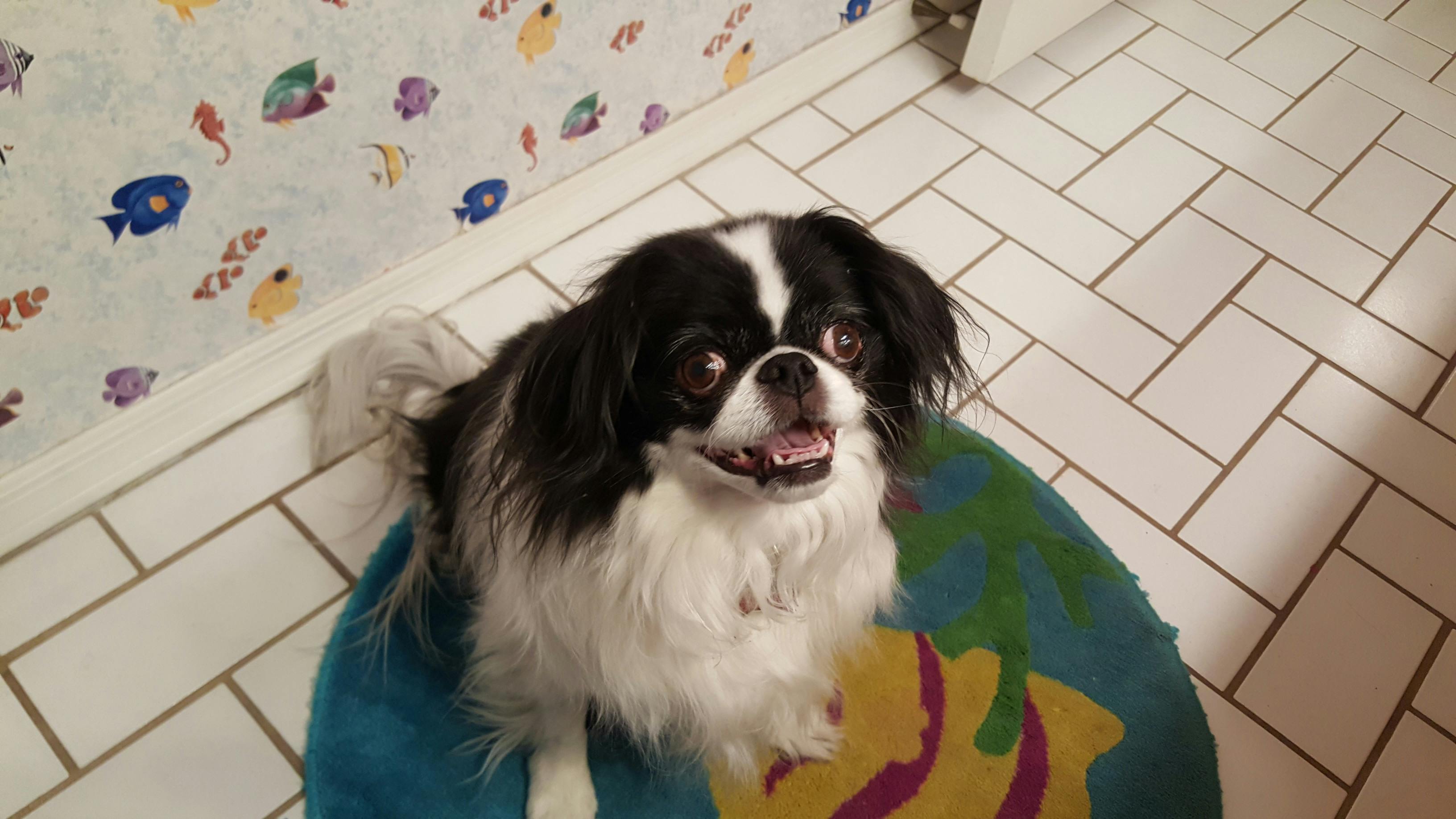 Gatsby!
Male
Japanese Chin
Phoenix, OR
I adopted Gatsby the summer of 2013 when the remake of the movie came out. He's a black & white Japanese Chin, so always wearing a tuxedo and he came with the diamond-studded collar,so the name fit him perfectly!🐼