Introduction
German Shepherd's glamorous brother, the White German Shepherd is not only fabulous when it comes to looks, but quite striking in all other walks of (dog) life. Due to their sweet nature, White German Shepherds are not usually employed as police dogs (unlike their brown cousins) and are unjustifiably considered to be not as desirable in the true German Shepherd Lovers club. However, White Shepherds are kind, loyal, and highly intelligent, which makes them the perfect companion for an active person who just cannot resist their snowy white coat, playfulness, curiosity, and the elegance they carry within. 
White German Shepherd Dog Names in Pop Culture
Featured Famous White German Shepherd
Bolt
Adorable hero and a star of his own movie, Bolt is a White German Shepherd puppy who took the silver screen, and the viewers' hearts by storm (pun intended). Bolt is a television star who has spent his whole life on a TV set and being a sweet little Shepherd, he is led to believe that he has superpowers, with the emphasis on very rare and very powerful super-bark. However, Bolt's TV career takes a swift turn when he mistakenly thinks that his co-star Penny was kidnapped! As a true superhero, our White Shepherd superstar goes through thick and thin in the real world, trying to get back together with Penny, realizing that his superpowers are not functioning properly, making unlikely new friends along the way, and ultimately, learning a valuable lesson – that friends and family are the pillars of a happy life.
Although Bolt is an animated film, and as such, aimed primarily towards children, it does have a deeper meaning to it and is more than meets the eye. One might compare Bolt to The Truman Show and would not be mistaken in that comparison. Much like Truman, Bolt spends all his life on the set of a fictional TV show, and only when he breaks away from the security of his life does he find that out there, the world is so much more than what he believed.
The movie Bolt came out in 2008 and was released by Walt Disney Pictures. The star-studded cast includes John Travolta who gave his voice to Bolt, Miley Cyrus who plays Penny, Malcolm McDowell, as Dr. Calico, Susie Essman as Mittens, and the famous voice actor John DiMaggio as Saul. Bolt was nominated for many awards, including the Golden Globe for Best Animated Feature Film and Academy Award for Best Animated Feature. However, Bolt was one of the animated movies that influenced the so-called revival of the Disney Renaissance (or Disney Revival for short), a period of time in which Walt Disney Animation Studios went back to creating animated feature films. Who would've thought that a cute White German Shepherd could influence Hollywood to such an extent?
What is the meaning of Bolt's name? Apart from the obvious connection to the lightning bolt, the name dates back to Old English, meaning arrow. Seems fitting for a dog who, as an arrow or a lightning bolt, flies out into the unknown to discover a whole new world. 
White German Shepherd Dog Name Considerations
Energetic and sweet, White German Shepherds deserve a name that will showcase their playful nature and the utter elegance they possess. Since they carry a royal-like poise you might consider a name such as Rex. Not only does it mean king, but there is also a famous White German Shepherd from the DC Universe that carries this name – Rex the Wonder Dog. Names that evocate the strong and active nature of a White Shepherd can be a good choice for your new pup, but if you'd rather accentuate their sweetness and social personality, you might opt for Riley, which signifies the independence and the outgoing traits they possess.
Whichever lane you decide to take, you have a unique opportunity to choose the perfect name for your lifelong companion. Whether you'd like to put an emphasis on your canine friend's looks or their personality, take your time and get to know your puppy before you commit to a name. And even if you cannot commit to one, you can always pick a good sounding middle name for your new family member! Remix the whiteness of the Russian snow and royalty by naming your new pup Ivan the Snowy or be traditional with Catherine the Great for your majestic, beautiful princess!
Male White German Shepherd Dog Names
Votes
Name
Vote
8

Frost

An homage to your pup's white coat

5

Ghost

Game of Thrones anyone?

2

Cotton

Honor the shiny white coat

2

Blaze

Latin origin, meaning flame; perfect for an energetic dog

1

Casper

A cute ghost cartoon character

1

Max

The greatest, Latin origin

-1

Eira

Snow in Welsh

-1

Atlas

Atlas Mountains famous for their majestic snow tops

-1

Magnus

After Magnus IV Erikson, the King of Sweden and Norway

-1

Wolfgang

"Rising wolf", German origin

-2

Wit

White in Dutch

-2

Halley

After Halley's Comet which left a white trail

-2

Boogie

For a playful puppy who's the life of the party

-2

Kodiak

A city in Alaska

-4

Admiral

A royal military name for a loyal dog

-4

Alaric

Noble ruler, German name

-5

Alfred the Great

King of Wessex who battled the Vikings

-5

Winchester

An ancient capital of England

-5

Flash

Bright light; energetic; Flash Gordon

-5

Augustus

Roman emperor Augustus; majestic

-5

Æthelwulf

A ruler of West Saxons

-5

Princeps

The first, the noblest and eminent; Latin origin

-5

Regulus

Prince in Latin

-5

Conrad

Proto-Germanic origin, meaning "bold"

-5

Vermeer

After Johannes Vermeer, Dutch painter

-6

Olórin

Gandalf the White's name in Quenya, an Elvish language

-6

Clarion

"Name of a King" coming from an Arthurian legend

-6

Rei

King in Catalan

-6

Mraz

Frost in Czech

-6

Amin

Arabic name meaning faithful
Female White German Shepherd Dog Names
Votes
Name
Vote
15

Luna

Moon; often emitting a white glow

10

Misty

A playful name for a fun-loving princess

6

Lumi

"Snow" in Finnish

5

Bella

"Beautiful" in Italian

4

Trixie

Latin origin, meaning "bringer of joy"

1

Kaya

Japanese word for "pure"

0

Aurora

After Aurora Borealis, the Northern Lights

0

Opal

Sanskrit origin, after the opal gemstone which often has an iridescent white color

0

Yuki

"Snow" or "happiness" in Japanese

0

Zaria

Slavic goddess of beauty

-1

Bianca

White in Italian

-2

Freja

A Norse goddess of love, beauty, and fertility

-3

Amara

"Grace" in Igbo

-3

Aphrodite

Greek goddess of beauty and love

-3

Lúthien

The most beautiful Elf maiden from Tolkien's universe

-4

Ren

"White", "clean", "pure" in Swedish

-4

Albina

Russian name meaning "bright" or "white"

-5

Calla

After the Calla Lily flower, famous for its elegant bell shape and white color

-5

Lara

Greek origin, meaning "happy"

-6

Betty White

After a famous actress

-6

Hera

After a Greek goddess

-6

Rania

"Queen" in Sanskrit

-6

Dama

"Lady" in Serbian

-6

Theodora

Byzantine empress; meaning "gift of God"

-6

Lagertha

A legendary Viking shieldmaiden

-6

Wala

Aboriginal goddess of sun

-6

Sanaa

"Art" in Swahili

-6

Chiara

An Italian name, Latin origin; meaning "bright", "clear"

-6

Hina

Japanese name meaning "day" or "light"

-7

Gala

Meaning "festive" or "playful"
Community Dogs with White German Shepherd Names
Chompers
Female
White Shepherd
Mayo, FL
Personality
Lovable
Social
Swimmer
Rider
She chomped on everything as a puppy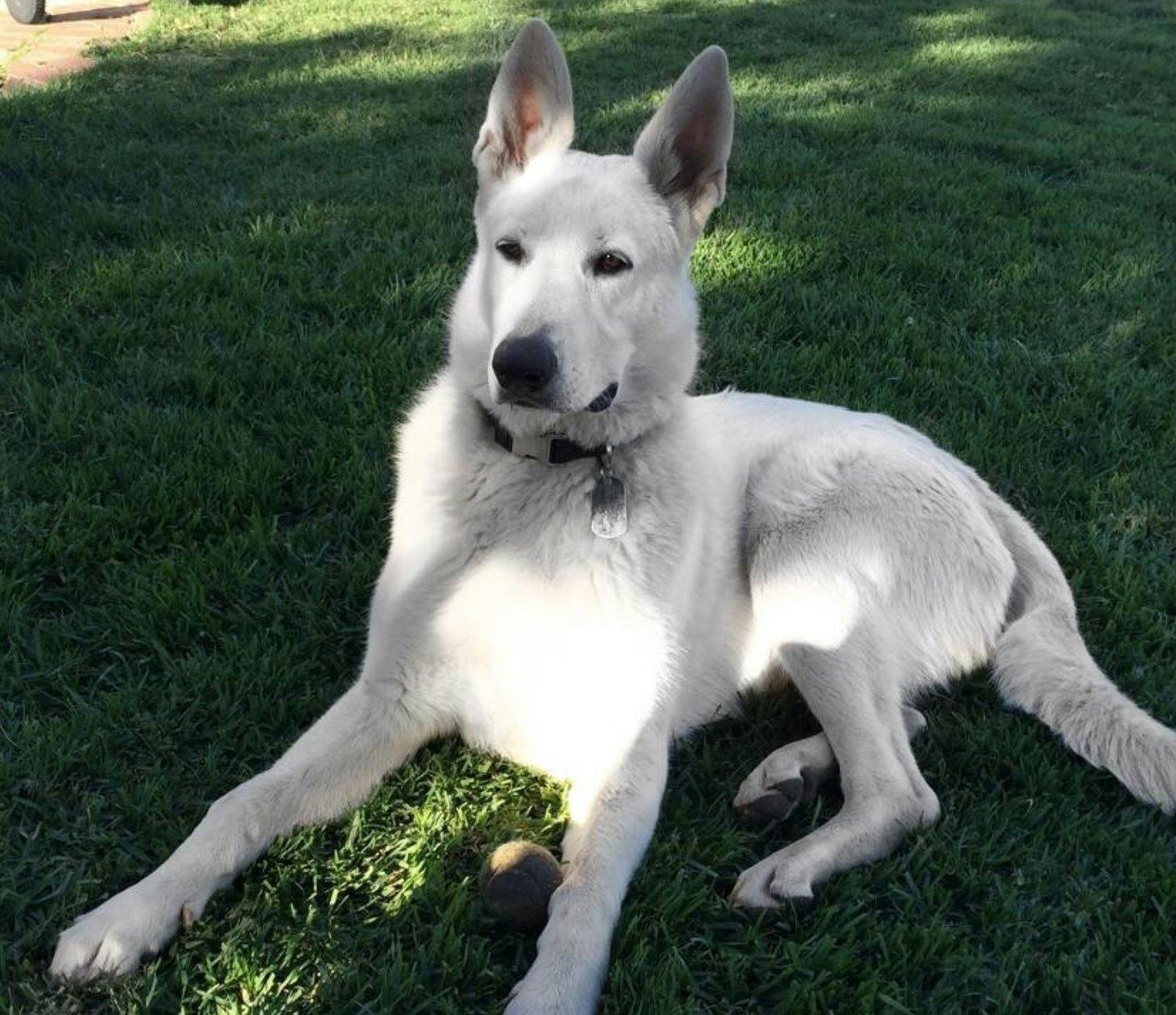 Misty
Female
German Shepherd
Twin Falls, ID
Her coat was a pretty white misty looking coat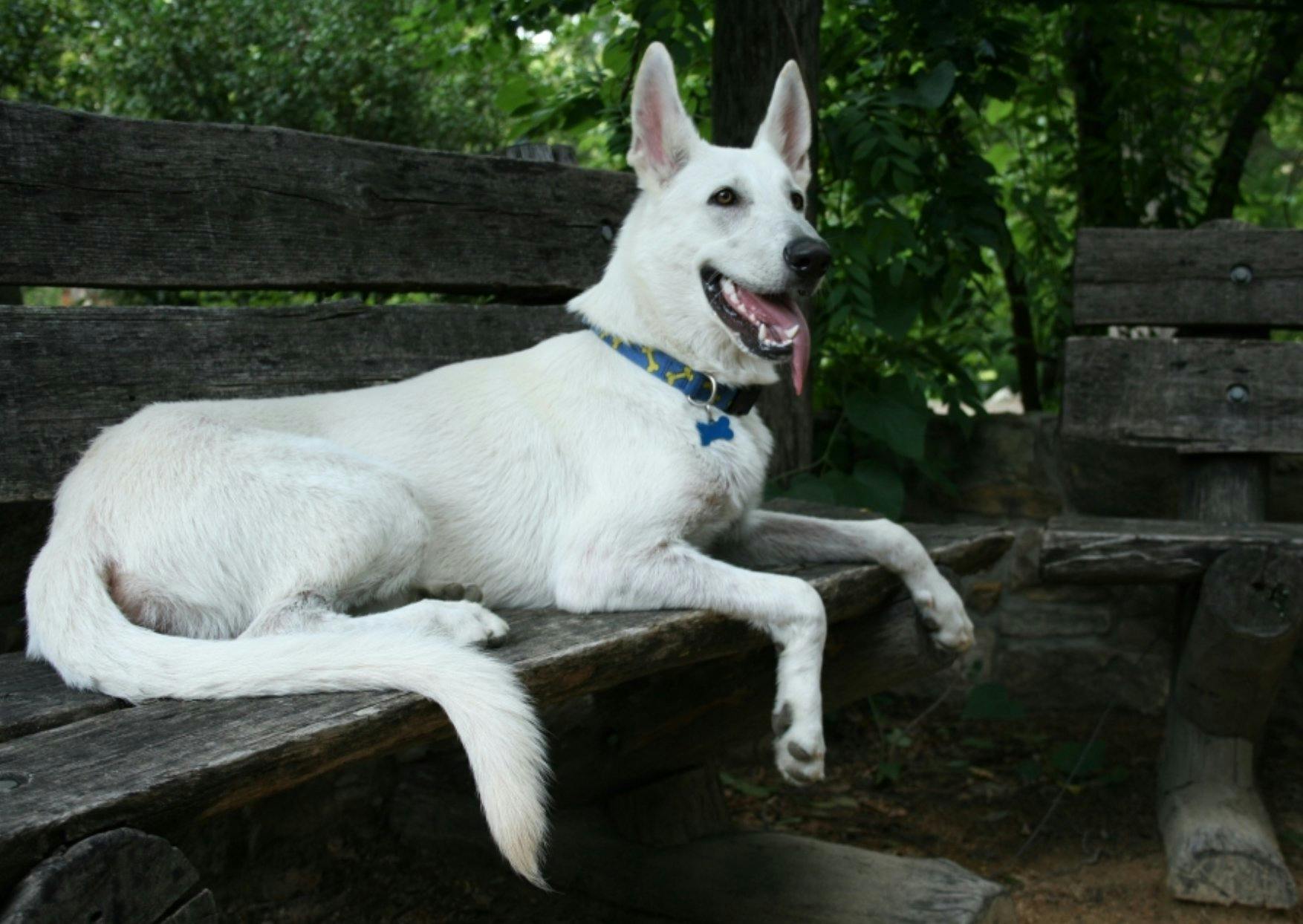 Ice
Female
German Shepherd
Twin Falls, ID
He was born during winter and he was born on ice
Eri
Female
German Shepherd
Ocala, FL
From lord of the Rings erwin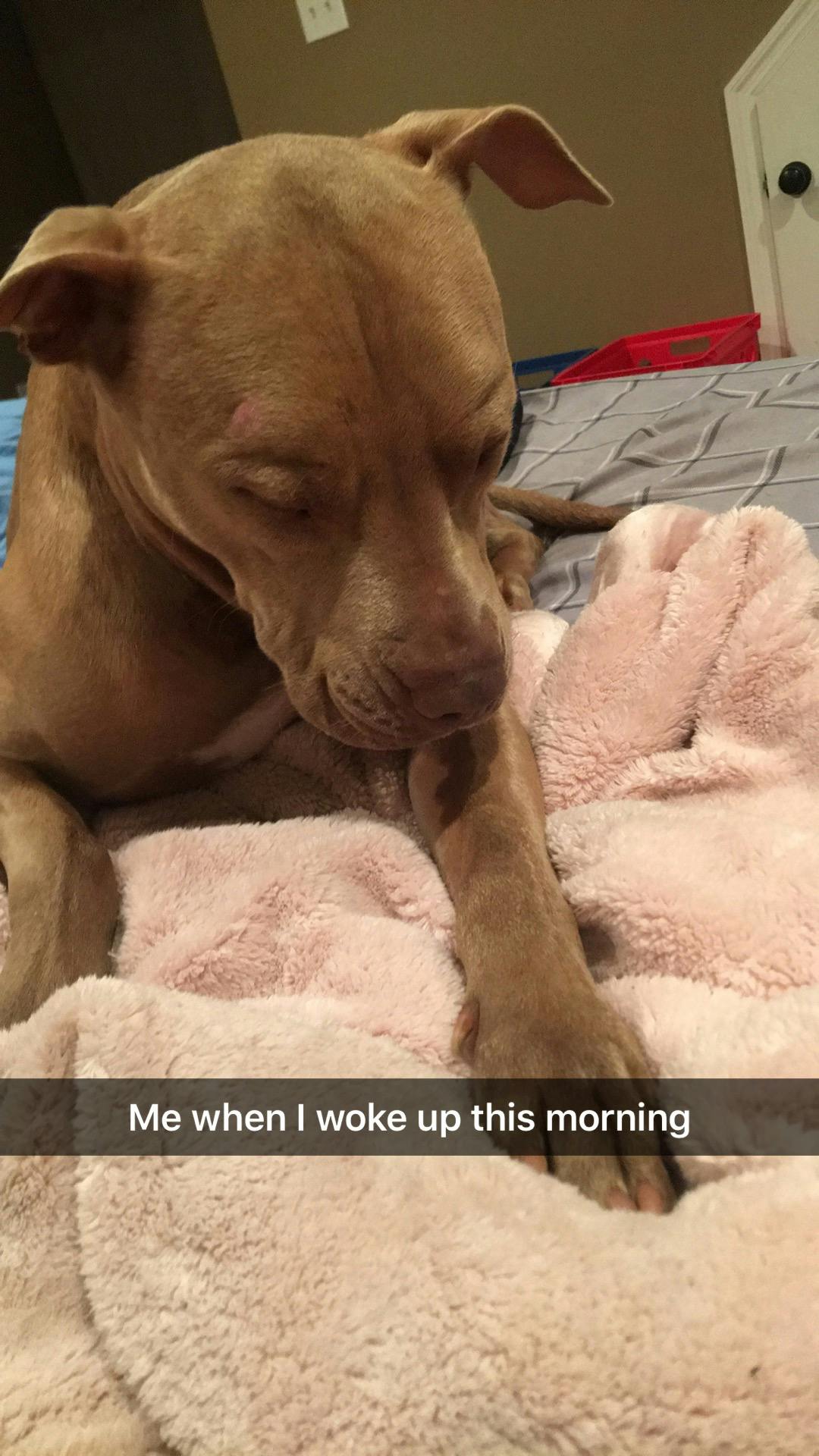 Jolene
Female
Pit Bull
Chattanooga, TN
Personality
Hyper
Loving
Protective
By a Zach Brown Band song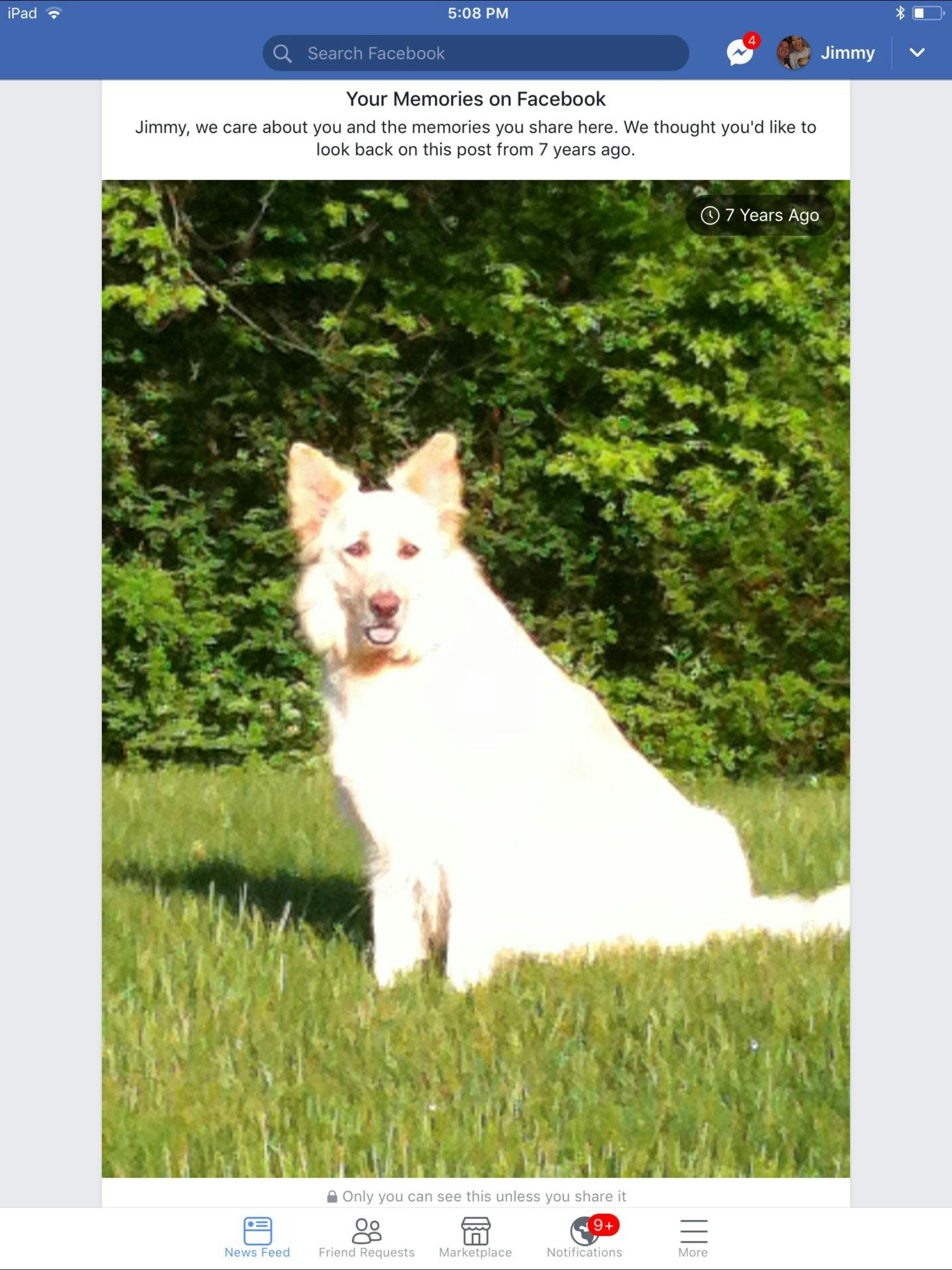 Bindi
Female
White Shepherd
Philadelphia, PA
We got her right after the Crocodile Hunter died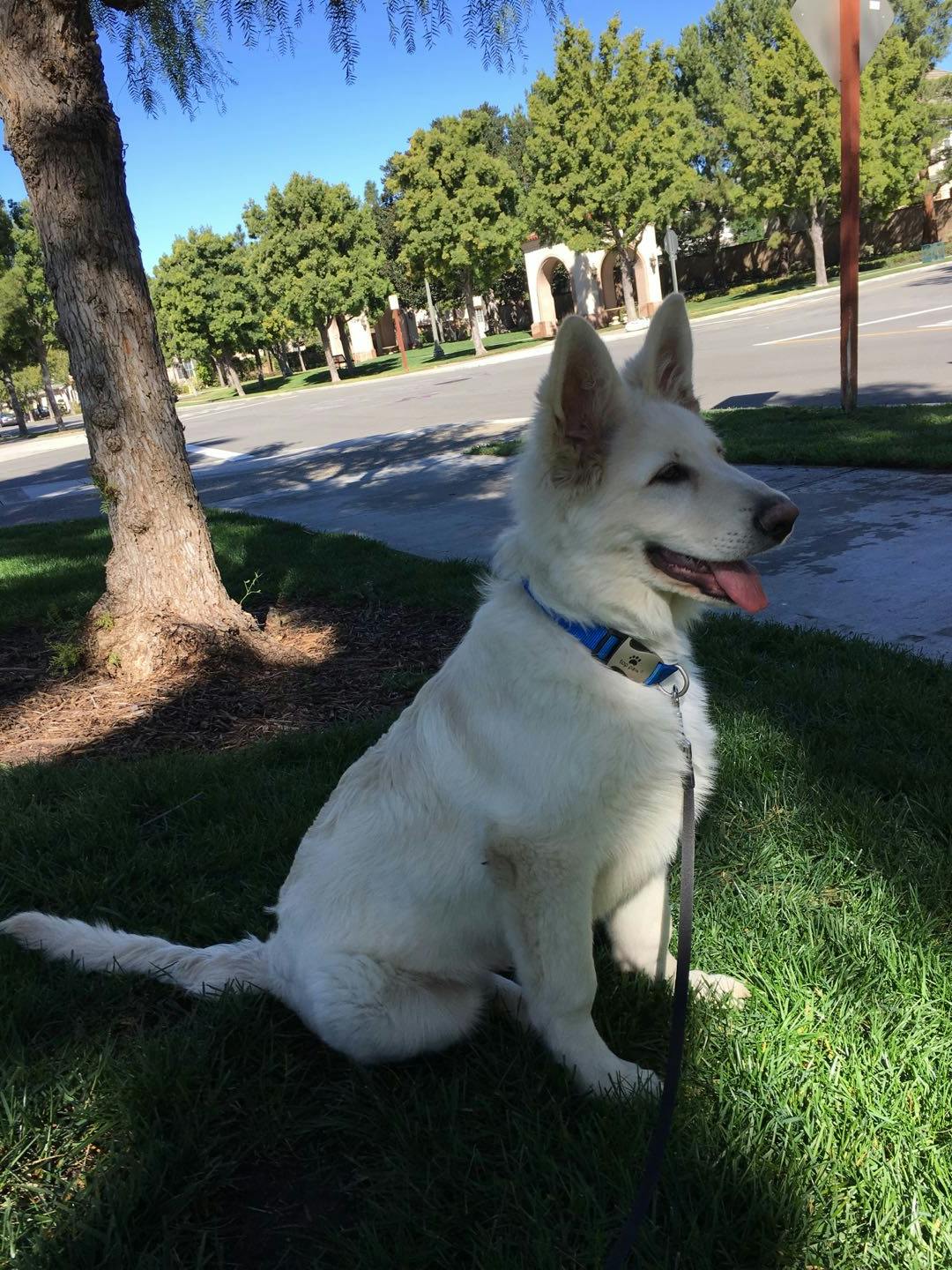 Cotton
Male
White Shepherd
Irvine, KY