Introduction
Yoga is an increasing physical and spiritual practice that helps people stay in shape and build a more spiritual life by connecting with themselves and realizing stress. It is not related to any religion, and its principle is to connect with our inner self through mindfulness and breathing, as well as respecting everything that is. If you are leaning towards a spiritual life and love practicing yoga or would like to start, maybe this is a the theme to consider as you choose a name for the new dog in your life. You probably see your pet as a source of inspiration and endless love, and a yoga name can express just that. 
Yoga Inspired Dog Names in Pop Culture
Featured Famous Dog with a Yoga Inspired Name
Secret
Dogs have always been called 'man's best friend' and over time human-dog bonds have become more and more strong. Dogs join humans in every activity; they sleep, travel, go to restaurants and cafes, go hiking, jogging, and surfing with us. So it is not entirely unexpected that dogs also started doing yoga with us! Dog yoga, better known as 'doga', is a new passion where people practice yoga with their pups. This practice is an adaptation of yoga asanas, or the taking of a pose, so that dogs could actively participate. The movement started to become popular in 2011 and its objective is to give your dog a better life, making them more relaxed and calm, while you also create a deeper bond.
Suzi Teitelman is a well-known yoga instructor who started practicing yoga with her Cocker Spaniel named Coali and eventually developed a dog yoga practice. It all started because her dog would get on her yoga mat. After a few doga sessions, she noticed how Coali was actually happier and more relaxed. In 2011, she started giving yoga classes where people could bring their dogs and people were really happy to participate.
Doga has become more and more popular and now you often see dogs practicing yoga with their owners. This practice has also become trendy amongst celebrities like Lance Bass (Ex NSYNC) who recently started practicing with his pup, and Hugh Jackman who has shared snaps of him and his dogs practicing some asanas.
A widely-known doga star is Secret, a 3-year-old Australian Shepherd who excels at this exercise. Secret and her owner, Mary, have become widely known thanks to the videos and photos of their doga practices that are all over the internet. All dogs are special and intelligent, but Secret appears to be (by far) the best dog yoga practitioner. She goes from basic yoga poses, to more complex ones that require a lot of equilibrium and concentration. Secret is the perfect depiction of a dogi. She is sweet, incredibly intelligent, graceful and a great companion. She and her owner do everything together; Secret always helps Mary and joins her in every activity. And of course, doga is her favorite thing to do!
In addition to the doga movement, yoga dog images have become widely popular and you can see them everywhere. There are now calendars, notebooks, memes, and postcards with images of dogs doing yoga poses that could go from very basic ones like the downward facing dog, to the most difficult ones like the scorpion pose. These images are cute, fun, and definitely refreshing, so it is quite easy to understand why they are so popular. 
Yoga Inspired Dog Name Considerations
Yoga, although it can be difficult, is a peaceful practice that aims to connect us with our inner self and to diminish daily life stress. It is focused on breathing and on moving our bodies consciously. It starts from the believe that everything, animate and inanimate, is energy and that it should be respected. People who practice yoga are more often than not, very calm, kind, mindful, and spiritual. So, dogs that have angelic appearances and sweet personalities may be suited to a yoga name.
It is safe to say that yoga inspired names would be best suited for calm, gentle dogs that have a sweet, graceful personality. Super loyal and sweet dogs like the Labrador and the Golden Retriever, with their angelic faces, are a perfect fit for a yoga inspired name. Also, very intelligent and wise dogs like the Akita would carry a yoga name quite well, particularly because of their deep gaze. This is a great name inspiration for slender looking dogs, as yogis are usually slim and graceful. Dogs like the Azawakh, Irish Setter, Ibizan Hound, and the Saluki, with their lengthy extremities, slender bodies, and graceful walking, are great candidates for a yoga inspired name. 
Male Yoga Inspired Dog Names
Votes
Name
Vote
7

Satsag

Means selfless service

5

Japa

The recitation of a word or mantra

5

Mudra

A symbolic hand gesture

4

Ajna

The third eye chakra, the intuition

4

Deva

Male divine energy

4

Om

The sound of the universe; it symbolizes the ultimate reality

4

Sivananda

Sivananda Yoga is a slow practice that focuses on well-being

4

Vishnu

Hindu god of preservation

3

Dashan

Means spiritual vision, seeing and being seen as divine

3

Sahy

Masculine for yogi

3

Satnam

Truth as the highest identity

3

Tathasthu

Means so it is

2

Ahimsa

The absence of violence and the conscious consideration and love

2

Avatar

An embodiment of the divine

2

Baba

An affectionate name for a spiritual teacher

1

Bhakti

Means love toward the divine

1

Jivamukti

It means liberation while living, Jivamukti yoga is a limit-pushing practice that reintegrates yoga's spiritual elements

1

Shiva

Hindu god of transformation

1

So Hum

A mantra meaning I am that, which refers to all creation

0

Ganesha

The Hindu elephant dog, he is the remover of obstacles

0

Garuda

Hindu god of strength and service

0

Kundalini

A primal energy that's coiled at the base of the spin, when activated it leads to spiritual enlightenment

0

Ojas

Means vitality

0

Yin

Yin Yoga is a meditative practice with passive posses meant to relax muscles

-1

Bikram

Meaning prowess, Bikram yoga consists of 26 yoga postures performed twice

-1

Drishti

The directed focus to a point during meditation or yoga practice

-2

Niyama

The practice of self-restraint, it involves purity, contentment, austerity

-3

Guru

A spiritual teacher

-3

Kripalu

It means compassion, Cripple Yoga is a that aims to drive the practitioner's awareness inwards
Female Yoga Inspired Dog Names
Votes
Name
Vote
8

Prana

Breath seen as a life-giving force

8

Vidya

Means knowledge

7

Anusara

It means flowing with grace; Anusara Yoga focuses on feeling bliss during the practice

7

Prajna

Wisdom in a spiritual level

7

Prema

Means divine love

6

Kali

Hindu goddess of protection

6

Prakriti

The primary energy that composes all matter

6

Satya

Means truthfulness

5

Shanti

It means peace

5

Shantiprema

Inspired by shanti prema, peace and love

4

Ashtanga

Ashtanga Yoga is a practice based on a series of poses that are in a programmed order

4

Mantra

A word or sound repeated to enhance concentration during meditation

4

Samskara

A purification ceremony that marks a main event in one's life

3

Hatha

'Ha' means sun and 'tha' means moon, it is the balance of feminine and masculine energy within all of us

3

Namasté

A respectful salutation, it means I bow to the God within you

3

Pranayama

Means life force or breath extension

3

Sadhvi

Feminine for yogi

3

Shakti

It is the ultimate feminine power of the Universe

3

Svadhyaya

Means self-study

2

Asana

The physical postures in a yoga practice

2

Dhyana

Means meditation

2

Nadi

It means channels and refers to the different channels through which energy flows through the body

2

Tantra

Means loom and it is a key to healthy living and awareness that transforms you into the person you were meant to be

0

Ayurveda

A traditional natural medicine system

0

Devi

Divine mother energy, a goddess

0

Sutra

A concise verse relating to some conduct of life lesson

-1

Ananda

The condition of utter joy

-1

Mandala

A circular-shaped draw that symbolizes the cosmos

-2

Samadhi

Means union and is a stated of intense concentration during meditation

-5

Citta

That which is consciousness
Community Dogs with Yoga Inspired Names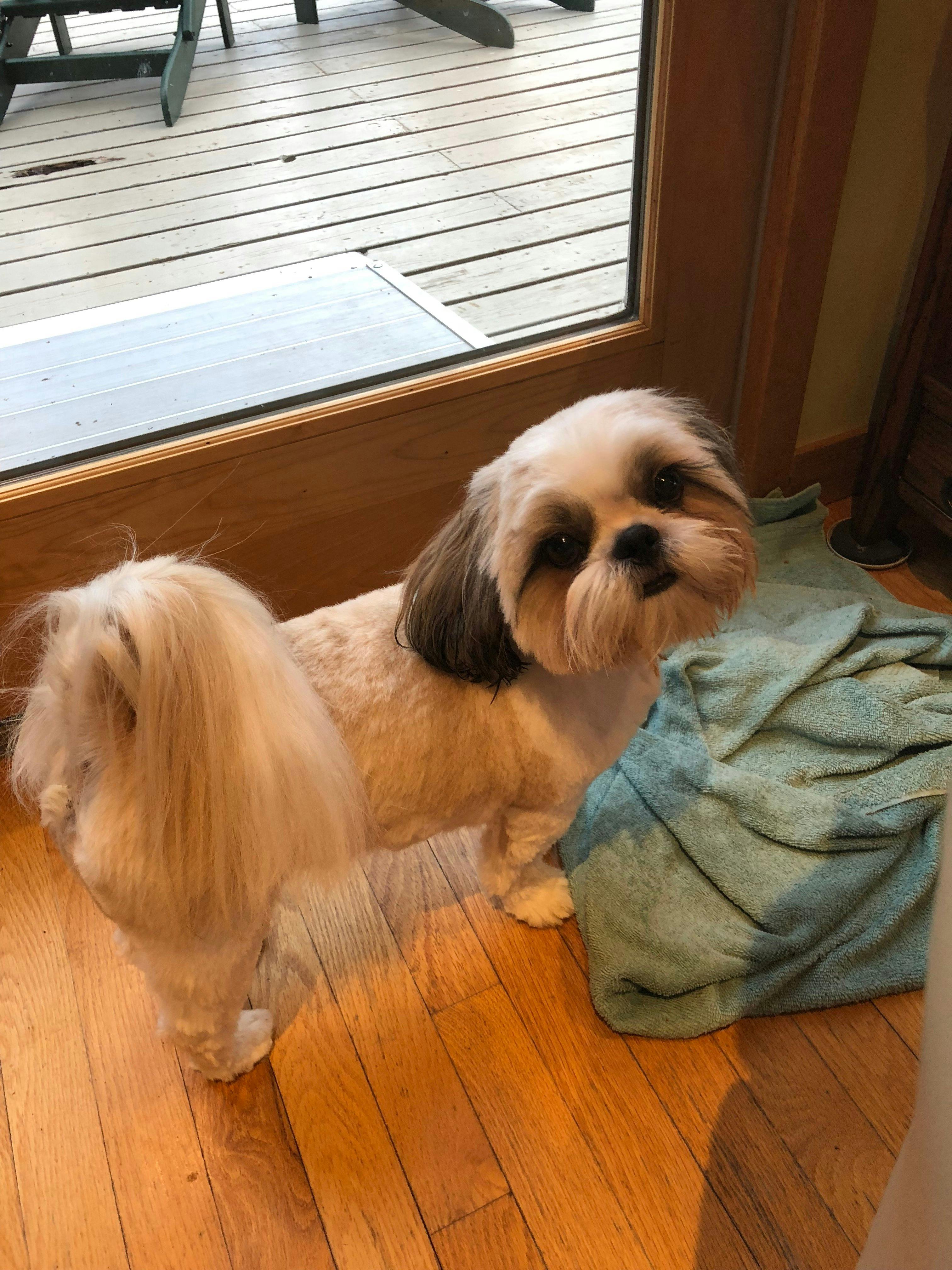 Bodhi
Male
Shih Tzu
Tecumseh, MI
Personality
Smart, playful, cuddly, fearless
We have friends who named their female Shih Tzu Shanti, meaning peace. We wanted to name our male Shih Tzu something Tibetan or Yoga inspired like Shanti. Bodhi means enlightenment. Like the Bodhi tree.