How to Train Your Dog to Act for Movies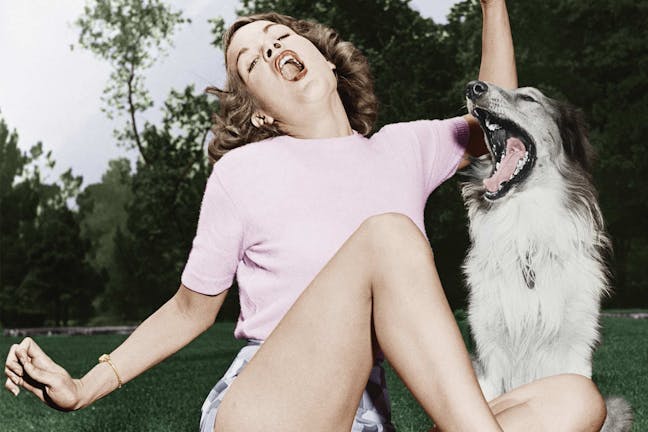 Introduction
It's difficult to resist the appeal of a cute dog on television or in the movies. They tug at our heartstrings and often live up to the title of 'man's best friend'. From the earliest days of film to the modern commercial advertisement, you can find a faithful companion in a wide range of media, showing off their practically perfect training and exceptional levels of obedience. But this level of intelligence is rarely an act of movie magic. Most dogs in film and TV are well trained and even-tempered, putting in hours of hard work with experienced trainers and dedicated owners to get to a level where they can confidently perform on cue. That level of dedication is often rewarded by a well-behaved dog and an even better actor.
Top
Defining Tasks
No dog is born a perfect actor. While choosing a dog with the perfect temperament for learning and obedience is a crucial part of raising a good animal actor, the amount of work involved is much more important. A potential candidate must be well versed in advanced obedience, have an exceptional familiarity with multiple commands that are frequently used in canine acting, and overall be a good canine citizen in their day to day lives. Training to this degree has the potential to last several months, or even years, and is best started early. It's a lifetime endeavor to condition a dog to take direction and the process should not be taken lightly.
Top
Getting Started
The first thing that any owner requires before setting a dog up for Hollywood stardom is research. Research is important when deciding the path you'd like to take in the training of your dog, as there is no one proven method for training animals for the movies or TV, and knowing your options can give you and your dog a better head start.

In addition, your dog needs to have a good temperament. Aggression, fear, or an aloof personality can be very large obstacles that may prevent a dog from succeeding in entertainment. Not only will your dog be surrounded by strange people, things, noises, and possibly other animals, but they may also experience any number of situations that dogs typically do not encounter in reality. Your dog needs to be prepared for any and all possible settings, and so do you.
Top
Get yourself trained
Training your dog yourself with intent to get him into entertainment is not easy and just as he needs to be familiar with a range of commands, you need to know how to teach them. Read up on the latest training techniques and research methods that ensure your dog will succeed.
Get your dog ready
At a young age, your dog should be socialized and comfortable with both people and other animals. He should be up to date on vaccinations and should show enthusiasm for training. Skipping either of these steps is not an option.
Learn the basics
Commands like 'sit', 'stay', 'come', 'down', and other basic obedience commands are necessary for a strong foundation. Work on these first and foremost.
Go advanced
Move into more complicated commands that require your dog to perform in certain situations. Practice in public areas that are dog-friendly and practice in strange environments. Teach how to look in certain directions and convey certain expressions with head positions.
Practice every day
Complex obedience requires near constant reinforcement. Your dog can be much more successful with repetition.
Show off your dog's skills
Obedience competition is a good way to bring your dog's skills into practice and test his understanding. It's also a good way to network with other owners and trainers.
Get certified
The American Kennel Club (AKC) offers the Canine Good Citizen Certification (CGC) which can let the world know that your dog is a master of everything you've taught him. It can also help you get spotted by an agency.
Reach out
Once your dog has displayed a capacity for learning, it's time to look for opportunities. Look both locally and in other areas for casting calls for animal actors. Apply and try out for as many openings as you and your dog can handle.
Be persistent!
It's difficult enough to find work as a human actor and finding work for animals can be doubly challenging. But if you persist and are dedicated to finding a spot for your dog to shine, you can succeed. Don't give up and keep searching!
The Training School Method
Find the right school
There are any number of training facilities out there that all promise to turn your dog into the perfect one, but not all of them are reputable or even safe. Do plenty of research and read reviews of each facility to find one that employs the appropriate training methods for your dog.
Get ready to enroll
Most schools require up-to-date shots as well as having your dog spayed or neutered. They will also generally not admit a dog until it is at least eight weeks to a few months old. Be sure to read up on the requirements of the chosen school and set your dog up to meet them.
Start attending
Training schools typically have a several week or month program. The costs may vary, depending on your program and the length of it. Attending every class is important for your dog's success.
Learn as much as you teach
Training schools are not only there to teach your dog, but they are also there to teach you. Be present and invested in each session to ensure success.
Look for certification opportunities
Some training schools may have their own internal certification program where your dog performs commands that they've learned throughout the program. The certification may not be as prestigious as a national certification, but it certainly won't hurt your dog's chances of being noticed.
Pursue acting classes
Acting commands are not typically found at the usual training facilities. You may need to find a specialized facility that coaches pets to take direction on a film set.
Start auditioning
Create a website or social media profile for your dog that explains his accomplishments and his experience with the school or schools he was trained at. Get some good pictures that represent your dog well. Use this profile to apply for casting calls and auditions and keep looking until you nail that special role!
Get your dog looking great
Being considered by an animal acting agency is difficult. Make sure your dog is always groomed and looking her best whenever you post images of her or take her out into public.
Teach your dog the basics
While an agency may do the bulk of the actor training with you, your dog may need to know basic obedience like 'sit' and 'stay'. Get these commands down and she'll have better chances of standing out.
Look for an agency
Agencies are not as common as training schools and may have stringent requirements. Do enough research and be willing to travel to find the perfect one. Remember that an agency that promises to get your dog a role is likely just trying to get a fee from you. No dog is guaranteed a place in show business.
Spend time with your dog
With an agency, your dog may be busy training and auditioning frequently. Be sure to devote enough time for normal dog activities like play and exercise. Your dog will appreciate the effort and affection.
Pursue other avenues if necessary
Not all agencies may be perfect for your dog. Don't be afraid to shop around for others if one doesn't work out.
Keep your dog's welfare in mind
Hollywood can be difficult on both dog and owner. Never risk the welfare of your dog for the sake of landing a role. Be smart and look for the warning signs of poor handling. Your dog relies on you to help her navigate the working world.
By TJ Trevino
Published: 12/19/2017, edited: 01/08/2021
---