How to Crate Train a Basset Hound Puppy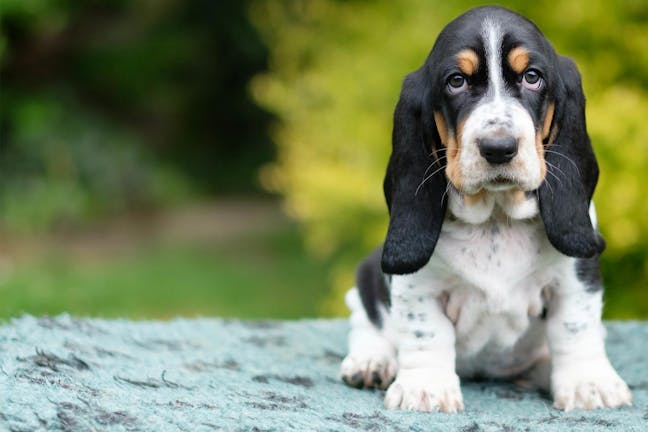 Introduction
Your Basset Hound puppy is a great dog to have in your apartment or in your home. He doesn't mind being alone during the day while you're gone but he will give you all kinds of puppy kisses, shaking those long ears with excitement, as soon as you come home to him. Your Basset Hound is super friendly and easy to care for. 
Starting from an early age, as a puppy, crate training your Basset Hound will help with separation anxiety. His crate will give him a safe place to be while you are away and a secure space to sleep at night, as well as a place to wait until it's time for love and attention. Crate training your Basset Hound will give you peace of mind knowing your home is safe from your puppy. Your puppy will be confined while you are away but this will be a space large enough for him with soft bedding, comforts of home, and toys for entertainment. In the years to come, your Basset Hound may still look to his crate for comfort when he needs it. 
Top
Defining Tasks
Crate training your Basset Hound puppy builds a foundation of puppy etiquette for your little guy so he understands where his place is when you are away from him and what he can do when he's on his own. Crate training requires lots of tender loving care when you and your puppy meet again--and lots of repetition. He'll use rewards to build up his sense of safety and security while he is patiently waiting for you to come back to him. Crate training is ideal for house training your Basset Hound puppy, and it supplies a comfortable, secure area for your pup to sleep at night or during the day. Once your pooch is crate trained, he will likely go into his crate in his own to sleep or rest. 
Top
Getting Started
Your Basset Hound puppy will require a small to medium-sized crate. You don't want the crate to be too large as it will become overwhelming and your puppy may use one side for a potty if he has too much room. You want your crate to be big enough that your adult Basset Hound can stand up and turn around in it, but not much bigger than that. You will also want to fill your puppy's crate with bedding and lots of toys for him to chew on while he is awake inside the crate. Treats to reward good behavior will be necessary, and you may want a leash to control your puppy when you release him from the crate so you can get him outside as quickly as possible to go potty instead of having him run away to use a spot in the house.
Top
The Lure Into Crate Method
Set up the crate
Get your Basset Hound's crate ready with warm fluffy bedding and a few toys to keep him happy, chewing, and entertained while inside and awake.
Treat
Introduce the crate to your puppy. Give him a treat and lure him inside the crate with another treat. You can place the treat on his bedding or let him watch you toss it inside.
Soft voice
Using a soft voice and gentle tone, encourage your puppy to get into the crate or, if he made it into the crate with the treat lure, talk to him with an excited but soft voice.
Block the door
Do not close the crate door but sit in front of it, so your pup does not try to get out. Feel free to feed him a few treats while he is inside.
Short times
Keep the times you put your Basset Hound in the crate short and simple at first. If possible, try to stay nearby while crate training at first. If you have to leave the house, the crate is the safest place for your puppy. Just remember to take your pup to go potty after an appropriate time.
Sleeping times
Any time your Basset Hound is sleepy, put him in the crate. If you start this while he is still a puppy, he will eventually go into the crate on his own when he is sleepy. During the day, if you are home and see him sleeping elsewhere, place him in the crate. He should learn this is his safe place to go when he's not playing or eating or socializing.
Awake times
If you need to place your Basset Hound puppy inside his crate while he's awake, try to stay nearby for the first few times so he can build up confidence and know he is safe and secure and not left alone. When you have to leave, be sure he is safe and comfortable with toys for entertainment. These toys should be puppy safe. Be sure he goes potty before putting him in the crate.
Introduce the crate
You'll need to introduce the crate to your Basset Hound puppy. The earlier you can do this introduction, the better for you both. Remember, your Basset Hound will see this space as his own bedroom after training.
Best place
You'll want to place the crate in a busy area within your home so when your Basset Hound puppy is in it, he knows you are near. If you want him to sleep in the crate at night as well, consider that spot in your placement or consider moving the crate or having two for your puppy if your house has a large space between his nighttime and daytime areas.
Getting inside
Before placing your Basset Hound puppy in the crate, have it all ready with a bed and blanket. Placing toys that are safe for your puppy is also a good idea. Talk with your Basset as you show him his new crate. Use some treat to coax him inside or place him inside. Let him sniff and get used to the space. Stay nearby and talk to him using words you want him to learn such as "crate" or "bed."
Encourage
Encourage your puppy to walk around the crate or lie down and chew on a toy. Offer him a small treat while he is inside. You want your little guy to be comfortable in the crate. Take him in the crate often and give him a treat anytime he goes in whether alone or with your assistance.
Naps
When your Basset Hound is sleepy, place him in the crate for sleep. He might whine, but if you can, try to stay nearby and talk with him or pet him as he falls asleep. You can also offer him a lovey toy, blanket, or a shirt you have worn recently so he can smell your scent. These things will provide him comfort.
Bedtime
Place your Basset Hound puppy in the crate at bedtime as you did during the day for naps. He will probably whine more at night than during the day, but again, stay close by, let him hear your voice, and give him comfort items like toys or blankets.
Potty time
Your Basset Hound puppy can only hold his bladder for about one hour for each month he has been alive. So your four-month-old Basset Hound can only hold it for about four hours. Expect to be taking him outside to go potty at least once during the night, if not more.
Leaving home
Keeping your Basset Hound's potty training in mind, when you leave the house, place him in the crate with a treat and toys he can use for entertainment while you are away. When you arrive home, be sure to take him out of the crate and outside to go potty right away.
Rewards
Be sure to reward your Basset Hound each time he enters and leaves his crate. Over time, he will begin going into the crate on his own to nap and sleep. There may be a point where you no longer need to lock him in the crate, because he can be trusted on his own but will still want that as bedroom space for himself.
The Night Sleeping Method
Placement
While night training your Basset Hound puppy, try to place the crate where your pup feels safe and where you can hear him when he whines.
Commands
Pick a command to say goodnight to your Basset hound puppy. This could be "good night" or "let's go night-night." Anything you can say each night to tell your pup to go into his crate and go to bed for the night will work.
Treat
Place your Basset inside the crate. He should have bedding all prepared for him before going to bed. Give him a treat and tell him 'good night'. Try to stay close by while he falls asleep. He'll feel safer and this will help build his confidence.
Constant whining
If your puppy constantly cries, you can open the door and give him a treat and talk with him for a moment but do not go to him more than once. Let him settle down with his lovies, toys, and bedding. If you can have a conversation with someone in the house or yourself, the sound of your voice may help him settle.
Go to bed
Your Basset Hound Puppy may take a bit of time the first few nights to fall asleep, but give him the time he needs with the security and comfort of you nearby to fall asleep. Go to bed and expect your puppy to whine a bit when the house is quiet or when he wakes.
Potty
Remember your puppy will need to go potty throughout the night for the first few months while he is crate training. He should be able to hold it for an hour for every month if his age, but expect to take him outside even if he wakes missing you.
Patience
Crate training won't take long. He'll be comfortable in the crate after a few weeks. Focus on good behaviors and reward any time in the crate with tasty treats.
By Stephanie Plummer
Published: 01/31/2018, edited: 01/08/2021
---