How to Train Your Big Dog to Get Along With a Small Dog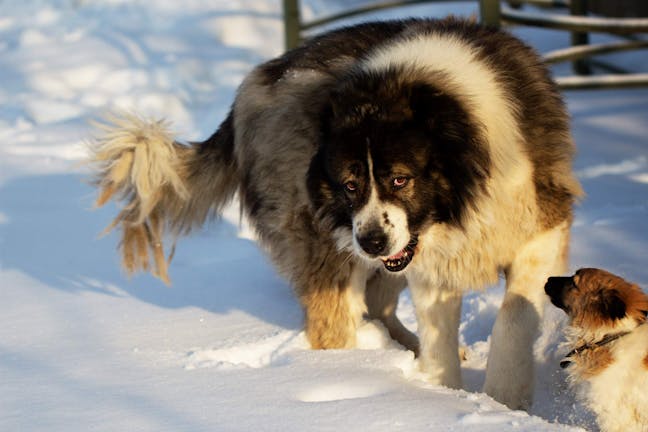 Introduction
Because big dogs can be intimidating, some small dogs might be a little fearful of your big guy. Big dogs also don't always know their size. Big dogs will try to fit into small spaces thinking that is their size, and big dogs will try to play the same way small dogs play, not truly understanding the size difference between the two. This could also mean your big dog plays a little rougher and your little guy could become injured or even stepped on. 
Training your big dog to get along with a small dog is imperative, especially if you have big and small dogs in your household. They should be able to get along. They should be friends. And hopefully, if you play your cards right, they should play together too.
Top
Defining Tasks
Training your big dog to get along with your small dog will also include training your small dog to get along with your big dog. Some small dogs are definitely bigger than their bite and can stand on their own, but others are timid, shy, and fearful. This demeanor may encourage your big dog even more. Put these two dogs on the same level when you are training them both and work with them at the same time. Be sure to offer both a treat at the same time if possible. If you give one dog a treat, be sure to give the other dog a treat. This will teach the two dogs that they are both equal in the household.
Top
Getting Started
You will need lots of tasty treats to train your dogs to play together and be nice to one another. You will also need patience and training time with a big dog and a small dog. If you don't own both big dogs and small dogs, but you still want them to get along, try to find a small dog that you can introduce your big guy to, so he knows that there are dogs of all sizes out in his world and he needs to know how to interact with them. You can do this by organizing play dates through your groomer or veterinarian, or you can take your dog to a dog park and see if anyone is interested in introducing their little guy to your big guy. Be sure to have treats for both dogs at all times.
Top
Introduction
When you need to introduce your big dog to a small dog, keep the introduction short and sweet and both dogs confined if it all possible. This could mean have you both dogs on leashes or it could mean having both dogs in crates with the crates side-by-side.
Behavior
Pay attention to how both dogs behave during their introduction when they can't get to one another. Notice whether they are interested in one another or are aggressive and growling or barking at one another.
Treats
Hold up two treats so both dogs can see. They should turn their attention from one another to you. Hand both dogs each a treat at the same time.
Ignore
Ignore them once they both have treats. This will give them a moment to eat their treats and then decide what to do next. Do not look at them; just try to notice what they do once their treats are finished. Giving them time to eat the treats is giving them a moment to be distracted and to rethink how to address the problem at hand.
What's next
After your dogs have eaten the treats and have looked at you for more, as they probably will do, they need to address each other again. They will either do this with curiosity after just having a tasty treat or they will turn and be aggressive.
Treat again
If they are calm and curious about one another, you can look them both in the eyes and offer them each another treat. If they are aggressive, repeat the steps above where you hold up the treat without making eye contact and then hand one treat to each them wait a moment and then ignore them.
Repeat and practice
Continue to repeat these steps until your dogs are no longer aggressive. Once they are curious and showing signs of leaning forward to sniff one another you can acknowledge both of them.
Meeting
Once your dogs show very little interest in being aggressive with one another, you can have them meet one another by bringing their leashes closer and letting them explore and sniff, or by taking them out of their crates and letting them interact.
Rewards
As long as they are getting along, continue to give them rewards in the form of treats as they explore and play together. If they are not getting along, separate them slightly so they can't fight. Then repeat the steps above.
Practice
Once your big dog and the little dog are sharing the same spaces together, continue to practice these steps offering them rewards every time they show no interest in being aggressive or when you catch them sniffing and exploring or playing nicely. Rewards will remind them to get along so they can earn treats together.
The Small Dog, Big Bite Method
Aggressive
A small dog who is aggressive can actually intimidate a dog much larger than themselves. A large dog who is intimidated may very well run away or jump around, putting a small dog at risk.
Get together
If your little guy is aggressive and you need to introduce a big dog into his world, socialize your little guy as much as you can away from the big dog. Start small by introducing your dog to dogs that are the same size. Keep them on leashes and meet in neutral territory, such as dog parks or even on a walk together. For the first several walks, keep your dog's playmate his size.
Go up a size
While you are socializing your little dog with other dogs his size, search for dogs that are a bit bigger than him but not by much. So if you have a small breed, search for something in between small and medium-sized. Repeat socializing these two dogs together in situations where your dog is safe but understands he's a little bit smaller than his new walking buddy.
Increase size
Keep repeating this process and socializing your little dog as much as you can away from the big dog. Continue to increase the size of the dog you socialize with your dog. To do this, find dogs at dog parks, talk to your friends, and find people who can go on walks with their dog and your dog together. Keep these social times short and only have one dog at a time playing with your little guy.
Super size
Once you have gone through all of the different sized dogs, increasing in size each time while socializing your little guy, bring a big dog into your dog's world's in a social setting. Go for the same walks, go to the same dog parks, and have your little guy socialize with this big dog. If he has been socialized over the last few weeks with other dogs closer to his size and getting bigger over time, this should be a piece of cake for him.
Rewards
Make this time with your little dog and the big dog special by offering them both rewards as they walk together and get to know one another.
Practice
Put these two dogs in different situations on leashes while walking in your backyard, not leashed while playing at dog parks with other dogs, and inside your home. If these are your two dogs they need to know how to get along wherever they are. Be sure to always reward them for a job well done and for good behavior when they are getting along together.
Introduction
Bring food for each dog to the initial introduction of the dogs. If these dogs already know one another and you are trying to train them to get along, bring special treats for them both to your training sessions and reintroduction to one another.
On leashes
Whether this is a first introduction or a reintroduction, put both dogs on a leash. For the first several training sessions together, they should both be on leashes. This teaches them that you are master and you are controlling the training sessions.
Big dog
Your big dog might be excited to interact with this little guy, especially if the small dog is new to him. Control him on his leash so he doesn't overreact, become too excited, and injure the little dog. As you are introducing the little dog to your big guy, offer him a treat. This will distract him a bit with food as well as let him know that there may be more to earn with good behavior.
Small dog
The same as with your big dog, watch the small dog and as soon as he sees the big dog, offer him a treat. This sets the tone for the dogs' meeting and training sessions together. Each dog knows there are treats at stake and they will need to earn them.
Commands
If you haven't worked with the dogs individually on basic commands, you may want to try these before the dogs interact much together. If your dogs already know basic commands, start by having them both sit. When they obey, give them another treat.
Work together
With the dogs still on leashes, have them do some commands they know together. So when you ask them to sit they both sit at the same time and they both earn a treat. Do as many commands as they can get through while expecting them to react and respond at the same time and rewarding them at the same time. This puts each dog on the same level with you as the master.
Gentle play
After some commands and treats, bring the dogs closer together to sniff and explore one another. Keep them on leashes, especially if they have fought in the past or if they are just meeting one another. Let them explore. Remember your big dog is probably bigger than he believes he is and can cause your little dog injury if he is overly excited and jumps around.
Rewards
As they are sniffing one another and exploring the other, offer them each treats. Earned rewards for both dogs will remind them that if they both behave, they can both earn treats. Watch both dogs as they're eating the treats you have given them at the same time to ensure one is not aggressive with the other and trying to grab his treat.
Off-leash
As your big dog and small dog get more used to each other and are rewarded for good behavior when they're together, try to have them together off-leash. Start this by keeping the leashes on the dogs but completely let go of them. This way, if something happens you can grab the leash pulling your dogs off of each other but without controlling them while they're making their own choices to get along.
Unhook leash
When you can trust your big dog and little dog to be in the same space playing or working on training commands together, earning treats, unhook the leashes. Let them practice being around one another without the leashes. Keep practicing with the dogs sharing the same space.
By Stephanie Plummer
Published: 12/15/2017, edited: 01/08/2021
---