How to Train Your Chihuahua Dog to Get Along With Other Dogs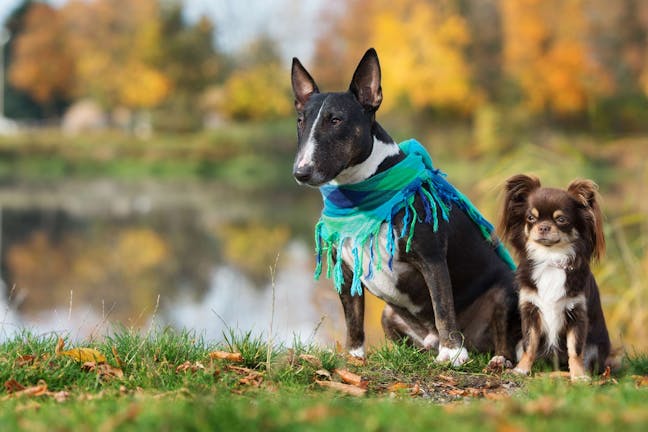 Introduction
Chihuahuas are often known for their stubborn personality. But when it comes to being with their owners, they are sweet and tender dogs. Many Chihuahuas don't often get along with other dogs. They would rather be the sole pet in the house and the only dog on the planet. If you have multiple dogs, you're going to need to teach your Chihuahua to know how to get along with them. You're going to want all of your dogs to be comfortable in your home. If you take your dog out to dog parks or to a pet store, or even to the veterinarian's office, your Chihuahua is going to need to know how to behave and not be overly aggressive. Even a small dog such as your Chihuahua can get into trouble if his attitude is not in check. You don't want to be responsible for your Chihuahua biting another dog because he doesn't know how to get along.
Top
Defining Tasks
The key to teaching your dog to get along with other dogs is to ensure the Chihuahua is social. As early as you can, socialize your Chihuahua. If you get your Chihuahua as a puppy, start as soon as he has all of his shots. You can socialize your puppy Chihuahua with people before his shots are done, but wait until he's had all of his shots before you introduce him to dogs you do not know, such as dogs at the dog park or a pet store. If this is an older Chihuahua, you are rescuing and bringing into your home with other animals, introduce your dogs to your new Chihuahua slowly and methodically. Getting your Chihuahua to be social is key to having him understand how to get along with other dogs. Remember, the commonality between your Chihuahua and other dogs is they will both do just about anything for delicious food. 
Top
Getting Started
Bring your Chihuahua together with other dogs slowly. Be sure to have lots of tasty treats for both dogs. If there are multiple other dogs in your home, you may ask a friend or partner to help with introductions. If you plan to bring your Chihuahua around other dogs outside your home, start with dogs and owners you know. Chihuahuas tend to do best on a harness instead of a collar and leash. If your Chihuahua is aggressive or in danger or harming another dog, pulling him away with a harness is safer than tugging on a leash attached to a neck collar. These little guys can become injured easily with a leash and collar.
Top
The Socialized Chihuahua Method
Plan ahead
Plant scheduled social times for your Chihuahua. This should include times with other dogs his size as well as times with other dogs who are larger than he is. Before you head out for social time with your Chihuahua, be sure he has been fed and is well rested and ready for some playtime.
Neutral space
Set up a meeting or a playdate with other dogs your dog will be around, but set this up in neutral territory. If you don't know other dogs but you still want your Chihuahua to be social, you can go to a dog park. Just be sure to start with a small dog area before you introduce your Chihuahua to the bigger dogs' area.
Harness
Harness your Chihuahua with an appropriate harness and not just a collar and a leash. Be sure the harness is the right size and on your dog correctly.
Voice and tone
When you introduce your Chihuahua to a dog you know or a strange dog at a dog park, keep your tone and your voice calm and even. You don't want your Chihuahua to pick up on any anxieties from your voice.
Aggression
As long as your dog is properly harnessed, if he shows any aggression at all, you can gently pull back on the harness pulling him away from the other dog. Do not do this if your dog is not wearing a harness and is wearing a leash instead. If you do so with a leash and collar, you run the risk of collapsing his trachea so be sure to harness your Chihuahua.
Commands
Before you introduce your Chihuahua to other animals, teach him some commands such as 'sit' and 'down.' You can use these commands as he is meeting new friends. As you're introducing your Chihuahua to another dog, ask your dog to sit. Provide treats for both dogs as they are meeting one another so they can both be rewarded for good behavior and following commands.
Ignore
As the two dogs are meeting and greeting, ignore them unless you see either becoming aggressive. Again, your Chihuahua will pick up on any of your anxieties, so if you are playing helicopter dog parent he is going to expect you to save the day instead of working things out on his own. Remember, the goal here is to keep him from being aggressive and get along with new friends.
Rewards
Every so often while ignoring the dogs you are socializing, give them each a reward in the form of a treat. Be sure to treat them both at the same time and make it a high-value treat that they will both want to earn again with good behavior.
Practice
Practice socializing your dog with several dogs but only one at a time. Making your Chihuahua social around other dogs as well as people will make him a kinder, friendlier dog.
Good behavior
Be sure to reward your Chihuahua for good behavior anytime you see him socially interacting with another dog. Having your Chihuahua learn how to socialize will keep him from being so aggressive around other animals.
Walk
Harness your Chihuahua and take him on a walk where you know he will see and smell other dogs. You can walk around your neighborhood, go to a dog park, or goto a pet store where you are likely to run into other dogs.
Treat
Each time your dog sees another dog, give your Chihuahua a treat.
Aggression
If your dog growls or lunges forward toward another dog, distract him with a high-value treat. This is not acknowledging his poor behavior but rather distracting him from his anxieties or fears of the other dog.
Practice
Continue to take your Chihuahua near other dogs or in areas where he will see other dogs but not interact with them. Each time your Chihuahua acknowledges the presence of another dog, give him a treat. Do not let the other dogs get close to your dog at this point.
Up close
After some practice conditioning your Chihuahua to seeing and being near other dogs, introduce him to a dog you know and trust. This dog can be any size, just make sure it's one you are familiar with.
Neutral territory
Have your Chihuahua and the dog you know and trust meet up in one of the places you and your dog have been visiting.
Meeting treats
As both dogs get closer, offer both a treat. You have conditioned your dog to associate treats with other dogs, be sure to continue this conditioning as dogs get closer.
Greeting
As long as the dogs are getting closer without aggression, continue to offer them both treats. If your Chihuahua is at all apprehensive about this meeting, give him a treat and walk away with your pup.
Keep trying
Keep trying to introduce your Chihuahua to other dogs or the same dog on neutral ground with treats until he allows their interactions to be closer. Each time they meet, try to get them closer and closer. Be patient. If your Chihuahua is aggressive or anxious, it may take time, but he will get it with patience, tolerance, and lots of tasty treats.
The Obedience Commands Method
Basic commands
As soon as you bring your Chihuahua home, begin to teach him basic obedience commands. This will set the tone for your relationship in the future as well as give you tools to use when he meets other animals or people.
'Sit'
As soon as your Chihuahua meets another dog, have him sit.
Treat
Once your dog sits, offer him a treat. If he does not sit because he's on edge with another dog nearby, show him the treat and command him to sit again. Once he sits, give him the treat and treat the other dog as well.
Down
Once your dog is sitting and earning treats, have him go into a 'down' position. If the other dog knows this command, have him lie down as well.
Reward
Once your Chihuahua is in a down position, offer him a treat. At the same time, give the other dog a treat as well.
Eye contact
Allow some time for the two dogs to look at one another and sniff if they choose.
Treat again
As they are getting used to one another, offer them both a treat.
Repeat
Try to ignore the dogs as they get used to each other. Keep them in a 'sit' or a 'down' position to keep them focused. As long as they are not being aggressive, treat them both.
Practice
Use this method each time your dog meets another dog. Always pair a meeting with treats and commands. Consider making the treats you use when with other dogs a bit more high value than training or everyday treats.
By Stephanie Plummer
Published: 12/19/2017, edited: 01/08/2021
---