How to Train Your Dog to Greet Visitors Calmly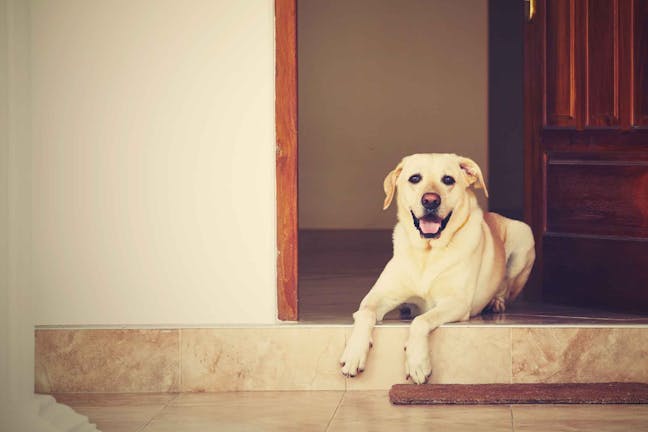 Introduction
No one enjoys walking into a house where a dog is going to jump all over them. You want your dog to know when visitors come and go, and you would like him to keep your house protected. But you also want your friends and family to be able to come and see you while wearing nice clothing or carrying gifts without your dog jumping all over them. Teaching your dog to greet guests calmly is not only beneficial within your own home but also beneficial when your dog is out and about such as at your veterinarian's office. An excited dog can cause damage to clothing, other animals, or even your house. We may all know a house that has scratches all over the doors and windows because the dog jumps each time the doorbell rings. You don't want to be the one family member or friend no one wants to visit because your dog will not stop jumping on anyone who enters your home.
Top
Defining Tasks
Teaching your dog to greet guests in a calm manner can be done in a few different ways. You can give your dog a special place to sit or lie calmly while he waits for visitors to come to him. You can teach your dog to shake hands with visitors before they walk in the door. This gives your dog attention and acknowledgment without your dog jumping all over your guests. While teaching your dog to greet your guests calmly demonstrates good behavior, it also builds on your dog's manners. A well-mannered dog will be a dog who gets more attention when you have company. Teaching your dog to greet guests calmly goes both ways as well. If your overall goal is to teach your dog manners, be sure to let anyone who comes into your house know the rules, so they do not encourage your dog to jump or greet them in wild fashion.
Top
Getting Started
To teach your dog to calmly greet guests, you will need lots of delicious treats, a leash for at least one method, and a special place for your dog to be greeted once your guests are ready to say hello. This could be a spot on the floor near the door or a mat or a bed you teach your dog to go to when the doorbell rings. Dogs are excited when the opportunity arises to meet new people. Each time the doorbell rings your dog probably thinks it is a visitor for him. So have time and patience to teach these manners to your dog. You may want to recruit a friend to ring your doorbell now and then and assist with the training process.
Top
The Ignore Your Dog Method
No attention
Do not give your dog any attention from anyone if he is jumping to greet your guests.
Communicate
Teach the people who come to your home not to touch, pet, or acknowledge your dog unless he is sitting or lying down and is calm.
Praise and pet
Once your dog has calmed, pet him and praise him for being a good dog.
Sit command
Ask your dog to sit before he is allowed affection and a greeting. Once he sits, give him the attention he deserves for obeying. Remember your dog just wants to be noticed. Once he is a good listener and obeys, notice him.
Practice
Practice this with everyone who comes into your home. Set your expectations with your guests, so your dog begins to understand he will not get affection or attention until he is calm.
Reward
Always offer your dog a reward. While training, you can have treats nearby to offer once he is calm or you can give him praise for being a good boy.
Sit
As soon as the doorbell rings or guests arrive, ask your dog to sit on a mat or bed and offer him a treat for obeying.
Command
Using a treat for a lure, hold it out near your dog and ask him to wait. Do not give him the treat. You can use a hand signal as well to keep your dog in place. The typical 'stay' hand signal is your hand up palm facing out toward your dog.
Treat
Open the door and give your dog the treat on his mat as soon as the door is open.
Another treat
Repeat the step above with another treat. Hold the treat so your dog can see it and use the command 'wait.' Do not give your dog the treat unless he stays still and waits.
Count
As you are greeting your guest, count to three and then reward your dog with the treat for waiting.
Repeat
Continue to use these steps as your guest is coming into your home to entice your dog to stay on the mat away from your guest. Each time, use the command 'wait,' and reward after a few seconds have passed. You can increase the time to make your dog wait.
Practice
You can practice these steps without the doorbell or guests in your home. Teaching the command 'Wait' can help your dog stay calm when company visits.
Keep leash by door
Keep a leash by your door, so when the bell rings, you can attach the leash to your dog.
Tight leash
Answer the door, keeping your dog on a tight leash.
Command
With your palm facing out facing, put your up hand in front of your dog's face and say the command "wait" while holding his leash close to your body
Open door
Open the door for your guests and use the command wait.
Keep dog away
While holding the leash tight, continue to use the command 'wait' and greet your guests.
Reward
Reward your dog with affection once he's calm and ready to greet your guests.
Practice
Continue to practice asking your dog to wait until he no longer needs the leash.
By Stephanie Plummer
Published: 10/10/2017, edited: 01/08/2021
---