How to Train Your Dog to Greet You Calmly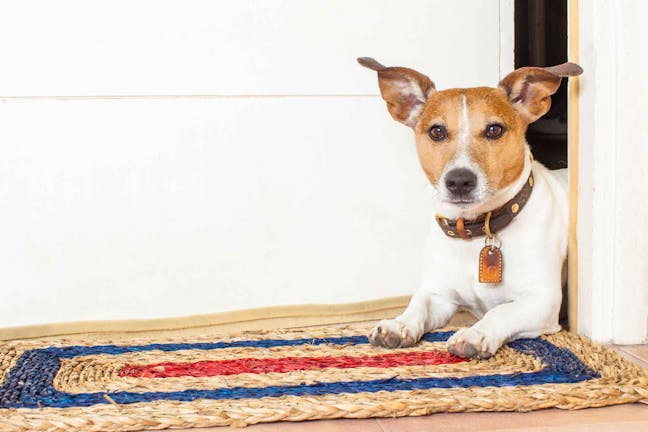 Introduction
Coming home from a long day away from your dog can be exciting itself. You know you will be greeted with unconditional love and affection, and at least someone at home will be happy to see you. But if you are wearing nice clothes, or if you are carrying groceries or even a sleeping child, you probably don't want your dog overly excited, jumping all over you, or barking and making a lot of noise. If you want to avoid this type of greeting when you first walk in the door, you will need to teach your dog to greet you calmly. Imagine coming home from a long day at work and having the chance to change out of your work clothes and set down your packages before your dog shows his utter excitement. Your dog can learn to greet you calmly with patience and wait until you are ready to show affection.
Top
Defining Tasks
Teaching your dog to greet you calmly when you walk in the door will take some time and patience. You may need a partner or friend to help as well. You can train your dog to greet you calmly a few different ways. Teaching your dog to shake your hand when you first walk in the door is a good start. This puts him in a seated position where he still gets your touch and affection but doesn't get to be wild, jumping all over you. You can also walk in the door and point to a mat or a bed and ask your dog to wait. At some point not too long after walking into the house, you will need to acknowledge your dog because he has missed you while you were gone. But it is entirely acceptable for your dog to wait a few minutes until you are ready. And giving him a special place to sit and wait offers him queue line of sorts. He will know when you are ready and will be in his special place waiting for your attention.
Top
Getting Started
To teach your dog to greet you with calm manners, you are going to need tasty treats to offer for rewards. Having a special spot just for your dog to sit and wait patiently until you are ready for greeting could also make this a successful training. You could have a mat or a bed on the floor or just a particular spot that you have reserved just for your dog. This will take some time so have patience. Practice when you can during times that aren't tough and stressful, like the end of your workday or when your hands are filled with groceries. 
Top
Introduce mat
Place a mat or bed near the door where you usually come in from outside. Have your dog get used to it by offering him treats each time you place him on it. You can also give it a name to use once you move the training to greeting you once you have arrived home.
Sit
As soon as you get home, point to a mat or bed reserved just for those greeting times. Ask your dog to sit or give him the keyword you picked to use for the mat.
Wait
Ask your dog to wait once he's on the mat. Offer him a treat for going to the mat.
Inside
Once you are ready to greet him, go to your dog's mat and say hello. He'll love a pet at this point since he's missed you all day.
Stay
If you need him to stay on his mat because his behavior is still a bit on the wild side, offer him a treat and tell him to stay on the mat or use the keyword for the mat. Give him the treat once he complies.
Practice
You'll need to practice this for several weeks until your dog understands your expectations. Be consistent, and make your dog go to his mat each time you enter the house. Be sure to reward him with a treat and lots of affection as soon as you can.
The Ignoring the Dog Method
Zero attention
Do not offer your dog any attention when you walk into the house.
Turn your back
If your dog is excited, turn your back on him. Keep turning if he follows you around.
Praise
Once your dog has calmed and tired of playing the game, offer him praise for calming down.
Sit
Ask your dog to sit once he is calm.
Reward
Be sure to offer your dog a reward if he is able to remain calm. You can lead him to the kitchen for a treat each time you enter the house. This will help keep him calm as he learns and remembers he will get a treat if he is calm.
Practice
Keep practicing as often as you can. Remember coming home from work should be the same as coming in from outside. Your dog won't know the difference, so your expectations should remain constant.
The Paws on the Ground Method
Open the door
Open the door and begin to step inside. If your dog is overly excited, close the door and stand outside for a short moment.
Try again
Ignoring your dog, try to open the door and step inside. You may need to close the door again. At some point, your dog will become curious as to why you are not entering. Once his curiosity is peaked, he will sit down watch for what is to happen next.
If he is calm
If he is calm, reward him with a treat.
If he is not calm
Use the command "Paws" and point to the ground. This may take some time for him to comprehend, but he should look down where you are pointing and put his paws back on the ground.
Paws
Each time you come inside the house, point and use the command 'paws' so your dog knows your expectations of keeping his paws on the ground.
Reward
Always offer a reward for good behavior and come back to pet him once you are in the house and settled.
By Stephanie Plummer
Published: 10/10/2017, edited: 01/08/2021
---