How to Train Your Dog to Not Attack Goats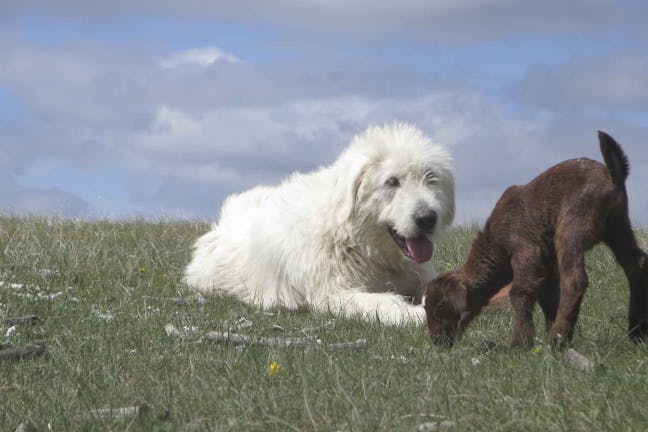 Introduction
If you are homesteading or simply keeping goats for pets or a food source, you want to keep them protected as you would any other animal on your property. Maybe you live in the country and have neighbors who have goats. Either way, training your dog to be kind and respectful of other animals as well as property is imperative, especially if you are in an area where your dog is often off leash and free roaming. Having a dog who can safely be around other animals is extremely important if you are in an area where leash walking or open range living is something your dog will experience every day. Many city dwellers teach their dogs to walk on leashes and keep the dogs under their control. A dog who lives on acres of land is not an ideal candidate for regular leash walking. 
Top
Defining Tasks
If you have a dog in an open environment, to keep him protected from vehicles and dangers such as other animals and to keep other animals protected from the natural instinct of chase and hunt from your dog, you will need to train him to stay in areas where he and animals around are safe. Goats are easy prey for dogs; even dogs who are not trained to hunt can quickly attack goats because goats become easily winded. They are easy to tire out and run down, making the chase fun and short for a dog. Spending some time teaching your dog to heel off leash and stay with you while you are walking together can help keep him away from goats. You can also teach your dog to respect the boundaries between him and the goats he will see on your property or a neighboring property. To help your dog comprehend your needs for respecting the goats, expose him to goats every day, if not several times a day, for several weeks before you set him free near the goats.
Top
Getting Started
Keeping your dogs from attacking goats will require obedience training, time, and patience. Be prepared to teach your dog basic obedience commands such as 'sit', 'stay', 'wait', and 'heel' first. Initially, as you introduce your dog to goats and train him not to attack, you might want to consider putting him on a leash so you can have better control his reactions. Prepare yourself with some of your dog's favorite treats. With obedience training, teaching him to stay with you off leash and respect the goats may take several weeks. If your dog does not understand basic obedience commands, train those first and add a few more weeks to your timeline before leaving your dog near goats unattended. 
Top
Protect goats
Protect your goats by keeping them in an enclosure while you introduce your dog and as your dog is training to respect them and their space.
Watch me
Walk your dog to the enclosure on a leash. Each time your dog acts overly excited, gently tug on the leash and give the "watch me" command.
Treat
Place a treat near your nose to get your dog's eyes on you. Your dog should look at you. When he makes eye contact, say "watch me" and offer him a treat.
Walk dog
Walk your dog around the enclosure, stopping each time he shows the goats attention. Repeat the command 'watch me' and treat each time he makes eye contact with you.
Repeat
Follow these steps a few times a day for several days.
Off-leash
With goats still in the enclosure, take your dog off leash. Repeat the steps above, treating your dog each time he loses interest in the goats and connects with you.
Into enclosure
After a few days, if you are comfortable, take the dog into the goat enclosure and repeat the steps above, starting with a leashed dog.
Enticing treat
Each time your dog has your attention instead of being distracted by the goats, offer him a treat.
Command
Continue to use the 'watch me' command every time you and your dog are near the goats together.
Work around goats
Work with your dog around the goats, keeping a close watch for everyone's safety, until you are confident he will respect the goats and not attack them.
Hide treats
Hide some treats in your hands.
Sniff
Let your dog sniff your hand but leave it closed.
Leave it
As soon as your dog sniffs your hand to explore the treat and the delicious smell, say the command "leave it."
Divert attention
The moment your dog diverts his attention from the hand you are showing him, praise him and reward him with a treat from your opposite hand. If you are using a clicker to train, click and treat.
Practice
Practice this a few times and then move the treat to the floor while covering it with your hand.
Command
As your dog begins to sniff the treat on the floor, use the command to 'leave it'. Again, when he diverts his attention from the treat, praise and reward from your opposite hand.
Practice with goats
Continue to practice the 'leave it' command in various situations such as while walking on the leash where your dog can see goats. Once your dog has 'leave it' mastered, take him on a leash near the goats.
With goats
Use the 'leave it' command each time he shows interest in the goats. Treat your dog each time he leaves the goats alone.
The Heel Off-Leash Method
Off-leash heel
Practice off-leash heel command around your protected space such as your private property away from goats.
Sit facing you
Ask your dog to sit facing forward on your left side by enticing him with a treat that puts his body in the correct position.
Treats to entice
With treats in both your left and right hands, use hand signals to entice the dog to walk with you. Ask your dog to sit with hand signals and reward with a treat.
Heel
With a treat in your left hand use the verbal command "heel" waving the treat in front of his nose encouraging him to walk next to you at your pace.
Sit
When you are ready to stop, use your right hand to encourage a 'sit' position and offer the treat for positive behavior.
Practice
Continue to repeat this process using your left hand and treats to help the dog pace with you and next to you and to sit when you stop.
Increase pace
As your dog gets used to this method, increase your pace asking your dog to sit less.
Near goats
Take your dog near goats with a fence or something between you so your dog can see the goats but cannot get to them. Repeat the steps above with goats in view. As your dog practices and masters 'heel', use it when you and he are near goats.
By Stephanie Plummer
Published: 01/01/2018, edited: 01/08/2021
---