How to Train Your Dog to Not Bark at Birds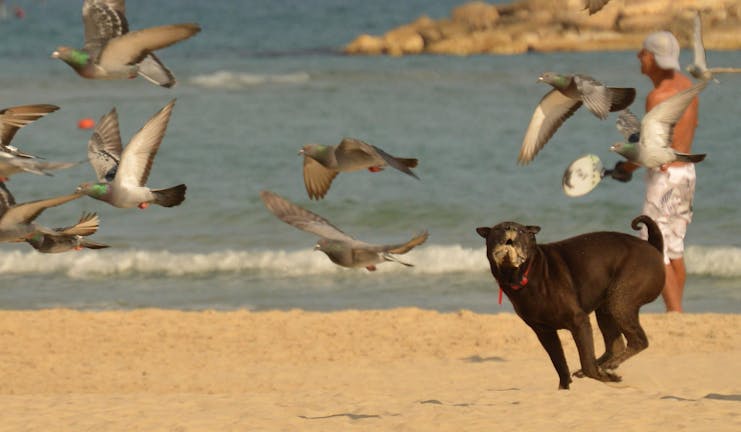 Introduction
Birds visiting your yard and home can be relaxing to watch, beautiful to listen to, and incredibly exciting for your dog. If you have a yard full of birds or bird houses and feeders around your house, your dog may be barking at them. 
A dog who barks at the birds outside your home can not only disturb the birds and scare them away but also annoy your neighbors. There is nothing quite like ruining a quiet weekend morning coffee with a dog barking at your peaceful scenery in the springtime as the birds flit from flower to flower in your blooming garden. Train your dog not to bark at the birds and enjoy your time outside together while leaving nature to entertain you and help you relax. Your dog might see birds as toys or even as threats, so it will be up to you to give your dog entertainment as well as safety and security, so he sees no need to scare off the birds. 
Top
Defining Tasks
Giving your dog something better to do than barking at birds will help with this training. Your dog will also need to know it's not his job to protect you from the birds around. Getting him to ignore the birds might be more difficult than getting his attention on something else, but you can try both ways to get him to stop barking at the birds. You can offer your dog toys to play with, treats to eat, or a trip back into the house to get him occupied doing something else besides barking at birds. You can train any dog these manners and behaviors. Younger dogs are easier to train as older dogs need to rebuild old habits, but with the right rewards and positive training, even your older dog can learn to leave the birds alone. 
Top
Getting Started
Have alternatives ready for your dog as you begin to expect him no to bark at birds. Treats, toys, and puzzle toys with hidden treats to keep his interest can keep him busy outside as he gets used to the birds in his space. Be patient and consistent with this training. High-value treats will also help to reward your pup when he does a good job ignoring the birds and to remind him to leave them alone if he wants to continue to earn rewards. 
Top
Training the command
Train your dog the 'leave it' command, so you can use it when you are outside and he is barking at the birds in your yard.
Treat
Start training your dog to 'leave it' by enticing him for the treat. Hide a treat inside your hand and let your dog sniff it so he knows what is there and that he could potentially earn it.
Command
Say the command "leave it" as your dog sniffs your hand with the treat. Of course, your dog cannot get to the treat because it's hiding within your hand.
Ignore
Once your dog ignores your hand with the hidden treat, give him some verbal praise such as 'good boy' and then give him the treat. Eventually, he will get that ignoring whatever you're asking him to leave alone is connected with the 'leave it' command.
Additional items
Once your dog connects the 'leave it' command with ignoring the treat hidden in your hand, take your training to additional items such as a toy or a spoonful of peanut butter you have hanging over his nose.
Reward
Be sure to reward your dog once he takes his attention away from whatever it is he wants after you use the 'leave it' command.
Outside with birds
After several sessions and high rewards with the 'leave it' command, take your dog outside and allow him to bark at the birds. Once your dog starts barking, say the command 'leave it.'
Attention elsewhere
Once he hears that command, he should pause and either give you his attention or at least take his attention off of the birds. Once he does this, give him a treat. Practice this command to 'leave it' every time he's outside barking at the birds. Be sure you only give the command when the birds are getting his attention.
Outside
Take your dog outside when you know the birds are active. Encourage him to run around and play in your backyard and wait for him to bark at the birds.
Uh-Oh
As soon as your dog barks at the birds say the words 'Uh-Oh,' and give him the logical consequence of needing to go back inside.
Inside
As soon as you say "Uh-Oh" take your dog back inside the house.
Try again
Try to take your dog back outside again when the birds are active. This can be moments later or this can be hours later.
Repeat
Repeat the steps above when your dog barks at the birds. This will condition him to understand each time he barks at the birds, you say "uh-oh" and he has to go inside. He will eventually learn that if he wants to be outside he needs to not bark at the birds.
Treat
When your dog is outside and not barking at the birds, reward good behavior. Notice when your dog is ignoring the birds and give him a treat. This will also condition him to believe he can earn treats for being quiet and not barking at the birds.
The Birds are Good Method
Introduce birds
Take your dog outside for a walk around your backyard. Point out the birds. If you have birdhouses this is even easier to do so he can see the house that is always in the same place, and talk to him about the birds.
Break focus
As you're walking together, if your dog barks at the birds show him a treat to get his focus on you and off of the birds.
Treat
Once your dog's attention is on you and off of the birds, give him the treat.
Command
After practicing this several times when your dog is barking at the birds, you need to give him a command. This can be specific to the birds or a command you use for other things when you need to get his attention away from something that is distracting him. A 'watch me' command works or even just the words 'no birds.'
Barking
Once your dog has moved focus from the birds to you, begin to use your verbal cues and commands such as 'no birds' when he starts barking. Pair the command with a treat so he can associate the word with the action of not barking, along with the potential of earning a reward.
Practice
Practice this as often as you can. Before you head outside once your dog understands the commands 'no birds,' say it as you open the door and walk outside.
By Stephanie Plummer
Published: 01/04/2018, edited: 01/08/2021
---