How to Train Your Big Dog to Not Bite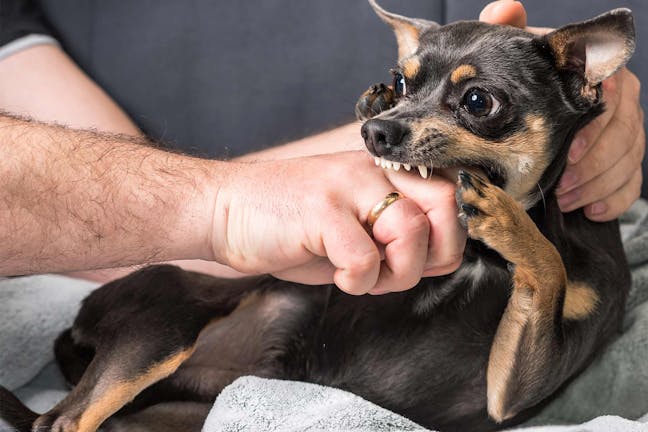 Introduction
Big dogs can be quite intimidating to people in your family as well as people your dog meets outside on walks or at neighborhood parks. Teaching your big dog not to bite from an early age is imperative for the safety of you and your family as well as those around you, but also for the safety of your dog. 
The size of a large breed dog can be enough to intimidate people, especially those who are fearful of dogs. If your dog is allowed to bite and nibble as a puppy, when he turns into an adult and is more powerful, those little puppy bites with the sharp teeth can become something serious.
Top
Defining Tasks
Any dog who has bitten more than once runs the risk of being in trouble with the law. So this is an important training for your dog, especially because he's a large breed. You can teach your dog some simple commands such as 'no bite' or 'gentle' once he is in training. It is much easier to train a puppy not to bite to than it is an adult a dog who's already aggressive. But with a little extra work, you can turn an aggressive dog around as well. 
Training your dog not to bite when you have food or when he takes food from your hand is a great place to start with this particular task. Also, teaching your dog not to bite during playtime will remind him not to bite when others play with him or when other animals play with him. This kind of training is important for large breeds because of their size and their strength.
Top
Getting Started
Training your dog not to bite people or even objects can start with giving him treats from your fingers. These treats should be small so he has to work hard to not bite your hand since that's what he will see when you offer the treat. You can also use toys, teaching your dog when it's okay to playfully be aggressive and when it's not okay to be so aggressive or to keep fighting while playing. Keep your training sessions short but take advantage of every opportunity to remind your dog not to bite even if it's not a scheduled training session.
Top
Good behavior
Do not encourage any rough play or poor behavior from your dog. Do encourage good behavior. When your dog is playing nicely with you, not nipping and not biting, offer him treats every so often during play time.
Toys
Always use toys when you're playing with your big dog so he doesn't confuse hands or arms for something he is allowed to chew on such as a toy. Especially when your big dog is a puppy, he needs to chew and bite on something while teething. However, don't encourage biting on anything except a toy so as he grows older and stronger he knows what is acceptable to bite.
Excited play
When your dog, whether a puppy or an adult large breed, gets overly excited at play, immediately stop the play session. Be sure to tell others who are playing with your dog to stop as well when the dog is too excited to control himself.
Direct contact
Do not play with your dog without using a toy. Owners who have trouble with large dogs biting will often use their hands around the dog's mouth during play. Do not allow direct contact between your body and your dog's body during playtime. Always use a toy for your dog to play and mouth.
A time out
Give your dog a time out of sorts, once his behavior becomes excited and rough. Have him lay down on his bed with a chew toy away from people so he can calm down, still chew, and play quietly.
Other dogs
While you are teaching your dog not to bite, keep his time with other dogs limited to short play sessions and to only one or two dogs rather than a large group of dogs.
The Gentle Command Method
Tempt
Stand in front of your dog and try to tempt him with a treat in your hand.
Eager
When your dog goes for the treat, say the command "gentle", and give him the treat.
Nip
If your dog nips at your fingers or bites your hands trying to get the treat out of your hand, go back and say 'ah ah.' Repeat your command keyword 'gentle' and try to give him the treat again.
Treat
You don't want to tease your dog by not giving him the treat, so the second time, give him the treat even if he nips your hand. However, try to drop it before he gets his mouth on your hand.
Repeat
Repeat the steps above until you can hand your dog a treat very gently without him nibbling at your fingers.
In play
Once your dog understands the command 'gentle' by learning it through earning treat from your hand without biting, begin to use the commands during playtime. Play with your dog and anytime he puts his mouth on your skin or your clothing, use the command word 'gentle' to slow him down and remind him not to bite.
Practice
Continue to practice the 'gentle' command anytime your dog needs to be reminded that biting is not okay. This could be in situations where food is involved, where play is involved, where children or other people near your dog are involved, or with other animals. Anytime your dog hears the word "gentle", he should know to back up and not use his mouth for biting.
Rough play
Create a situation with your dog so that you are playing rough together. Do not include any toys in your rough playing just use your hands.
Yelp
When your dog mouths your hands, continue to play with him, allowing him to gently have his mouth on your hands. If he bites, yell out a high-pitched yelp. This sound should mimic a hurt animal.
Limp limb
After you have yelped loudly, let your hand or arm hang limp for your dog to observe.
Dog's attention
This yelp should get your dog's attention. He should stop biting and potentially even stop mouthing your limp hand or arm and stop and look at you.
Ignore
After you have gotten your dog's attention or he has stepped away from you or at least pulled his mouth back away from your hand or arm that he bit, ignore him for a moment. He may not chew and may even begin to lick your arm.
Praise
If he stays away from you or only offers you sweet loving licks to help you with your pain, offer him some verbal praise.
Repeat
Repeat this method several times until your dog understands that you can play rough together if he can not bite. This works well for large dogs who are around children, which will be around the dog's face quite often. Do not practice this with children or with anyone who may think this is how your dog plays, such as your children.
By Stephanie Plummer
Published: 12/15/2017, edited: 01/08/2021
---