How to Train Your Small Dog to Not Bite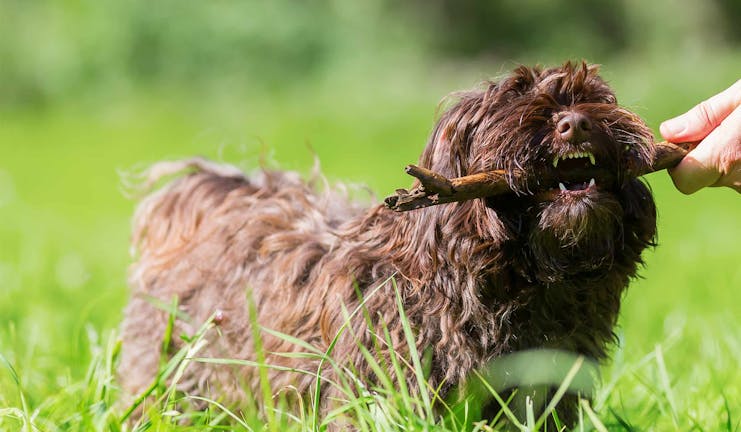 Introduction
Growing up, it's likely that you've been told what to do to avoid being bitten by a dog. Let the dog smell you and get familiar, offer it a snack, give it some space, and never use any kind of physical force against it. It makes sense. Treating dogs with respect and patience is a key to creating a good relationship with them. Unfortunately, that doesn't always happen.

Smaller dogs are well known for being feisty and sometimes even aggressive. There are plenty of videos on the internet of growling Chihuahuas baring teeth or snapping at their owner's fingers. While some people may find the behavior cute or funny, even smaller dogs are very capable of showing aggression for any number of reasons and a bite, though not as severe as one from a larger dog, can still cause injury or infection. However, if your small dog is already prone to biting, don't worry. There are plenty of ways to get him out of the habit.
Top
Defining Tasks
Getting any dog to stop biting can be a daunting task, but small dogs especially may have it so ingrained in their behavior that it can present another level of challenge. On the bright side, the chances of needing to use a muzzle to prevent severe bites are much lower with smaller breeds. Even then, there are opportunities to work through a biting habit with almost any dog, small dogs included. While it may take a few weeks for the adjustment to take place and will require an outstanding amount of consistency and patience, it's worth the effort.

Small dogs have been known to bite out of fear, territorial aggression, playfulness, injury and illness, or because of past neglect or abuse. It's important to discern exactly what is causing your dog to snap, as this can greatly increase your chances of selecting the right type of training to make it stop entirely.
Top
Getting Started
Before anything else, have your dog evaluated by a veterinarian to eliminate potential injury or illness that can be causing him to bite. Teething may also be a reason for biting in a younger dog.

Treats are useful as positive reinforcement and a reward for good behavior. Make sure you have some on hand during your training sessions to offer to your dog to let him know that good behavior gets rewarded. Feel free to use a favorite toy if this motivates your dog better than treats do.
Top
Learn your dog's boundaries
Every dog has a threshold that, when passed, will cause them to react. Determining what causes your small dog to bite is important when figuring out how far you can go with your training.
Start at the bottom
If your dog is biting when you touch his face, then you'll want to start at a bit of a distance away from him, not touching him at all. This should essentially be level zero where your dog will not react to you.
Gradually work your way up
Using treats or a toy as a reward, spend some time getting gradually closer to your dog's threshold. Reward any time he allows the progression without reacting.
Be patient
A biting habit will almost always take a good amount of time to adjust. Never try to push your dog faster than he's willing to go.
Growling is a warning
Growling is often seen as negative, but growling can be used as a bite indicator. If your dog is growling, you will want to stop and move back to where he is comfortable. Never discourage growling as this can result in a dog that will bite without any warning at all.
Move back a step if necessary
Sometimes your dog will regress and start reacting even after he's shown that he can behave well at a certain level. In this case, move back to where he was previously successful and try again.
Practice often
Even after successfully getting your dog to be comfortable at his usual threshold, you'll want to continue to work with him on his comfort level. Repetition will help him remember that he can handle situations without resorting to biting.
Do not allow play biting
Sometimes, we allow our dogs to mouth at our fingers during play. To eliminate the potential for this to turn into a more serious biting habit, disallowing play biting is important. Stop encouraging your dog to bite you in play if she does it frequently.
Get everyone on board
Make sure that everyone you share your home with is on board with this method as consistency is key. If people in your home are doing things differently, your dog is likely to get confused.
Make a sharp sound when your dog bites
If your dog makes an attempt to bite you or dog bite at you, even if it's a play bite, you'll want to mimic the sound of a yelp as best as you can by either using a high pitched "Ouch!" or something similar. Dogs learn from puppyhood when a bite is too hard as their littermates often give yelps when bitten. By mimicking this behavior, you can interrupt her bite.
Separate and ignore
Any time your dog bites, make your yelp sound and set her down if she's being carried. Stand up and turn away. Have everyone in the room pay no attention to her. Do this for at least a few minutes.
Refocus but do not touch
After a few minutes have passed, you can turn back to your dog. Don't offer her physical affection just yet, but you may talk to her and ask her to perform an obedience command. Asking your dog to 'sit' before doing anything else can be one way to get her mind off of biting.
Reward for good behavior
If you can request an obedience command or trick to be done, reward for the command being followed. This can be with a treat that can be then followed up with physical touch once again.
Repeat during any bite incident
This process must be done every time your dog bites, no matter the severity. Eventually she will understand that playtime ends when she bites.
Determine your dog's social level
Some dogs may be fully socialized while others may cower in fear or snap aggressively around strangers. Figure out if it's people, other dogs, kids, or something else that may be triggering a bite response from your dog. Do not push him to bite intentionally during this step and watch for signs of discomfort in various situations. Remove him quickly from the situation if he becomes aggressive.
Check vaccines
Double check your dog's shot records and ensure that they are up to date. Any attempt at socialization must be followed up by appropriate reassurance that he has been vaccinated to prevent giving or receiving illness from other dogs.
Explore at a distance
Begin by exposing your small dog to a variety of environments and places. Keep your distance from others at the beginning to help him adjust. Try the park, a pet store, or car rides.
Develop good associations
Strange places, people, or animals can be scary. Offer treats to associate these potentially scary places with good things. Do not offer treats if your dog is reacting aggressively. Remove him from the situation and try again in a less intimidating location.
Continue with gradual exposure
Socialization, especially for an older dog, will take some time and patience. Gradually work your way from familiar and less stressful locations up to strange places with higher potential for stress. Take your time and always reward him for good behavior to encourage good habits.
Always supervise
Never leave your dog unsupervised with other animals or children. This can result in a potential fight or injury.
Consult a trainer
If your dog exhibits serious aggressive or fear-reactive tendencies that could lead to a serious bite, consider consulting a trainer or behaviorist to address these issues.
By TJ Trevino
Published: 01/05/2018, edited: 01/08/2021
---