How to Train Your Dog to Not Guard Toys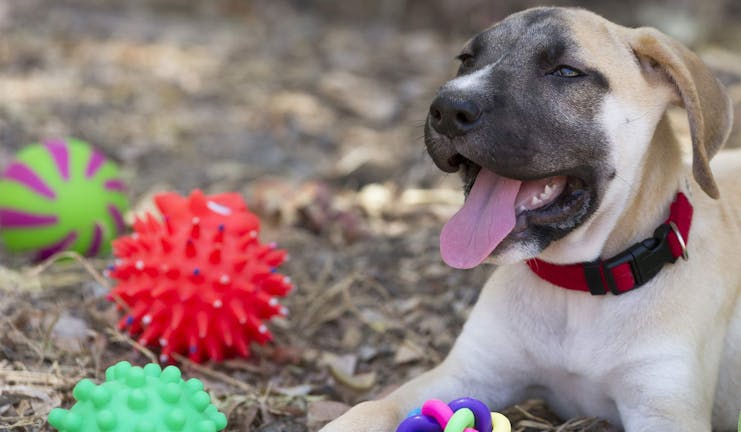 Introduction
For a usually well- behaved dog, a growl or snap is reserved for the really annoying or scary things. Aggressive behavior is not what you might expect from your dog on the best of days and especially not when you'd been looking forward to playing with him and his favorite toy. Instead, your dog is hunkered down, protecting that toy as if it were his own puppy. While this sort of behavior is not uncommon, it's almost always unwanted and sometimes it can escalate into dangerous.

Known as 'resource guarding', this behavior occurs in dogs who feel as though their 'resources'-- for example, food or a nice to--are at risk of being stolen or taken away at any moment. Your dog is merely protecting what he believes should be rightfully his, calling back to behavior that his ancestors would rely on to protect the food and other resources they needed for survival. However, while it may have benefited his ancestors, there's typically no reason for a domesticated dog with a comfortable home and a regular feeding time to guard his resources.
Top
Defining Tasks
Resource guarding can go from bad to worse if not handled appropriately and what may start off as a growl can quickly escalate into a snap or outright bite. It's best to stop resource guarding in the earliest stages of growth during the puppy stages, but that may not always be possible. Luckily, there are ways to ensure your dog that he doesn't need to fight for survival and adjust him to being open to sharing his food and toys with you. It can take some time for him to understand that he can trust you, but a little bit of patience and repetition can go a long way.
If your dog's resource guarding has already escalated to the point where he is likely to cause injury to someone with a bite, it's always recommended to see a vet or a professional trainer. Your safety is always the most important thing when dealing with a dog with any sort of aggressive behavior issues.
Top
Getting Started
Dogs often pursue things with most value to them, generally in the form of tasty food. To start with, you'll need to find something much more valuable to your dog than whatever it is that he's guarding. Food will almost always be worth more than a toy to a dog, so it's recommended to use treats that are exceptionally rare for him like little bits of cooked chicken or beef. The smellier the treat is, the better.
Besides this, the only other thing you'll need is a lot of patience and a bit of bravery. It can be scary to face a growling or snarling dog, so practice this training when you're in a good mood or relatively relaxed. Stress will easily get passed to your dog, so making sure you're in the right environment and you're mentally prepared is key.
Top
Find a new area for toys
If your dog is used to playing with his toys in a certain space, relocate this space to another, less familiar area of the home. This will help break him of any habits that are associated with the area in particular.
Find a treat more valuable than the toy
If he's dead set on guarding his toy, gather up some smelly treats that are sure to catch his attention. Have them on hand and ready to go when you start training.
Keep your distance
A key component of conditioning your dog to more positive responses to positive interactions is to not push him past his threshold. At the beginning, stay at a distance where you know he won't growl at you.
Toss the treats
Don't approach him, but instead, throw the treats from your position at a distance. Do this a few times and then walk away.
Repeat throughout the day
At random times of day, walk over to where your dog is playing and toss him some treats.
Get closer over time
Over a period of the next few days or weeks, gradually step closer to your dog's play area, tossing treats at him as you do so. If he starts to growl, take some steps back to where he was last successful and try again.
Train your family
If you don't live alone, involve the people who live with you to reinforce the training by tossing treats at your dog when he is playing with his toys. Ensure that any and all children participating only do so under adult supervision.
Be patient
Resource guarding is sometimes a deeply ingrained habit and can take a long time to break. Be patient and continue working with your dog every day. If necessary, consult a behaviorist for additional help.
Offer your dog a low value toy
Find a toy that your dog is not really into and only plays with occasionally. Give it to him to play with.
Find a much higher value toy
Find the toy which your dog highly values and hold it in your hand where he can see it.
Wait for your dog to drop the first toy
Do not offer your dog the new toy until he releases the initial one.
Give the act a verbal cue
As you practice having him drop the toy, start anticipating when he will release it and use a verbal command to go with it. Something like 'give' or 'trade' will work well. Eventually he will associate the word with the behavior.
Practice
Continue to practice the act of trading toys for things of higher value like another toy or a tasty treat. Always use the verbal command. This process may take several days or weeks for him to willingly offer you his toys.
Always be cautious
This process is best done with the person who your dog is least defensive with or growls the least with. Do not allow children to participate without heavy adult supervision.
Offer a toy that is hard
Toys like Kongs or hard rubber chew toys work well for this. You'll want a toy that is hard to get a good grasp on with your dog's teeth.
Allow your dog to chew but don't let go
With one hand on the toy, allow her to mouth at the other end but do not allow her to take it from you.
Hold a treat near your dog's nose
With your free hand, wave a tasty treat near your dog's nose so she can get a good scent on it but do not offer it just yet.
Offer the treat for an open mouth
The second your dog releases the toy to try to take the treat, retrieve the toy and offer the treat right away.
Use a verbal command
As soon as your dog releases the toy, use a command such as 'drop it' or 'let go' and then you may reward with the treat.
Repeat
Do this multiple times with different toys that have various values for your dog. This may take several days or weeks for her to start releasing for the verbal command alone.
Keep treats around for a quick release
Have treats in an easily accessible place for you or your family members to reward your dog for dropping her toys for you.
By TJ Trevino
Published: 12/21/2017, edited: 01/08/2021
---