How to Train Your Dog to Not Hunt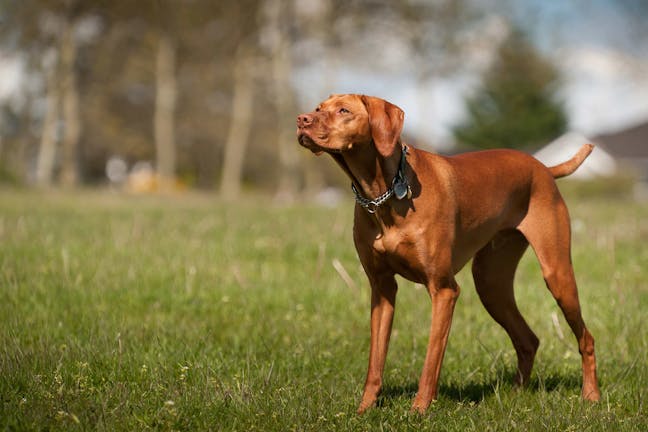 Introduction
It is natural for dogs to hunt. The idea of hunter and prey is a primal instinct. Though your dog is a domestic pet, he still has natural urges to chase and hunt. This does not necessarily mean he would know what to do with an animal if he actually caught one, but it could potentially be dangerous if he pulls on your leash or runs away while you are on a walk because he is chasing an animal. It could also be quite annoying to go outside with your dog and watch him chase squirrels and rabbits while you are trying to spend time with him. Few dog owners enjoy being pulled and tugged when they are at the other end of the leash. And few owners enjoy yelling for their dog's attention when the dog runs off to chase a squirrel or rabbit.
Top
Defining Tasks
Besides the obvious dangers of having your dog get away from you while leash walking in public spaces, you could also find yourself in trouble with your dog on someone else's personal property or in a fight with another animal, or even injured yourself if you are still holding on to the leash when your dog decides to chase and hunt. Teaching your dog not to hunt can be challenging and rewarding for you both. You want to be able to take your dog out on leisurely walks and have his attention not have him running off and chasing wild animals. Teaching him that hunting is not an activity you are going to do together is going to take some patience, some repetition, and extreme commitment to your dog and your desires of not having a hunting dog.
Top
Getting Started
Some techniques will require treats, toys filled with treats, enough kibble for a meal each session you have with your dog, and a leash. Be prepared to spend 10 to 15 minutes training your dog not to hunt each time you are outside together. As with any other command, teaching your dog a new behavior will take time, commitment, and patience. 
Top
The Distract and Redirect Method
Start on-leash
Start with your dog on a leash in an area where he would like to hunt, preferably somewhere he cannot win a hunt such as in your backyard with squirrels.
Watch
While on the leash, watch your dog react to a squirrel but hold the leash taut and say his name.
Attention
When you have his attention, offer him treat.
Repeat
Try this several times treating him each time you are able to distract him from the squirrels in the area.
Challenge
Once your dog has this new behavior down, take him out on a longer walk in an area where he might find more critters to hunt.
Practice
Practice the same routines with the treats and distracting your dog with a verbal cue and a tasty treat each time he looks at you instead of going after a critter.
Build habit
Each time you do this trick, your dog will become to build the knowledge and the habit of being present with you while on walks instead of hunting.
Improvement
As he gets better with this new habit, take him off the leash in a controlled area such as your backyard using the same method.
The Better Offering Method
Key phrase
Pick a key phorase you will use to teach your dog not to hunt, such as "No Hunting."
High-value treat
Prepared with a deliciously attractive treat such as a hot dog or chicken or beef. Be prepared to watch your dog go after an animal in a confined space such as your yard. You will want to be near him and not let him get too far from you.
Entice
If your dog is used to hunting a certain area like a tree or a bush for squirrels or rabbits, stand near that tree with your special treat.
Hunting
When your dog lunges to hunt, get his attention and ask him to 'sit'.
Reward
As a reward, offer a small morsel of the special treat while using your keywords, "no hunting."
Practice
Practice these steps each time you are outside and challenge your dog to stop the hunting process before it begins.
Repetition
This technique will require repetition and retraining. It will take time and commitment to redirect your dog to sit and not hunt. If you practice this a lot with your dog, he will begin to understand he needs to stop and sit each time you say "no hunting."
The 'Find It' Game Method
Hide treats
Because hunting is related to your dog's natural instincts and senses, hide some good smelling treats around your yard or along your path and play a game of 'find it'.
Scatter kibble
Before your dog heads outside, scatter his meal time kibble across the grass in your yard.
Send hunting
Send your dog out to hunt for his meal one piece of kibble at a time.
Instict
This trick will allow him to use his hunting instinct, reward him with a meal, and tire him out, so he has no time for hunting squirrels and rabbits in your backyard.
Chase
If your dog loves the chasing part of hunting, you can make a game of chase as well and have him hunt a ball that you throw for him or a toy filled with treats.
Make Note
Remember hunting is a natural instinct for dogs. Prey is very often searched for by scent, so make your treats and rewards enticing for your pup.
By Stephanie Plummer
Published: 11/29/2017, edited: 01/08/2021
---