How to Train Your Dog to Not Jump and Bite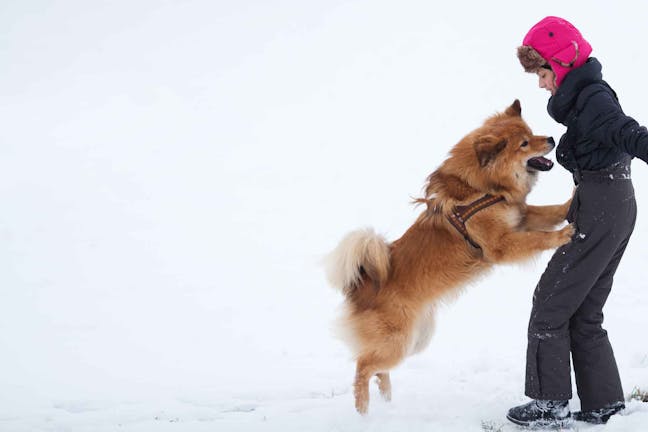 Introduction
Jumping is a natural behavior for dogs. Dogs will typically jump when they want your attention or if they want something you have, like a toy or a treat. If your dog thinks you have something he must have, he may jump on you and bite to get what he wants. Dogs will also jump out of excitement when meeting somebody new. Having a dog who jumps and nips at you can be scary and also dangerous. Puppies typically bite because they use their mouths to taste and feel the world around them. They do not know how much biting hurts; it is just a natural reaction for them. If you have an adult dog who is jumping and biting, it is possibly because her behavior was not corrected as she aged, leaving her with a bad habit.
Top
Defining Tasks
Teaching your dog not to jump and bite is imperative if you plan on taking your dog anywhere or if you plan on having company at your house. A dog who has bitten someone could potentially be in trouble with the law. So, you are going to want to have a dog who is well-trained, under your control, and not jumping and biting anyone around. For a puppy, teaching him not to jump and bite could potentially require several training sessions and reminders through repetition. However, for an older dog, you are changing habits they have built up over time. Either way, you are going to require some patience. Expect to spend several minutes a day, every time your dog is tempted to jump and bite, teaching her to forget this kind of behavior.
Top
Getting Started
Along with patience, time, and commitment to your dog's obedience training, expect to have treats, toys to offer, and the idea of the habits you would like to see your dog have such as sitting when a guest comes to visit instead of jumping and nipping at your guests. 
Top
Attention
If your dog jumps and bites you when he is excited, it's because he wants attention from you. One trick is to get down on his level instead of having him jump up to yours.
Consistent
With consistency, every time your dog jumps up and bites you, squat down to his level to give him affection and a treat to bite instead of you.
No touching
Without touching him while you are standing, only show affection once you are at his level.
Command
With this method, you can use a command such as 'down' if your dog knows it. If your dog needs to learn 'down', this is a good opportunity to teach him so he knows to lie down and wait for you to come to his level when he wants attention.
Tell friends
Teach anyone around your dog if they would like to pet your dog, he needs to be calm sitting or lying down and not jumping up before they are allowed to touch him.
Tempt
To tempt your dog, hold treats in your hands and stand in front of your dog.
Jump and nip
When he jumps up and nips at your hands, cross your arms, hiding the treats.
Key phrase
Use a command word or a key word such as "ah ah" or a command such as 'sit'.
Treat
When your dog sits, offer him a treat.
Step away
Stepping away, try the process again with treats in your hands that your dog can see.
Repeat keyword
When he jumps up and bites, use your keyword, "ah ah" and "sit."
Attention
When your dog diverts his attention away from your hands and sits for you, offer him a treat and verbal praise.
Guests
Your dog will need to associate this with guests coming into your home as well as greeting you. When guests come over, use the same process holding the treats and the verbiage, so your dog associates the jumping, no matter the occasion, with the need to sit and be still followed by the reward of a treat.
Practice
Practice several times a day for several weeks before you expect your dog to be able to sit calmly and quietly without jumping and biting.
Ouch
Letting your dog know that jumping is uncomfortable and biting hurts is a crucial part of training your dog not to jump and bite.
Jump and bite
When your dog jumps and bites, turn your back to your dog and use the key word such as "ouch" or "ah ah."
No attention
Don't give your dog attention to your dog until he calms
Follows
If your dog follows you around when you turn away from him, turn around again.
Commands
Using a command such as "no," "ouch," or "ah ah," keep your arms crossed and your back to your dog.
Calm praise
Once your dog calms, reach down to pet him and praise him.
Guests arrive
If your dog jumps at bites when guests arrive in your home, consider leaving a treat bowl near the door and offer your dog a treat each time he sits before opening the door and once your guest is inside.
Repeat
You will need to repeat this process every time your dog jumps up and bites to let him know jumping is not okay.
By Stephanie Plummer
Published: 11/30/2017, edited: 01/08/2021
---