How to Train Your Dog to Not Jump on Furniture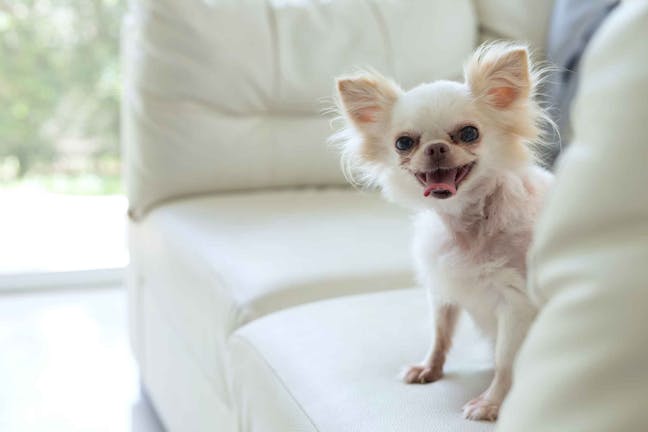 Introduction
Your furniture is soft and comfortable. In fact, you probably purchased it because of its beauty and comfort. If you have ever come home to your dog napping on your couch, then know he appreciates your taste in furniture as well. However, you may not want your dog to be quite so comfortable on your beautiful, soft furnishings. Dog hair can be difficult to clean up off some fabrics and dirty paws can leave stains on your beautiful furniture. Moreover, sharp little claws can poke holes in fabrics such as leather. If you have furniture you do not want your dog on, you will need to train him to stay off it.
Top
Defining Tasks
These training methods can be used for your fine furniture, your bed, and your everyday furniture. Maybe your household is run in such a way the pets should not be allowed on furniture at all. Or maybe you only have a few pieces you do not want your dog to ruin, but you may allow him on a family room couch while you are watching TV. 
Teaching your dog to know the differences between the furniture he can get on, if any, and the furniture you do not want him on will be imperative to this training. If you are dedicated to keeping your furniture safe from your dog, this should only take a few weeks and lots of repetition and rewarding great behavior from your dog instead of becoming frustrated and angry when your dog forgets the rules.
Top
Getting Started
To begin training your dog to stay off your furniture, you should start with an alternative for your dog. Invest in a thick and comfortable dog bed for your dog and place it in an area where he can still be part of social time and family entertainment. If your dog would prefer to sleep in your bedroom with you or even in one of the bedrooms belonging to your children, you can buy a bed for that space as well, so your dog knows he is welcome in the bedroom during sleeping time but not in your bed. You will also want some tasty treats to reward your dog for good behavior. Bring lots of love and patience to these training exercises because it can be quite frustrating if you have a dog destroying furniture with pet hair or claw marks.
Top
Special place
Give your dog a place that belongs to him within the social areas and sleeping areas of your house. Make a big deal with your dog out of purchasing a new bed. If you are able, take your dog to the pet store with you to shop for beds. Get him excited while in the store and have him lie on beds, testing each one out until you have found the perfect fit.
Back home
When you and your dog arrive back home, place the bed in an area in your family room or your bedroom, or both if you can buy two beds, and sit on the floor next to the bed encouraging your dog to lie on the bed. Providing lots of love and attention and affection while your dog is lying on the bed will help encourage him to stay there.
Sit on furniture
Once he is comfortable, get up and sit on your furniture. If your dog follows, point to the bed and use the keyword such as "bed", redirecting him back to his new soft and comfortable space.
Treat and return
Once he is comfortably back on his bed, give him a treat. Return to your furniture and sit down.
Redirect
If your dog gets up again and comes to your furniture behind you, redirect again and treat when he goes back to his own bed. You may need to repeat this process several times before he understands that his space is just for him and the furniture is for you.
Command
As he gets used to his new bed in the social areas of your house, every time you come into a room point to his bed use the keyword such as "bed" and treat him when he lies down. From here on, your dog should be able to enjoy social time from his soft, comfortable space in the family room.
Night
Use the same method to keep your dog off your bed at night. Only put his special bed in your bedroom so he knows he can still sleep in your room with you but does not have to be in the bed with you.
Rewards
Be sure to treat your dog and reward him with praise for good behavior. Don't punish him when he forgets and makes a mistake, however. Redirect him, rewarding when he remembers the rules.
Command
When your dog jumps on the furniture or puts his paws on the furniture, say the command "off."
Lure
Using a treat, lure the dog off the furniture.
Entice
If he is not interested, back away from the furniture and show him the treat.
"Off"
Say the word "off" again. As soon as his forepaws touch the floor, give him the treat.
Consistency
Repeat these steps every time you see your dog getting ready to jump on the furniture or already on the furniture. Be consistent with your training and correct your dog's behavior every time you see him getting ready to get on your furniture. If you do not want your dog on the furniture when you are away from the house, use a crate or a room where he has plenty of space to roam and no furniture to climb on.
The Click and Treat Method
Jumping
If your dog jumps on the couch, encourage him off and click your training clicker when his paws touch the ground.
On the ground
As soon as his paws are on the ground, offer him a treat. Every time you see your dog on the couch, call him away from the couch. As soon as his paws touch the ground, click and treat.
Practice
This method will take a few weeks to complete. Every time you see your dog on the furniture, encourage him off, click, and treat for positive behavior.
Rewards
When you catch your dog making positive choices and staying off the furniture, offer him a treat and verbal praise.
Association
Eventually, your dog will begin to associate four paws on the ground and not on the furniture with positive rewards
By Stephanie Plummer
Published: 12/29/2017, edited: 01/08/2021
---