How to Train Your Cocker Spaniel Dog to Not Jump Up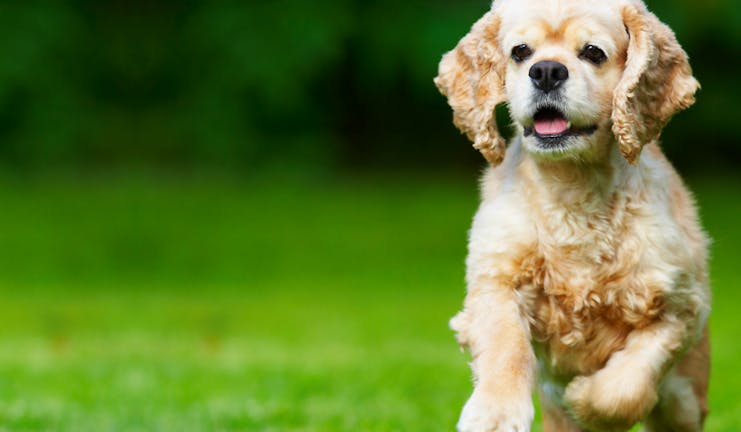 Introduction
Cocker Spaniels are sweet and affectionate dogs. They love to have fun with their families, and sometimes this means jumping up to show their excitement. When your Cocker Spaniel is happy, he will show that energy however you allow him to show it. He won't think jumping up is not a tolerable thing until your train him not to do it. When your Cocker Spaniel jumps up, he might think he's showing you just how much he loves you and missed you, but in reality, he could destroy your clothing or anger your guests. Your Cocker Spaniel can be trained to find other ways to greet you or ask for something without jumping up onto you or your guests. Training your Cocker Spaniel not to jump up is an important training for him to show great manners. 
Top
Defining Tasks
Once your Cocker Spaniel has basic obedience down, begin to train him not to jump up. In order to train him not to jump, you will have to give him alternatives and expectations instead of jumping up. When you are coming through the door, for example, you can train him to lie down instead of jumping up. This will give him an activity to do and, of course, a reward, while he waits for you to get into the door. Training a Cocker Spaniel puppy that jumping up on you is not good manners will take a bit of time and patience. Training an older Cocker Spaniel to change his behaviors will take a bit longer, but is certainly possible. 
Top
Getting Started
Before you start training your Cocker Spaniel not to jump up, you will need to understand the methods and prepare spaces for your pup to be during the situations when he normally jumps up. Have lots of treats on hand for rewarding positive behaviors. If you choose to train with guests, have a few friends ready to come over to greet your Cocker Spaniel and see his new manners in training.
Top
The Walk-In Greeting Method
Open door
Practice coming into your home. Notice how your Cocker Spaniel greets you.
Ignore
As difficult as it is, ignore your Cocker Spaniel as you walk into your home. Do not reprimand him, do not talk to him, do not make eye contact with him. Just ignore him.
Jumping
If your pup is very excited he will probably jump up on you because he wants to say hello and tell you how much he missed you. If you need to, turn your back to your Cocker Spaniel and continue to ignore him.
Continue
Continue to turn away from your Cocker Spaniel as he jumps on you. He will eventually calm and wonder why you're ignoring him. Do not use your hands or your voice to acknowledge him at all. Just continue to turn your back away from him even if he follows you to the opposite side keep turning away from him and ignoring him.
Calm
Once your dog has calmed down and is no longer jumping, you may use a verbal command and ask him to sit.
Acknowledge
Once he is calm and sitting, you can acknowledge him and pet him. If he becomes excited again and begins to jump up, repeat the steps above, turning your back and ignoring him. Once he's calm again ask him to sit and then rub his head.
Practice
Continue to practice these steps every time you walk into your home. Use this method when you walk into a room to an excited Cocker Spaniel as well. Eventually, your pooch will learn that he cannot get attention from you as a greeting when he is overly excited and jumping up.
Signals
Use the motion of your hand to indicate a signal for sitting and lying down.
Sit
Place a treat close to your dog's nose but do not give it to him. Move it toward the back of his head and have him sit.
Noticing treat
Once your Cocker Spaniel sits and notices the treat, lower the treat down to the floor and then closer to your body.
Follow
Your intelligent pup should follow the treat into a down position. Once his chest and belly touch the floor, give him the treat.
Practice
Using your hand motions, practice having your Cocker Spaniel sit and lie down in areas where he is typically very excited and jumps up. You can practice this by your front door where guests come in if this is a place where he is usually overly excited and jumping up on people, or in the kitchen when your dog jumps up to beg for food.
Jumping up
Anytime your Cocker Spaniel decides jumping up is a good idea, use your hand signals to have your sit and then lie down. Be sure to have treats handy to reward him for choosing to lie down rather than jumping up.
Real Life
Continue to practice putting your Cocker Spaniel in a sit or down position with hand signals in real life situations such as when guests come over or when you come home after being gone for some time. Always have treats handy to reward your dog for choosing to lie down rather than jump up.
The Training People Method
Zero attention
When your Cocker Spaniel is jumping up and misbehaving, poor manners do not give him any attention. Don't even acknowledge his negative behavior.
Teach guests
Teach guests who come into your home and anyone in your Cocker Spaniel's life not to touch, pet or even acknowledge your him unless he is using his manners.
Basic commands
Once your dog is calm and waiting for your approval, give him a basic command such as 'sit'.
Acknowledge and praise
Once your Cocker Spaniel is in a sitting position and calm, acknowledge him and praise him with lots of love attention and verbal appreciation.
Practice
Continue to practice with your Cocker Spaniel so he knows your expectations of being calm and patient and using his basic obedience commands to sit before he can be acknowledged by yourself or anyone coming near him. Once he understands jumping up is not lucrative for him, he will remain calm in the sitting position and wait for his reward in the form of a treat and affection.
By Stephanie Plummer
Published: 01/05/2018, edited: 01/08/2021
---