How to Train Your Chihuahua Dog to Not Whine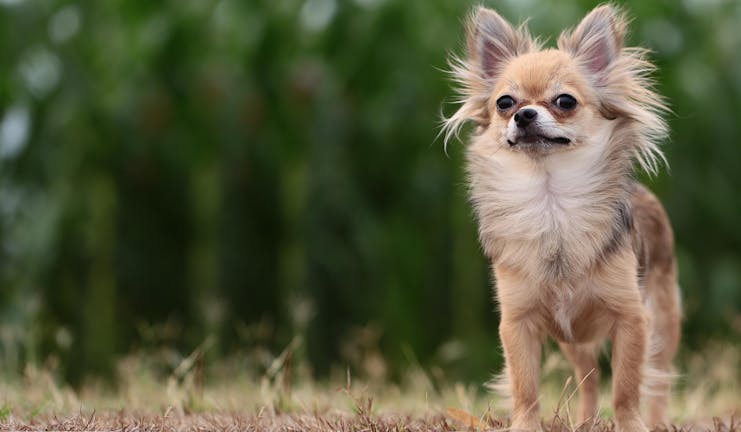 Introduction
Your Chihuahua might be suffering from Small Dog Syndrome. This is behavior based and rooted in lack of training. Chihuahuas are known to be stubborn, but they want to please their owners and earn rewards. If your Chihuahua has small dog syndrome, he will try to appear larger than life to let everyone around him know just how fierce he can be. But when your Chihuahua is not just acting aggressive but also whining, he's communicating something to you. Chihuahuas will whine when they are uncomfortable. He is vocalizing his anxieties before the aggressions come out in barking or growling. This kind of behavior can occur if your dog is feeling lost and alone or fearful of others in or around your home. Your Chihuahua could also be whining to appease another dog within your home. 
Top
Defining Tasks
Building your Chihuahua's confidence will help control the amount of whining he does. Obedience training will build your Chihuahua's skills as well as give you and your guests tools when socializing your Chihuahua. You can also give your Chihuahua purpose by teaching him obedience commands. This gives him jobs to do, even if it's as simple as sitting before having his meal served, that will build his confidence and place him in the ranks of your pack. If you have other dogs in your home and your Chihuahua is acting submissive by whining, you can place them on closer levels in the pack by treating them the same. Make them work together to earn treats at the same time. If you are carrying your Chihuahua around the house or coddling his fears when he whines but you don't do that with your other dogs, begin treating them the same with the same rewards for good behavior. 
Top
Getting Started
Be prepared to set boundaries with your Chihuahua. This will build confidence and set defined rules. Make your training sessions with your Chihuahua short and rewarding. Bring playtime into training sessions. To encourage your dog to stop whining and bring his confidence to a level where he feels secure, use high-value treats during training. Foods like cheese and hot dogs, cut into small bite-sized pieces, will keep your Chihuahua interested in working on changing this behavior. 
Top
Safe places
Set up safe spots your for Chihuahua to sleep and play. This should include a comfortable bed or a place to sleep on the floor in a living space as well as in the space where expect your Chihuahua to sleep at night. These may be the same spaces, but be aware if they are separate spaces within your home, and offer two beds.
Crate
Offer a crate as well as a place to sleep or for quiet play. A small crate for your Chihuahua offers a small, confined safe place for your Chihuahua to sleep and rest or play quietly when you are away. Unless it's night sleeping, try not to use the crate with the door closed when you are home. He may go inside, but keep the door open, so he has the independence to come out as long as you are home.
Whining
When your Chihuahua whines, take him to his special safe place. This would be his bed in the room near you or his crate. Try to stay close by so your Chihuahua can see you and feel secure. When he whines, ignore him, but when he's quiet, give him a treat, rewarding him for good behaviors.
Soft voice
Build your Chihuahua up by talking to him, assuring him that he is safe and all is okay in his world when he is quiet. When he goes to his safe spot, encourage him with a quiet voice. When you are ready for your Chihuahua to go to his safe spot, tell him with a soft and quiet voice to go to his bed or into his crate. If you train these keywords early on, he'll associate those spaces with safety and security.
Negativity
Do not get angry or show frustration with your Chihuahua when he whines. Your Chihuahua will pick up on any negative emotions you have and mimic them or feel more anxiety because of them. Showing anger will scare your pup. Remember the goal is to build his confidence and give him safe places to go when he is sleepy or anxious.
Early on
Know your expectations of your Chihuahua and set some boundaries with him. Decide where he will sleep so he feels safe and is near you. If he will be allowed on furniture, give him tools like steps or a ramp to get up there safely. Be sure to think about his security as you set these boundaries. You want a confident Chihuahua.
Training
Train basic obedience commands and keywords or phrases to your Chihuahua as soon as possible. This will also build his confidence and give him purpose within your pack together. Take training slowly, but be consistent and work on something together every day.
Whining
If your Chihuahua misses you, feels threatened, or insecure, he may whine. When you hear him to this, ignore him. When he takes a break from whining, give him a treat. Reward moments when he is not whining.
Quiet rewards
There will be moments when you are not training your Chihuahua and he is not whining. When you catch him in these moments, give him a tasty treat. While you are training, be sure to offer treats as well.
Expectations
When your Chihuahua is meeting the expectations you set early on, such as using a pet step unit to climb to the couch, give him a treat. When you notice him going to his bed to nap alone, give him a treat. Any time you see him doing something independent within the boundaries you've set, offer him a treat.
Separation
When you leave your house, your Chihuahua may whine and feel separation anxiety. When you arrive home, take a few moments to ignore your Chihuahua. This may be difficult to do but ignore him. After several minutes, greet him with lots of love and attention. This will condition him to be alone and secure while you are away and while you are home.
Worn out
Be sure to give your Chihuahua lots of exercise while you are together so when you are away or busy around the house he is too tired to whine and worry about where you are.
Entertainment
Whether you are home or away, offer your Chihuahua entertainment in the form of toys and puzzle treats with toys. If you are home, make a big deal of giving him entertainment with a treat when he is lying quietly. This will give him attention and entertainment. Use a soft and calm voice as you give him his toys and treats.
White noise
If your Chihuahua is used to music or television or even your family talking, give him white noise while you are away or when you step away to shower or cook a meal. Keeping up a common level of noise in the house will give him the comforts he feels when you are around.
Safe place
Give your Chihuahua a safe place to go such as a crate with the door left open while you are home so he has a place of security and comfort. Anytime you hear him whining, take him to that space with a treat. To condition him to go there alone, you can treat him, talk to him softly, and even offer a piece of laundry that smells of you while he is there.
By Stephanie Plummer
Published: 12/27/2017, edited: 01/08/2021
---