How to Obedience Train a Great Dane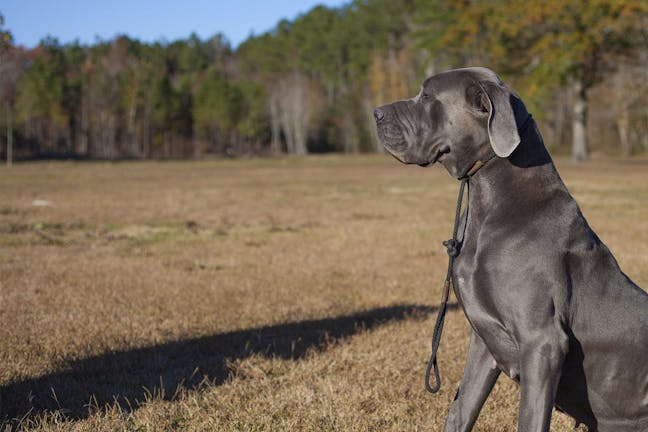 Introduction
Great Danes are large beautiful animals. If you happen to have a Great Dane who has not been trained, he will be very difficult for you to handle as he grows older and larger. Because the Great Dane is such a large, strong dog, you're going to want him to be obedient so you can keep him safe and trust that he will listen when it matters most. 
Your Great Dane is incredibly smart. He is eager to please, and he wants to learn new things every day. Begin with basic obedience training with your Great Dane and then move forward to more advanced training to keep his mind engaged and continue to build the trust and the bond between the two of you. Great Danes are fun, sweet, and incredibly affectionate. Once you have obedience training down, try playing a game of soccer with your Great Dane. 
Top
Defining Tasks
There are a few basic obedience tricks your Great Dane should learn before he moves forward to more advanced training. Your Great Dane should learn how to 'sit', 'lie down', 'stay', 'come', and 'heel', along with knowing how to walk on a leash using proper leash manners, before you teach him any cute or fun tricks. Every step of obedience training for your Great Dane will be a building block for the next trick to come, whether it's an obedience command or a fun trick. You can teach your Great Dane puppy much easier than your adult Great Dane. However, older Great Danes can be taught as well. Remember your Great Dane is incredibly smart. He will be eager to please you once you show him you are the leader of his pack. Don't be fooled by his size either. He will work hard for a tiny treat so there will be no worries about too many treats during training.
Top
Getting Started
To train your Great Dane basic obedience commands, you will need lots of small but tasty treats to keep him engaged, motivated, and rewarded. You will also need to have your Great Dane on a leash.from time to time. Your Great Dane is incredibly strong, so a harness where the connector for the leash is on the chest rather than the back is recommended. Start with small training tasks and move up to other commands, building from one basic obedience command to the next. 
Top
The Basic Commands Method
Prepare
Prepare for all of your basic obedience training with your Great Dane with lots of treats a little extra time to focus without distractions. You may need a leash in the event your Great Dane tries to get away from you.
Sit
Stand in front of your Great Dane with a treat in your hand. He may jump on you to get to the treat, or he may sit down. If he jumps up, turn your back and ignore him. If he sits, which is more likely because he'll get bored and tired, give him the treat. Repeat this using the command 'sit' until your Great Dane gets that this is a basic command he needs to know.
Down
When your Great Dane understands the 'sit' position, have him sit and give him a treat. Take a second treat and bring it down to the floor. Put it between his paws and then pull it out away from him a bit. Do this several times until your Great Dane lies down. Once he's in a 'down' position, give him a treat. Keep practicing, using the command 'down.'
Stay
With 'sit' and 'down' understood, have your Great Dane practice 'stay' while you take a few steps away from him. Put him in a 'sit' or 'down' position, hold your hand up, palm facing out, and take a couple of steps backward. Tell him to stay. When he doesn't move, walk back to him and give him the treat. Practice as he understands when you walk away the expectation is that he stays put until released.
Come or release
Train your Great Dane to come when called or release him from the stay position. To do this, have him in a 'sit and stay' position. Show your Great Dane a treat, hold your hand with fingers pointing down, palm out, and ask him to come or use the command 'release.' Show him the treat, encouraging him to come get it.
Leash manners
Put your Great Dane on a leash and go for a walk. Anytime your dog is distracted or pulls at the leash, stop in your tracks until he can no longer walk. You need to make sure your Great Dane is not strong enough to pull you along and it when you stop, he stops. Walking with a high-value treat above his nose certainly helps with leash manners.
Keep training
Once these basic obedience commands are taught to your Great Dane, continue to work with him every day. Building respect and obedience in your Great Dane takes time, patience, and commitment. Your Great Dane is an incredibly smart dog. He is also incredibly loyal. He wants to be the follower in your pack, so become a leader, set boundaries, give him commands, and reward him for great behavior.
Rewards
While training your Great Dane, award anytime he is successful. Make training rewards high-value, such as cheese, beef, jerky, or hot dogs. These are treats he'll know he only gets during a training session. Any time you catch your Great Dane doing something great, say a word or a command he will recognize and reward him with a treat. This acknowledgment builds his confidence and keeps him obedient.
The Respect Training Method
Set boundaries
Give your Great Dane clear, defined rules. This will keep you at the top of the hierarchy within your pack. Your dog will depend on you to set the rules and the boundaries and give consequences when he doesn't follow or obey.
Start with grooming
Even when your Great Dane doesn't need to be brushed or bathed, groom him often. This might mean picking up his ears and looking inside. Pull on a couple of hairs inside his ears. Lift his gums and check out his teeth. Put your fingers in his mouth, so he knows you are doing these things often and it's okay.
Food
Set your place within his pack as his leader by taking away his food every now and then. Give it back quickly, of course, but let him know you can take his food away and return it to him without him growling, barking, or getting upset. This begins to teach your Great Dane he is to obey and listen to you, and in turn, you will care for him and make the best decisions for him.
Follower
Your Great Dane needs to be a follower rather than a leader in your pack. Putting your Great Dane in a follower position builds up his security and his respect for you. He'll know that you are in charge and he'll wait for your commands. Followers wait patiently to be fed. They ask before they expect something such as to be petted. Begin to train your Great Dane now to wait patiently for the things he wants.
Basic commands
Train Your Great Dane basic obedience commands. These will include 'sit', 'stay', 'lie down', 'come', and 'heel'. Because your Great Dane is a giant breed, you should teach him to heel as well as how to use leash manners when walking on a leash.
Redirection
When your Great Dane needs to be redirected, simply ignore poor behaviors and always overly reward great behavior. Your Great Dane will learn very quickly which behavior gets him rewards and which behavior gets your back turned towards him.
Practice
Practice making your Great Dane obedient to only you, the leader of his pack, by building up his confidence, turning him into your follower, and having him respect you. This will take lots of conversation with your Great Dane. He will listen to every word you say as long as he respects you. When listening to you, he will wait for the commands you have taught him, knowing he can earn rewards.
The Commands and Words Method
Basic conversation
Your Great Dane wants nothing more than to please you. As your dog grows, he is going to listen to everything you say. Though he won't understand it all, you do want him to understand as much as he possibly can. Start working on words you can teach your Great Dane so you can have full conversations with him. This will make him an obedient Great Dane.
Commands
Train your Great Dane to sit. Once your Great Dane understands the 'sit' command, build his training to 'lie down'. From the 'down' position, work on 'stay' and 'come'. Teach him leash manners with and without distractions. After about three months, when you are done with basic obedience training, your Great Dane should know all of the basic commands and the rules to stay with you and when it's okay to play.
Tone
Practicing tone is especially easy to do when your Great Dane is a puppy or learning new tasks. When your dog needs to be redirected, your tone needs to be a bit more firm than normal. Avoid raising your voice or yelling, and never hit your dog when you're angry at his choices. When your Great Dane is making great choices, celebrate with a happy tone in your voice.
Other words
Train your Great Dane to understand other common words. Your dog is going to love to listen to you talk. This will build the respect he has for you and teaches him some great words. Besides obedience commands, your Great Dane will love knowing common words he will hear from you every day such as 'treat,' 'food,' 'dinner,' 'toy,' 'no,' 'yes,' 'bed,' and more.
Practice respect
The list of words to teach your Great Dane is pretty endless. The more he knows, the more he will listen to you when it matters most. By teaching your Great Dane when you're disappointed in his behavior and when you're excited, basic obedience commands and everyday words he will hear will give him more respect for you. He will and see you as his leader and therefore obey you.
Continue training
Once your Great Dane has gone through a few months of basic obedience training, don't stop training. Train your Great Dane fun tricks like how to fetch, to roll a soccer ball, or to make a soccer goal. There are all kinds of fun tricks to teach your Great Dane once he has obedience down. Constantly training your Great Dane will keep him an obedient dog with you as his leader.
By Stephanie Plummer
Published: 01/31/2018, edited: 01/08/2021
---