How to Train Your Cocker Spaniel Dog to Sit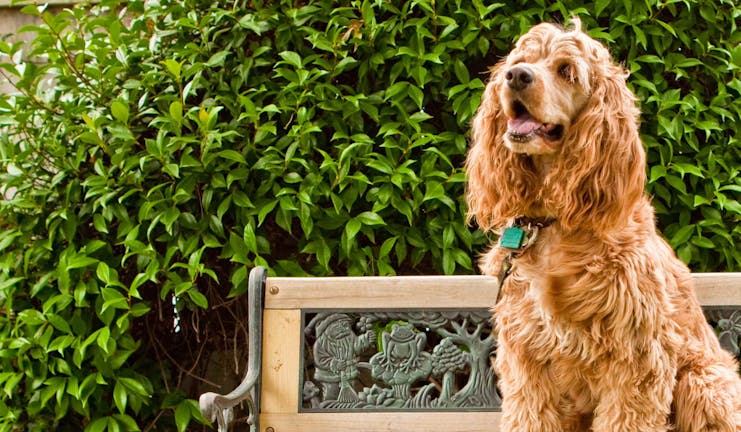 Introduction
Cocker spaniels are incredibly cute with their curly, long floppy ears, their big round eyes, and their curious demeanor. Cocker Spaniels make great pets for single people, families, and children. Cocker Spaniels are well-mannered and happy dogs and yours is eager to please you. 
You will want to teach your Cocker Spaniel all kinds of obedience training and fun tricks. 'Sit' is an easy trick to teach any dog, especially your intelligent eager-to-please happy Cocker Spaniel. He will want to learn additional tricks to not only improve upon his skills but also to improve the bond between the two of you. Starting with the 'sit' command gives you a great foundation to train your Cocker Spaniel basic obedience as well as fun tricks and more advanced training.
Top
Defining Tasks
When your Cocker Spaniel begins to learn the 'sit' command, he will be practicing through repetition and rewards for positive behavior. You can teach a  Cocker Spaniel at any age how to sit. If you are working on other tricks and your dog does not know or is not confident with the command 'sit', spend some time working on this command so he has a base foundation for obedience training overall. Remember, your Cocker Spaniel is happy and requires fun and excitement during his engaging training. You can train your dog to sit in several different ways, however, you will basically be getting him to put himself in the sitting position and rewarding him for doing so. This will condition him to learn there are rewards for listening and following through when he hears a command such as "sit". Because the 'sit' command is the foundation for so many other obedience commands as well as fun tricks, it's a great command to start with. 
Top
Getting Started
If you plan on clicker training your Cocker Spaniel, be sure to have your clicker for every training session while you teach him the 'sit' command. Also, be sure to be prepared with some tasty treats to reward your pup for a job well done. If your Cocker Spaniel is a puppy, keep your training sessions short and simple. If he's older, you may need to repeat the training sessions a bit more, but he could probably handle longer engaging sessions than a puppy.
Top
The Clicker Training Method
Prepare
Have treats and your clicker ready for training sessions
Show a treat
Get your Cocker Spaniel's attention and stand in front of him with a treat in your hand.
Sniff treat
Your dog will give you his attention when you hold his treat down a bit toward his nose. Don't let him have the treat or jump up to get it, just let him know it's there and place it in your hand near his nose.
Follow treat
Keep your Cocker Spaniel's attention and move the treat in your hand from his nose up above his head. He should follow with his head, tipping his head back. If you need to, bring the treat behind his head a bit to get the bottom half of his body in position as well.
Sitting
Your dog should follow the treat back with his head and sit down on his bottom. As he sits, click, say the command 'sit,' and give him the treat.
Repeat
Repeat having your Cocker Spaniel sit by showing him a treat, moving it to encourage a sitting position, and then giving him the click and treat reward once he has done so.
Hand signal
Once your Cocker Spaniel is sitting with the movement of the treat, take the treat away and only use your hand. Flatten your hand, palm facing up, and move the hand over his nose and then head encouraging the same sitting position as before when your hand held the reward of a treat.
Reward
Once your dog sits, give him a click and treat reward.
Practice
Continue to practice this. You should be able to use the hand signal or the command to sit to get him to sit. Be sure to click and treat each time he is successful.
The Enticing Treat Method
Make it fun
Start off with some playtime with your Cocker Spaniel. Give him a puzzle toy or ball to get him excited to play. Give him a few tasty treats while you play together to encourage him to give you his attention.
Treat
Hold a treat above your Cocker Spaniel's nose. Keep his attention by keeping the treat still for a moment and then move it slowly behind his head.
Follow
Your Cocker Spaniel will want the treat. As a result of you enticing him with a treat, he should lift his head up and back to follow the treat with his nose. As he does this, his back end should touch the floor in a sitting position.
Sit
As he sits, say 'good boy' and give him the treat he earned.
Repeat
Repeat this several times until your Cocker Spaniel sits as soon as he sees the treat.
Name it
While he is putting himself in the 'sit' position while following the treat you have in your hand, begin to name the trick. Hold up the treat, say the word "sit" as a command, and reward him when he does so.
Practice
Continue to practice this trick with your Cocker Spaniel, using the command word "sit" until he can sit after only hearing the command.
Rewards
Be sure to always reward your Cocker Spaniel when you ask him to sit and he does so. This will keep him wanting to work hard for you for this trick as well as for learning other tricks.
Sit in front
Sit down on the floor in front of your Cocker Spaniel and give him lots of love and attention.
Pet
While giving your dog attention, rub his back, bringing your hand close to his tail. Very gently with your other hand, push against his chest. Your goal is not to push your dog over; just have your hand firmly on his chest with the other hand petting near his tail.
'Sit' command
Give your dog the commands to sit and very gently push on his chest while your other hand slowly pushes his bottom down in a sitting position.
Treat
As soon as your Cocker Spaniel gets into a sitting position give him a treat and lots of love and attention.
Repeat
Continue to practice these steps until he can sit on his own without you guiding him with your hands into the 'sit' position.
Reward
Be sure to offer your Cocker Spaniel a treat every time he puts himself in the sit position whether you are guiding him or if he does it on his own. With lots of practice you should be able to use the command word 'sit' you have repeated during training and have him sit on his own.
By Stephanie Plummer
Published: 01/02/2018, edited: 01/08/2021
---