How to Train Your Rescue Dog to Sit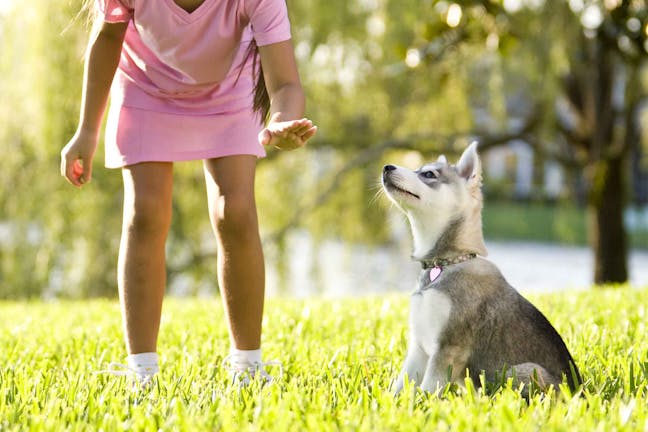 Introduction
Rescue dogs are special guys. If your rescue dog is old enough to have been with any family for an extended period of time, he may already know the word or the command 'sit'. However, you should remember with rescue dogs, your little guy may have been in scary situations, abusive situations, or in homes where he was neglected and never trained. This might mean your rescue dog does not know such a simple command as 'sit'. Some rescue dogs are emotionally traumatized, and though they may have known commands in their past, they need to build trust with their new families and need to be retaught tricks they used to know. But with a lot of patience, love, and understanding and some delicious treats, you can teach your rescue dog not only to sit but also how to be a great pet. Offering your rescue pet a safe and healthy home will create a happy world for him to live where he will want to learn and thrive with you.
Top
Defining Tasks
Training your rescue dog to sit is not much different from training a young puppy to sit. However, if you have a rescue dog who has an abusive past, he may be fearful or apprehensive about your hand hovering over his head. Be cautious with rescue dogs, especially those whose past you are not familiar with, when it comes to putting your hands near their heads or faces because they may have come from an abusive past. One method includes gently pushing down on your dog's bottom to put him in a sit position instead of hovering treats over your dog's head. If your dog has been beaten or abused in any way, this may be a better method than one that may include your dog believing he may be struck by your hand. With time, patience, love, and understanding for the nuances that come with the rescue--and some tasty treats--your rescue dog can learn to sit on command.
Top
Getting Started
All you really need to teach your rescue dog to sit are some delicious treats and a little bit of time for some short training sessions. Keep these sessions brief and watch your movements, so you are not scaring your dog with fast-paced, quick motions.
Top
Playtime
Make training fun by starting off with a little playtime with your new rescue dog. Play with a treat, toy, or a ball to get him excited. Be sure to offer him a few tasty treats while you are playing together. Starting with this playtime will increase the bond between you two.
Treat for command
Hold a treat up above your pup's nose and move it toward the back of his head between his ears.
Movement
Your dog will be curious and may step backward or he may sit. If he sits, let him have the treat with a hug and praise. If he steps backward, pull the treat closer to his nose and try again.
Repeat
Continue to repeat using the treat to put your rescue dog into a sit position. Keep at it, your new pup will get the hang of it.
Command
Once he's made it to a 'sit' position a few times, begin to use the command 'sit.'
Practice
Keep practicing, offering your dog a reward each time he pairs the command with the action of sitting.
Start with sit
Sit with your dog face to face.
Treat
Hold a treat up near his nose and say the command 'sit.'
Treat up
Move the treat up a bit, holding it over his head.
Rear up
Your dog will follow the treat with his body, lowering his backside while lifting his mouth and nose up the the treat.
Reward
If your dog even starts to move into position, give him the treat. If he makes it to the sit position, give him love and praise along with the treat.
Practice
Keep practicing with your rescue dog. Be sure to take breaks and keep your training sessions short and free of distractions.
Sit
Sit down in front of your rescue dog. Talk with him and give him lots of love and attention.
Pet
While offering love and attention, rub your dog's back, bringing your hand closer to his bottom. Keep one hand on his chest and pet him all over.
Command
Say the word 'sit' and gently push on his chest while using your other hand to push gently on his is bottom or against the back of his hind knees.
Treat
Keep talking to your rescue pup while gently applying this pressure to get your dog to sit. Once his bottom touches the ground, give him a treat and some extra love.
Repeat
Continue to repeat these steps until you only have to say the command without coaxing with the gentle pressure.
Reward
Be sure to give your dog a treat each time his bottom touches the ground in the sitting position. If your dog is apprehensive at all, stop training and take a break. Be sure to give your little guy a reward for trying.
By Stephanie Plummer
Published: 12/07/2017, edited: 01/08/2021
---