How to Train Your Boston Terrier Dog to Sit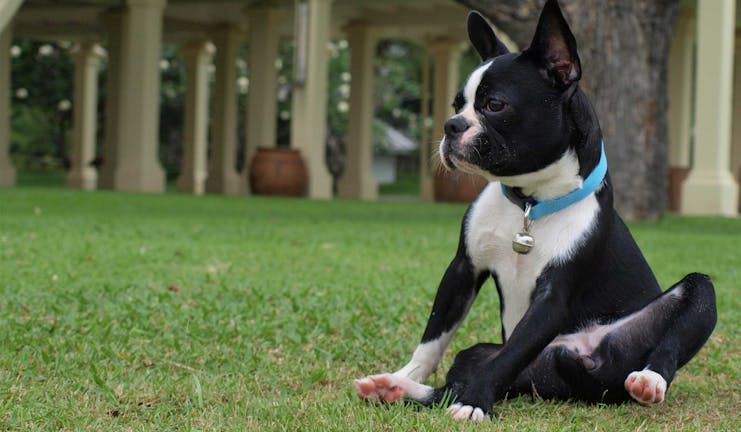 Introduction
Your Boston Terrier comes with a reputation of being stubborn but highly intelligent. Boston Terriers are gentle pups who love affection, and while pleasing their owners might not be top on their list, with some motivation, teaching yours to sit is easy to do. 
Boston Terriers make great family dogs because they are kid-friendly, accepting of strangers and new people in their lives, and adapt well to change. Training your Boston Terrier to sit is a great start to beginning obedience training. Teaching basic obedience commands from an early age will also teach him to respect you and your authority within your pack. 
Teaching your Boston Terrier to sit is going to start with some high-value treats and end with your pup following your commands. This is a great trick to teach your dog before you teach him anything else. Use the 'sit' command as a building block for basic obedience training.
Top
Defining Tasks
Boston Terriers are highly intelligent dogs and eager to please. Your Boston Terrier can learn how to sit in a few simple training sessions. Keep his sessions short, however, because your pup may become bored and stop learning if he's not fully engaged. You can teach an older rescued or adopted Boston Terrier to sit just about as easily as you can teach a puppy to sit. Training the 'sit' command will be more about repetition and rewards than anything else. Repeating this command will condition your Boston Terrier to connect the word with the action and the treat reward with your command.
Top
Getting Started
To start training the sit command to your Boston Terrier, grab some tasty treats and schedule some short training sessions with your little guy. Keep your training sessions short and focused only on the 'sit' command until he has that one down. Be sure to reward him throughout training and make learning fun so he continues to come back to learn more.
Top
Start sitting
Sit on the floor with your Boston Terrier. Place yourself in front of him and have a treat ready.
Treat
Hold a treat up to your Boston Terrier's nose but don't let him have it. You may need to hide it in your hand so he can sniff it but not get to it.
Move treat
Move the treat up from his nose to above his head. He should lift his head and follow the treat with his nose. To do this, his backend should head down towards the ground.
Follow
When his bottom touches the ground sitting, let him have the treat.
Repeat
Have your Boston Terrier stand again and repeat the actions with another treat.
Command
This time, as he sits, use the command 'sit' as you give him the treat after his bottom touches the ground.
Practice
Keep practicing this until your Boston Terrier can sit by just using the command and not the treat at nose level.
Stand or kneel
Stand or kneel in front if your Boston Terrier.
Nose enticing
Hold a treat near your Boston's Terrier's nose, enticing him with the scent.
Hand signal
When your Boston Terrier notices the treat or the scent, take the hand holding the treat and hold it above his head.
Flatten
Hold the treat secure under your thumb and flatten your hand with your palm facing down.
'Sit' command
Say the command 'Sit' as you flatten your hand and bring your hand above his head.
Sitting
Your Boston Terrier should sit down as a result of following the treat when you move it upward from his nose to above his head. The flat hand motion is your hand signal to have him sit without telling him to do so.
Repeat
Keep practicing this to get your Boston Terrier to connect the training with the action of sitting. Your pup should get to the point where he can sit by only watching you use the hand signal.
The Clicker Training Method
Treat
Stand in front of your Boston Terrier holding a treat.
Attention
Get his attention by holding the treat down towards his nose. Do not allow him to get the treat, just let him sniff it.
Move treat
Move the treat from your dog's nose up above his head. You may need to drop it down a bit behind his head to really get his attention. As you do this, he should follow it back, squatting down.
Sit
As he sits to try to get to the treat over his head, say the command 'sit' and then click and give him the treat.
Repeat
Repeat these steps, each time getting closer to just asking your dog to sit and not using the treat to lure him down as often. Each time your Boston Terrier sits, click and treat.
Hand signal
You can add a hand signal to your sit command by placing your hand flat with the palm up as you say the command. Over time, your Boston Terrier will associate this signal with the action of sitting. Be sure to click and treat each time he follows your command.
By Stephanie Plummer
Published: 12/27/2017, edited: 01/08/2021
---