How to Train Your Dog to Sleep Later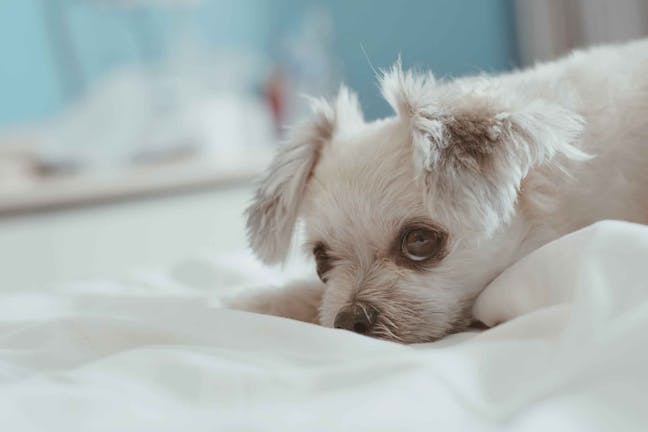 Introduction
There's nothing quite like a nice weekend after a long and stressful work week. You may love your leisure weekends; sleeping in on Saturdays and Sundays, even if just for a bit, helps to bring a newfound sense of rejuvenation to your mind. Maybe you keep trying to sleep in on the weekends, but your dog won't let you. Animals are often a creature of habit. They don't need a watch to know when to expect you to be home from work, especially if you arrive home about the same time each day. If you feed your dog at five o'clock every day, your dog can probably tell you when it is five o'clock faster than it will take you to glance at a clock. The same applies to waking in the mornings. If your dog is an early riser during the week with you, he won't often know the difference between a Friday workday and a Saturday sleep-in day. 
Top
Defining Tasks
There are many reasons for wanting to train your dog to sleep later, from semi-annual time changes to changes in your schedule or even a new dog who is simply an early riser. But no matter the reason, training your dog to sleep later is something you and your dog can work on together. Changing habits takes time, even for dogs. You may start by feeding your dog dinner at a different time, or setting an example and heading to bed later yourself. Learning to ignore your dog will be imperative in retraining him to sleep in a bit later. Sure, you'll probably be awake and frustrated or annoyed because he woke you, but give it some time. Your dog will learn from being ignored. If you live in an area where the time changes twice a year, you may have to set aside a few days to help your dog adjust to the new time just as your body adjusts. Any dog can be trained to sleep later. It will just require time and a bit of patience.
Top
Getting Started
Be prepared with a schedule you'd like your dog to follow. Even getting him to sleep in on certain days such as days you are off work is possible, especially if they are the same days each week like weekends or every Wednesday. You may want to have some treats near your bed so you can toss your dog a reward for staying in bed. This kind of training may be easier if your dog is in your bedroom with you. If he can get close to you, it may be easier to provide quick comfort before spending the rest of the morning ignoring him rather than having him in another room barking for you. 
Top
Bed introduction
Introduce your dog to his crate bed.
Bed time
Put him in the crate after he's eaten his dinner and gone potty outside. Give him a treat and bid him good night.
Eye contact
Make eye contact with him before you go to bed. Quietly tell him good night and go to bed yourself.
Whining
He may whine at first. Ignore him. He will settle down.
Environment
Create an environment for sleeping. With the right temperature, white noise, and no distractions, drift off to sleep with your dog in the crate.
Early morning
When he wakes early, ignore him. Do not make eye contact at this time. If he sees you awake, he will think it's time to wake. If you interact with him in the early morning hours, he will learn to wake you this way.
Wake your dog
Wake your dog and take him out of his crate when you are ready. Give him lots of love and a trip outside. You can even start his morning off with a treat.
Three meals
Give your dog three meals a day, splitting the amount he usually gets for breakfast and dinner into a breakfast meal, a dinner meal, and a late snack. Schedules these for the same time every day.
Exercise
Help your dog get at least 30 minutes of exercise each day. If you can do this at different times during the day so your dog's body doesn't get used to exercising at a certain time, it may help him sleep better at night. Evening exercise may wear him out more before bedtime than morning exercise will.
Sleep ready
Create a space ready for your dog to sleep in. This should include a soft, comfortable bed for him to sleep. You may want to consider investing in blackout curtains to keep sunlight from coming in early in the morning and waking your dog.
Break the habit
Especially during times of change, such as clocks changing back or moving forward, you will need to help your dog adjust and break the habit of waking too early. You can use an alarm to wake your dog in the morning. Each day, set this alarm 15 minutes later than he normally wakes. Over time, he might get used to the new time, especially if he is in your room and can hear the alarm.
White noise
Turn on a ceiling or standing fan or create white noise to help your dog sleep longer. This may help you sleep in as well.
If your dog wakes
Ignore him. If you must get up, do not feed him until you are ready to be awake. This will, over time, discourage an early waking.
Meals
Move your dog's last meal back by about fifteen minutes a day until he's eating at the desired time. This is ideal for getting your dog adjusted to daylight savings time changes. After fours days, you could have your dog's dinner meal pushed back an hour.
Evening exercise
Tire your dog out by taking an after dinner walk or playing fetch in the backyard. Making time for your dog to exercise more during the day will help tire him out by bedtime.
Cool and comfy
Provide your dog with a comfortable place to sleep so he is likely to stay there longer.
Go potty
As late as possible, take your dog outside to go potty so he can better sleep through the night.
Routine
Give your dog a bedtime routine. You can start with a trip outside and then give your dog a small treat while you ready the house for night time. Most dogs will know it's time for bed because their owners start a routine such as turning off lights and locking doors. This is the time to give your dog a new 'go to bed' command.
Bedtime
Walk your dog to his bed using a command to 'get to bed'. Give him a treat once he's settled down.
Redirect
It may take a few nights, but if your dog gets out of bed, walk him back to his bed and use the command to tell him it's bedtime.
Ignore
If your dog wakes early and whines or tries to get your attention, ignore him. You might be awake and even irritated if he's bothering you, but if you jump up and tend to him, you'll just teach him to be your alarm clock. Be persistent. Try to go back to sleep. Even if you cannot, ignore him until you are ready to be up and about.
Practice
It'll take time, but as long as you create a bedtime routine, fill your dog's belly, give him exercise, and ignore his attempts to wake you, your dog can learn to sleep in with you and wake with you.
By Stephanie Plummer
Published: 11/03/2017, edited: 01/08/2021
---