How to Train Your Small Dog to Stay Off the Carpet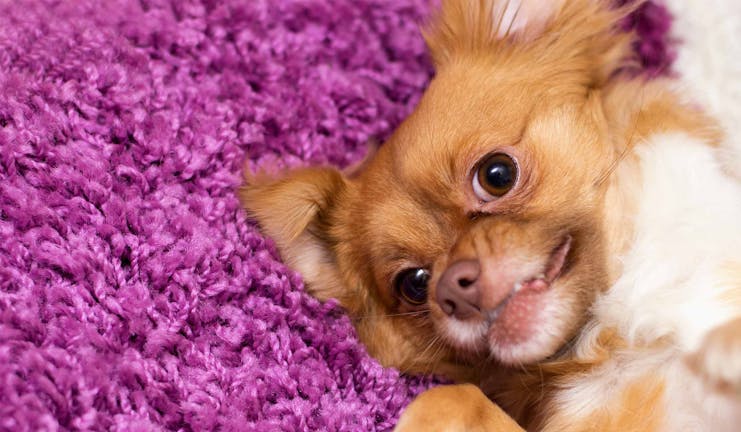 Introduction
If you do not want your small dog on the carpet at all, you will need to teach him boundary training for each particular room or area where you have carpet. Some owners don't want their dogs in those carpeted areas rooms so they can keep the carpet beautiful and clean while other owners try to keep their small dogs away from carpeted areas in order to keep track of their little guys. Small dogs are easy to lose, even inside your home. And much like a toddler, if your little guy is not seen or heard, it could mean trouble. Either way, imagine your dog in various places within your house that are not carpeted. This boundary training for carpet will work for your little guy on area rugs as well as entire rooms that have carpet.
Top
Defining Tasks
Training your dog to stay off of the carpet will become a matter of boundary training for your little guy. You will need to be prepared to train your little dog to recognize a texture or an area he is not allowed to go on. Doing this will require lots of repetition and alternatives for your dog. You'll need to decide if your small dog is banned from all carpet or just some of the carpeted areas in your home. If you have popular areas such as your family room or bedrooms that are carpeted, you may need to find ways to allow him in those rooms on a runner and bed. You can train a dog at any age to stay off of the carpet. Just remember if you have an older small dog it might take him a little more time to adjust to changes if he is used to being on the carpet. You could also teach your little guy to follow an area rug to his bed and only stay on those if your entire house is carpeted.
Top
Getting Started
When you begin to train your small dog to stay off of your carpet, be prepared with lots of tasty treats and the time to train. If you are training your small dog to stay out of entire rooms that are carpeted, you will need to challenge him and reward him for passing his challenges. Have some patience and be prepared to spend some time with your small dog training him places he can go instead of focusing on what he cannot do.
Top
The Leash Introduction Method
Introduce carpet
Place a leash on your dog and introduce the area you would like your dog to avoid while on the leash.
Heel
If your small dog knows how to heel, have him do so while on the leash as you walk towards this carpeted area to introduce him to the space he should avoid.
Walk on by
Walk past the carpeted area with your small dog on the leash next to you. Do not let him go onto the carpet and once you have passed the carpet, give him verbal praise and a treat.
Define space
Block off the carpeted room or area while your small dog is training to stay off the carpet. You can use chairs or a baby gate to block this area off to your small dog. Just during this training should this area be blocked off to create a visible border for your dog.
Practice
Walk past the carpeted area with your dog on the leash several times before you allow your dog to walk without the leash.
Off-leash
Once your dog has walked past this carpeted area on the leash and has been rewarded for avoiding the area, do the same walks with your small dog off leash. Watch your little guy closely as you walk by and as long as he avoids the carpet, give him a treat.
Correct
You can condition your dog to understand the boundary with repetitive training and avoiding the carpet as well as rewarding him when he stays off the carpet. When you notice your dog heading toward the carpet, redirect him by placing him off the carpet again.
Remove barriers
After a few weeks of repetitive training, remove the barriers - the chairs or baby gates blocking off the carpeted area or room. Watch your small dog carefully so you can correct his behavior if necessary and so you can reward him when he does well without the visible barrier.
Be consistent
Keep practicing each day, reminding your dog of the rule to stay off the carpet. Be sure to provide a safe and comforting area for your small dog off the carpet so he has an alternative to the carpet you'd like him to avoid. Keep rewarding your little guy for staying where he belongs.
The Correct and Reward Method
With leash
Put your small dog on a leash. Have your treats ready to reward for good behavior when he is tempted to walk on the carpet but cannot.
Walk carpet
With your small dog on the leash, walk towards the carpet but do not cross the threshold to the carpet just yet.
Stop and treat
Stop at the carpet line and give your dog a treat.
Repeat
Walk your little guy away from the carpet and repeat the steps above again treating him once you get to the line.
Off-leash
After some repetitive practice on the leash, take your small dog over to the carpet line off-leash. Just as when he was on the leash, give him a treat once you reach the carpet without crossing the line.
Carpet line
Keep practicing this rewarding method for not crossing the line. Once your small dog is used to staying off the carpet with you next to him, cross the line yourself and give him a treat from the carpet side.
Repeat from carpet
Continue to practice testing your small dog by crossing onto the carpet yourself but not allowing your him to cross. Each time he stays where he belongs, give him a treat.
The Behind the Lines Method
Define a line
Your carpet has a defined line where it meets another floor surface. This is your defined line.
Cross the line
Take your small dog to the line and cross it yourself.
Correct
When your small dog tries to cross the line, tell him "no" and place him back on the other side of the line.
Treat
Once your small dog is on the correct side of the line, give him a treat.
Repeat
Continue to practice crossing the line yourself and testing your small dog. When he begins to stay off the carpet without testing the boundary, you'll know he's understanding the rule of staying off the carpet.
Rewards
When your little guy is well rehearsed and stays off the carpet, give him a treat each time you walk on the carpet and he does not follow. Keep practicing together and avoid becoming complacent thinking he understands without little rewards.
Redirection
Anytime your small dog crosses the line to the carpet, gently take him off and let him know with a calm voice he is not allowed on the carpet. Focus your training on rewarding his positive efforts.
By Stephanie Plummer
Published: 01/24/2018, edited: 01/08/2021
---