How to Train Your Dog to Stay Out of a Pool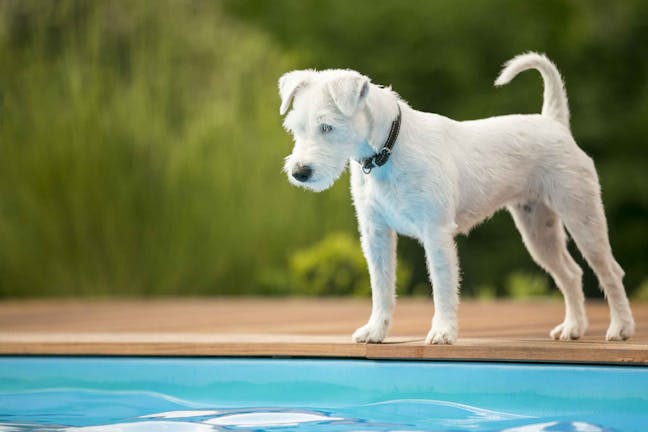 Introduction
Many families with pools either have a dog who loves to swim and wants to swim all the time or a dog who does not like to swim and needs to be coaxed in. It is likely if you have the dog who loves to swim you may be dragging him out of the pool on occasion when you need him to stay out. You can set some clear rules for your pool so your dog understands when he is allowed to swim in the pool and when he is not. Remember, keeping your dog out of the pool when you are not around is important for his safety and health. You do not want to have your dog injured in the pool because he is swimming unsupervised. You may also need to consider the safety of your pool water when allowing your dog in the pool often. 
Top
Defining Tasks
As with other boundary training with your dog, the pool becomes something your dog may have permission to enter when you allow it. He needs to understand that he is not allowed in the pool unless you invite him. Your dog looks to you for big decisions such as boundary training. Allowing your dog to swim by invitation is okay as long as your dog understands he cannot be in the pool without your proper invite. Keeping your dog out of the pool is going to be much like keeping your dog out of a room in your house or out of your car when the car door is open. These boundary training sessions will be simple and relatively short but based around your pool each time.
Top
Getting Started
Be sure to have tasty treats for good behavior. You can invest in a safety fence to fence in your pool or you can train your dog not to go near the pool without invitation by teaching him boundaries. One method includes using tape or a garden hose to block off the line your dog will recognize as a boundary he is not allowed to cross. Teaching your dog to stay out of the pool will require patience, especially if the weather is hot when you are training this boundary. If you are swimming, your dog is going to want to be with you, so while you are training your dog to stay out of the pool when you are not in it, you might want to allow him to swim with you at times .
Top
The Create Boundary Method
Tape or hose line
You can use a garden hose to block off an outdoor area while training. However, use one you won't have to move each day to fill the dog's water bowl. Rope or painter's tape will work as well, as long as you can secure it well enough to handle any weather elements. Either way, find a way to temporarily draw a visible boundary line.
Cross the line
Once you have your line drawn or taped, cross that yourself and stand on the opposite side of the line from your dog.
Redirect
If your dog crosses the line, use a simple keyword like 'ah ah,' and say, 'no pool.'
Reinforcement
When your dog stops at the sound of your voice and stays on his side of the boundary line, offer him a treat and verbal praise.
Walk perimeter
Walk along the perimeter of your line, letting your dog know every few steps he is not to cross it by giving him a treat. If he does appear to stop and get closer to you, redirect him again. Every few steps, if your dog stays on the correct side of the taped boundary line, offer him a treat and verbal praise.
Practice
Practice this in short sessions each day. Your dog will begin to understand there is a line that he is not supposed to cross. On days you wish for your dog to swim in the pool with you, if this is something you do, be sure to remove the tape or the rope so your dog is not crossing over a line he has learned not to cross over.
Reward
As a reward, let your dog swim with you every now and then if this is something you choose to do. But set your boundaries so that your dog knows he can only swim when there is no boundary line drawn and when you are in the pool and have invited him to come in with you.
The Forbidden Pool Method
Fence
You can install a safety fence for your pool. A proper fence will have a self-latching gate to keep children and pets out. You'll need a fence that is tall enough for your dog to not jump over. And you will also need a fence with slats that are narrow enough for small breeds to not fit through. Temporary fencing can also go up around your pool to keep your dog out.
Pool cover
Covering your pool, especially for pools in cooler climates over winter months when the pool is used less frequently, can prevent your dog from falling in accidentally. But you can also choose a cover that you can roll over your pool each day you don't want your dog in the pool. Be sure not to cover your pool with something like a tarp that your dog could fall on and become injured or drown.
Motion sensor
You could also place a motion sensor near your pool that will sound an alarm when that space is crossed by your dog. Over time, this alarm may deter your dog from crossing the invisible line anyway. Motion sensors can also be placed inside your pool to detect water movement.
Keep dog away
When your dog is outside, play with him and enjoy his daily walks around your yard. Your interaction with him could keep him away from the pool.
Use commands
While you are outside with your dog walking the yard but away from the pool, if your dog goes near the pool, redirect him with a command such as 'leave it.' Anytime your dog goes near the pool you can also use the command to sit, asking him to stay still in one place so he isn't tempted to jump in.
The Command Training Method
Basic commands
Teach your dog 'leave it' first after he has learned all of his basic commands such as Sit, Stay, and Come.
On a leash
Take your dog on a leash near the pool but don't pass too closely. As you pass near the pool, use the command to leave it.
Practice
Practice this several times until you can say 'leave it' and your dog shows no interest in the pool.
Off leash
Repeat the steps above off-leash asking your dog to 'leave it' as you pass by the pool.
Rewards
Be sure to offer your dog treats for a job well done when he is on the leash and off leash if he ignores the pool after hearing your command to leave it.
Continue
Continue to repeat these steps above until any time you are near the pool or you catch your dog near the pool he responds to the 'leave it' command by stepping away from the pool.
Swim
If you let your dog in the pool by invitation, get in and swim with your dog as often as you can so that he understands he's allowed to be in the pooll just not unless he is invited.
By Stephanie Plummer
Published: 10/18/2017, edited: 01/08/2021
---