How to Train Your Dog to Stay Out of the Kitchen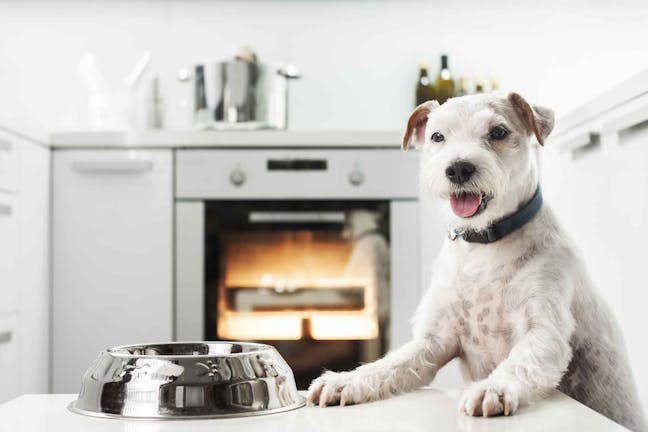 Introduction
Many dog owners do not like their dogs in the kitchen, especially while they are cooking. However, it is often difficult to keep your dog out of the kitchen only when you are cooking. So some owners choose to keep their dogs out of the kitchen altogether. When you are preparing, the last thing you want is dog fur in your food. When you have guests over, no one wants to apologize for the amount of dog fur in their food or in the air around your kitchen while you are cooking. Training your dog to stay out of the kitchen is one of very few ways to ensure your kitchen is free of dog fur, a counter surfing dog, and paws under your feet while you are trying to walk around with hot and dangerous pans. There are plenty of places in your home for your dog to be. If you think the kitchen is not one of them, you can train your dog to stay completely out of the kitchen.
Top
Defining Tasks
Teaching your dog to stay out of the kitchen will require some repetition and simple rules of boundaries. Your dog's entire life will be built around setting boundaries. Setting the boundary outside your kitchen doorway is very similar to setting boundaries you use while you are leash walking or while you are playing. It's also similar to whether not you let your dog on the furniture. Teaching boundary rules to your dog requires patience and time. Try not to teach this rule to your dog the day you are having a dinner party. Teach your dog to stay out of your kitchen as soon as you move into a new home with your dog or as soon as you get a new dog, so he understands the rules from the start. Training your dog to stay out of the kitchen will require simple training methods while you are in the kitchen and your dog stands just outside the kitchen.
Top
Getting Started
To get started, be sure to have some tasty treats readily available to reward your dog for good behavior. At least one method includes using tape on the floor to mark the boundary for your dog to respect and obey. Keep your sessions short and simple. Try not to train your dog to stay out of the kitchen during stressful times such as preparing a holiday dinner or a meal for a dinner party.
Top
Tape
Use painter's tape to create a line between the kitchen and the space your dog is allowed to visit. He will be able to cross over the taped line, but your goal will be to teach him not to.
Opposite sides
Stand on the kitchen side of the line with your dog on the opposite side. Your dog may try to follow you into the kitchen. Stand firm and gently hold your hand up, telling him not to cross.
Redirect
Use a gentle voice to tell your dog to go lay down or stay where he is.
Treat
Every few moments your dog stays on his side of the line, acknowledge him with a treat.
Drop treats
Drop a few treats on the floor in front of you in the kitchen. Do not make eye contact with your dog. For a few moments, move these treats around.
Offer up
As long as your dog stays in place, give him the treats you placed on the kitchen floor. Be sure to give them to him from the kitchen but with him standing on the opposite side of the taped line.
Practice
Every time you come into the kitchen, give your dog a treat as long as he stays on the line or at least on the opposite side of the line. Practice this several times for a few weeks. Eventually, your dog will understand his boundaries.
Kitchen introduction
Your kitchen is a room you will use a lot. When you first introduce your dog to your kitchen, place him on a leash so he is in your control and doesn't enter the room.
Walk to boundary
With your dog on the leash, walk to the boundary you'd like your dog to know. If he steps over the invisible boundary line, tighten the leash.
Reward
Give your pup verbal praise and a treat. If you use a clicker, click and treat.
Name the space
You can block off the kitchen while you are away and your dog is training to stay out. While home with your dog, use the word 'kitchen' to define the space. Use this word when you cross the threshold and do not allow your dog to cross with you.
Practice
Practice walking to the boundary line while on the leash several times before allowing your dog to be off leash. Watch your dog closely while he is not on his leash for redirection if he crosses the line.
Redirect
If your dog crosses the line, say 'no kitchen' and take him out. Reward him after a few moments if he stays on the opposite side of the boundary line.
Consistency
Be consistent about your rules in the kitchen. Continue to practice the rules with your dog, allowing him to approach the boundary and rewarding him when he does not cross.
The Redirect from Start Method
Walk
Walk with your dog to the edge of the kitchen. This will be your boundary line you do not want the dog to cross.
Sit
Stop at the line and ask your dog to sit. Offer him a treat for sitting.
Cross over
Cross the imaginary boundary line and stop just inside the kitchen. Turn around, acknowledge your dog, and give him a treat.
Redirect
If your dog steps over the line, cross back over yourself, keeping him out of the kitchen. Give him a treat.
Repeat
Repeat these steps. Your goal will be to take more steps into the kitchen before giving your dog a treat while he waits for you just outside the kitchen.
Practice
Repeat these steps each time you enter the kitchen. If your dog follows, give him a treat as you enter, leaving him on the boundary line. Continue to build your movement around the kitchen with your dog waiting patiently outside the kitchen. Be sure to take moments to reward his good behavior with treats.
By Stephanie Plummer
Published: 10/17/2017, edited: 01/08/2021
---