How to Train a Chihuahua Puppy to Sit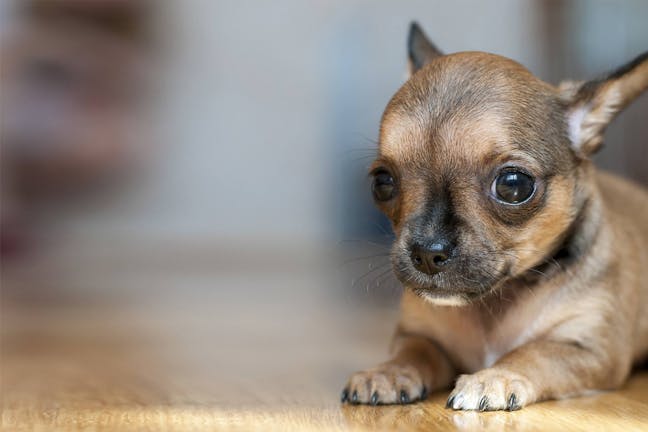 Introduction
Training your Chihuahua puppy to sit is the first trick you should be teaching your little guy. As tiny dogs, Chihuahuas tend to have a larger-than-life personality and a reputation for being stubborn. Many Chihuahua owners skip out on obedience training altogether because their Chihuahuas appear to be aggressive at first or because they're so small some dog owners feel they don't need to be trained. However, training your Chihuahua basic obedience training, such as to sit, will not only build trust between you and your Chihuahua puppy but will also give you tools to move on to more obedience training and even better fun and cool tricks. 
Top
Defining Tasks
Training your Chihuahua to sit is really about rewards and repetition. You are going to teach your Chihuahua how to get into the sitting position, when to get into the sitting position, and that he gets to be rewarded for doing so. Chihuahua puppies have pretty short attention spans so be sure you are keeping these training sessions scheduled but short and engaging to keep his attention while practicing. Training simple obedience commands includes not only teaching the action but also the keyword or command that goes with the action. This way, your Chihuahua puppy will know to do the action of sitting when you say the command to sit. 
Top
Getting Started
To start training your Chihuahua puppy to sit, decide if you are going to clicker train your Chihuahua for other obedience training. If you decide to clicker train, which is a great method to use, be sure to have your clicker and a bag of treats ready to go for every training session. Even if you choose not to use a clicker for obedience training, your Chihuahua is going to want lots of rewards for a job well done, so have lots of treats on hand. Schedule training sessions to teach your Chihuahua puppy to sit, but be sure to keep these sessions short and simple.
Top
Position
Sit with your Chihuahua puppy in front of you.
Pet or play
Pet him, show him love and affection, or play a bit with him.
Sit position
While petting, gently bring one hand back toward his tail. Use your other hand and push gently on his chest, putting him into a sit position.
'Sit' command
As your Chihuahua Puppy sits, say the command "sit".
Treat
Give him a reward for sitting, even with your help.
Practice
Continue to repeat this but over time, use the command and expect your Chihuahua puppy to sit without you gently pushing his bottom into the sitting position.
Rewards
Be sure to reward your Chihuahua puppy each time he sits after you ask him to.
The Clicker Training Method
Get ready
Be ready with lots of small, tasty treat for your Chihuahua puppy during training. If you decide to use a leash and harness, have those on your puppy before starting your sessions. Consider sitting on the floor during your training sessions as well.
Show the treat
Get your puppy's attention by showing him a treat in your hand. Let him sniff this treat but do not let him have it yet.
Acknowledge the treat
Your little Chihuahua puppy will want the treat. He will also be curious. As you build his curiosity, he may sit on his own. If he doesn't, hold the treat up a bit over his nose. Curiosity should make him look up to it, causing his bottom to sit. If you need to move the treat slightly over his head to get him in the sitting position, this is fine.
Sit
Once your Chihuahua puppy sits after trying to look up at the treat, click your training clicker and give him the treat.
Practice
Keep practicing these motions, only begin to use the 'sit' command as he sits so your Chihuahua puppy connects the command with the action. Be sure to click and treat each time he sits.
Hand signal
You can incorporate a hand signal into your training once your Chihuahua puppy is sitting by command on a regular basis. Hold your hand out above his head palm facing up and use the command to sit. Again, when he sits, click and treat. Over time, you can use the hand signal without the command or the command without the signal.
Reward
Remember the reward is the sound of the clicker and the tasty treat. Be sure to reward him each time he sits.
The Treat Encouragement Method
Fun play
Sit on the floor with your Chihuahua puppy and play together. Give him a small rope toy or puzzle ball. As you play, give him some yummy treats. This will get his attention.
Treat
After the first couple of treats, make him work and wait for them. During playtime, let him see a treat and wait for him to stop. Do not let him have the treat. If your Chihuahua puppy stops and sits, give him the treat and verbal praise. If he doesn't sit automatically, hold the treat up above his nose, forcing him to look up and automatically sitting down as his head moves up.
Following the treat
Because your Chihuahua puppy will want that treat, he will likely follow the treat up, putting his bottom into a sitting position without even realizing it.
Sit
As soon as your puppy sits, give him the treat and verbal praise.
Repeat
Repeat this several times, breaking your play session up with a treat he can earn for sitting.
Command
Start using the command asking your Chihuahua puppy to sit when he sees the treat. With lots of repetition, he will get that when you hold a treat out and say the command, he earns the treat if he sits down.
Practice
Keep practicing even outside of playtimes. Use the command 'sit' to tell your Chihuahua puppy to sit before rewarding him. Be sure to reward him each time he is a good listener and obeys.
By Stephanie Plummer
Published: 02/01/2018, edited: 01/08/2021
---