How to Train a German Shepherd Recall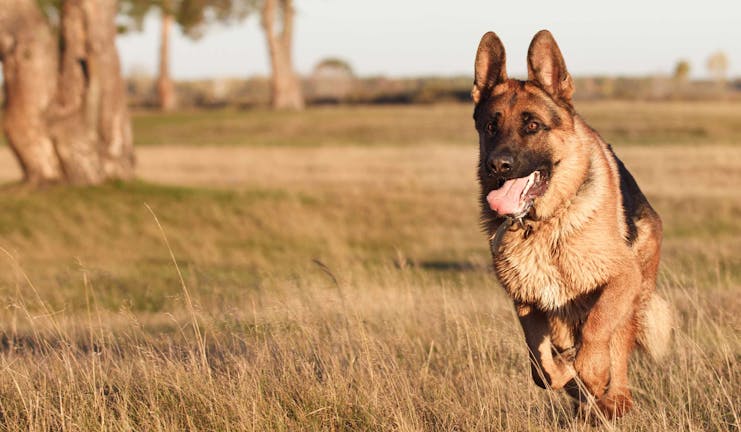 Introduction
No dog owner is unfamiliar with the frustrating problem of needing your dog to return to you and having him ignore you entirely. With tired repetition of the word "Come!", he only turns to look at you for a brief moment and then continues on his merry way, sniffing and playing as if you'd never said anything to him at all. Situations like this are why many dog owners are desperate for their dog to have great recall.

For owners of German shepherds, teaching recall may be easier than most other breeds, as German shepherds are exceedingly eager to please and very quick to learn what their owners ask of them. Some are even quite capable of behaving off-leash very well, provided the area is dog-friendly. There is a reason why the German shepherd is probably the most popular dog in both the armed services and local police forces. With impressive intelligence and friendly demeanor, a German shepherd can learn a reliable recall in almost any situation.
Top
Defining Tasks
Teaching recall to any dog can pose some interesting challenges for dog owners. Many times, the tired old phrase of 'come' loses much of its meaning and your dog would much rather continue to ignore it than acknowledge it. Other times, whatever it is that is holding your dog's attention is much more interesting than you are, and beyond that, if you find it necessary to chase after him, he simply runs off for an impromptu game of tag where you are always 'it'.

However, for any German shepherd owner who is considering teaching recall, it certainly doesn't have to be a chore. Understanding why your dog is ignoring you or teaching recall to a dog who has never done it before both require you to find what motivates your dog and how you can use that to your advantage. Using food and toys to entice your dog to you and remind them of good things will always give you a solid recall foundation. Puppies especially should learn recall as early as possible once they're ready for obedience training and adult dogs can adjust to a new recall in just a few weeks with enough practice. Determine your dog's needs and whether you need to introduce recall as a whole or troubleshoot the poor recall that you're already struggling with.
Top
Getting Started
Before allowing your dog to roam on his own, you'll want to start teaching in an environment where you can control how far he goes. Get him into a collar and long leash to start with and work your way up from there. Gather up the things your dog values most like a great chew, yummy treats, or a fun toy. These will act as your motivators and you should have them on you throughout your dog's training. Your dog needs a reason to return to you.

Start training either inside of your home or out in an enclosed area like a small backyard. This will give you a better line of sight on your dog as you progress through his training.
Top
Determine your recall word
For dogs who have never had recall training, using the word 'come' is best to begin with. If there is another word you'd like to use, then be sure it is a word that is not usually used in any other context. Make it difficult to confuse your dog.
Use your word only in training
Using the word with your dog at any time other than when practicing recall can confuse him and make it more likely for him to start tuning you out.
Let your dog wander
While he is still on the leash, allow your dog to do what he normally does. Let him sniff around and explore for however long you'd like.
Use your recall word
Your tone should be enthusiastic and happy when you use this word. This word should mean good things always.
Show the reward
When you use your recall word, make it apparent to your German shepherd that you have the reward for him in your hand and that he will only get it if he comes to you.
Reward generously
Even if your dog didn't wander far to begin with, reward him for returning to you. He should want to come to you because of the great reward you have for him. Feel free to spend some time playing with him if the reward is a toy.
Repeat
Gradually increase the distance you allow your German shepherd to wander before practicing the recall with him. Practice often and always reward him for coming to you.
Pick another recall word
If your dog has learned to ignore 'come', determine another word you can use for recall. It should not be a word or phrase that you already use with your dog and should be limited to only recall purposes.
Adjust to the new word
Offer a reward to your dog when she comes to you with your new recall word. Do this frequently.
Do not ask too much
Using your new recall word while your dog is very invested in something else will likely only lead to her learning to tune your new word out as well. Go and retrieve her if you're not sure if your new recall word will work.
Never ask twice
Using your recall word over and over again will also teach your dog to ignore you. Use the command once when you are sure she will respond. If she does not, go and retrieve her and try again later. Be sure that the reward you offer is more valuable to her than whatever may be holding her attention.
Don't use recall for unpleasant things
Calling your dog for things she doesn't like will not convince her to continue coming to you. Make coming to you fun and exciting. Avoid using your recall word in these cases. Go and retrieve her if necessary, or use other methods of enticing her over.
Find a safe area
Playing recall games with your dog should only be done within an enclosed space like a fenced in park, a backyard, or a dog run.
Show your dog a reward
Use a treat or a toy to get your dog excited about being near you.
Run away!
Dogs love to chase and run. If you run away from him with the reward in your hand, your dog is likely to chase after you, turning it into a fun game of tag.
Use a recall word
Use a word to encourage your dog to run after you. Using the basic 'come' can work just fine in this case.
Reward
Give your dog the toy or treat any time he catches up to you. Catching you should be fun and make him want to continue doing it as often as possible.
Practice in different environments
Go to different dog-friendly places to practice your recall game. The more your dog explores different environments, the more he will learn to come to you no matter where he is.
By TJ Trevino
Published: 01/24/2018, edited: 01/08/2021
---