How to Train a Golden Retriever to Fetch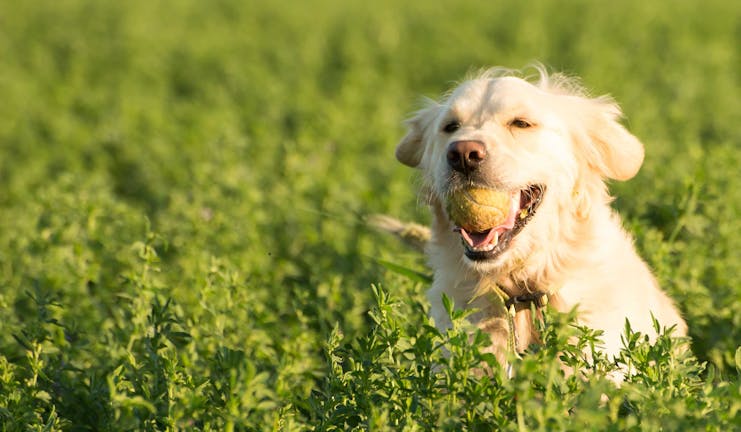 Introduction
Many people who own Golden Retrievers believe that fetching and retrieving are often assumed to be part of the package with these family-friendly, happy-go-lucky dogs. Although Goldens are inherently bred to retrieve, that doesn't mean they will automatically know what to do without some consistent, positive training.
The Golden Retriever is a people-pleaser, and with the right attitude and lots of patience, you can quickly teach your pup to fetch. Devoted and loyal, your Golden will be more than happy to accompany you on any adventure that involves running and playing. Be prepared for a lot of enthusiasm and a lot of false starts --- your dog may do more chasing than fetching at first. Stay patient and upbeat, and your Golden will be fetching for you soon.
Top
Defining Tasks
Aside from honing your Golden Retriever's inherent talents, teaching your dog to fetch has other beneficial rewards. Goldens require large amounts of exercise, and because they are an intelligent breed, they often need engagement and stimulation so they don't become bored and destructive. Fetching is an activity that will keep your Golden on her toes and in good shape.
This training process and its result will also strengthen the bond between you and your dog. With the Golden Retriever's energy, exuberance, and retrieving instincts, fetching will develop naturally as long as you guide her properly with positivity and consistency.
Top
Getting Started
Have a tennis ball or favorite toy on hand for your dog to learn to fetch. If you clicker train, this is an excellent type of training in which to use it. Be sure to have some treats in your pocket with which to reward your dog when she does what you ask of her. When starting this training process, try to choose a location with minimal distractions so that your Golden's focus is entirely on you and your commands.
Stay upbeat and positive at all times. If you become frustrated or discouraged, take a break for awhile then try again later on in the day. Training sessions may initially start out short but will gradually increase as your Golden learns to fetch and learns much fun she can have while doing so. Be patient, and your Golden will be bringing back that tennis ball to you like a pro.
Top
Choose a special toy or ball
Select one of your Golden Retriever's favorite toys or balls and use this toy for fetch only.
Pick up and place in hand
Encourage your Golden to take the toy in her mouth and drop It into your hand.
Toss the toy
Once your Golden is comfortable picking up the toy and placing it in your hand, take the toy and throw it short distance from you (around a foot or so).
Be patient and build distance
Don't throw the toy too far at first. Start small and build up to larger distances.
Go fetch!
Gradually increase the distances that you throw the toy. When your dog brings the toy back near you, call her to you and when she gives you the toy, praise and reward her.
Choose two dog toys or balls
Select two of your Golden's favorite toys or tennis balls.
Throw one toy
Keeping one toy in your hand, take the other toy, show it to your dog, and throw it.
Praise during the chase
While your Golden races after the first toy, praise her in an upbeat, happy voice.
Call back and response
Once your Golden has the first toy in her mouth, call her back by showing her the other toy you have in your hand. Your Golden is likely to see the other toy, come racing back to you, and drop the toy in her mouth in front of you.
Throw and repeat
Once your Golden has brought the first toy back, throw the second one in the air. Repeat this process two to three times per day until your Golden has mastered the art of fetching.
Grab some old socks
Find a pair of old socks and roll them into a ball.
Work indoors
Select a hallway or other narrow area of your home to work in.
Throw the socks
Throw the socks down the hallway. Your Golden should go running after them.
Catch and hold
When your Golden brings the socks back and tries to walk past you, stop her. Catch the pup and hold her in your lap, then grab the socks and throw them down the hallway again.
Repeat
Repeat these training steps no more than three times a day. In no time, your Golden puppy will be a fetching master!
By Erin Cain
Published: 01/31/2018, edited: 01/08/2021
---