How to Train a Large Dog to Not Jump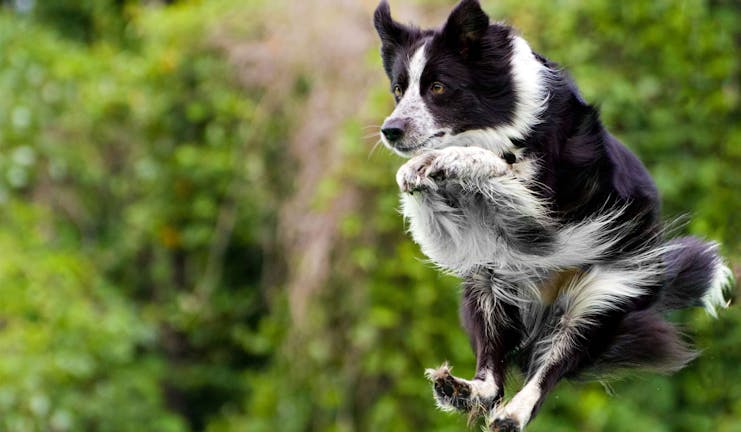 Introduction
You enter the house through the front door only to be greeted by your very enthusiastic--and large--Newfoundland, who nearly knocks you over in his excitement. Or maybe the family is coming over for dinner, but how can you prevent your sizeable Golden Retriever from knocking over grandma or the little kids? It's lovely to have large breed dogs who love being part of the family, but no one likes being bowled over by a dog, even one who is happy to see you! How can you stop your large breed dog from jumping up?
By following the lessons below, your dog can learn to keep all four paws on the ground where they belong. It's natural for dogs to exhibit their happiness at your arrival home or a new visitor, but that does not mean that jumping up on someone is acceptable behavior. It's the exact opposite: disrespectful and rude. With patience and practice, your large breed dog can learn to greet you and your visitors with respect and calmness.
Top
Defining Tasks
It's critically important for your safety that your large dog learn that jumping up is not appropriate behavior. But it's also necessary to understand that just telling your dog, "Down!" or pushing him off of you does not adequately communicate to him how he should act. Jumping up gets your attention--precisely what your dog is looking for--and it also is a gratifying way for your dog to express excitement and burn off energy. What he needs to learn is what you expect of him so he can respond appropriately.
Proper management and training for this issue are necessary to curb this behavior. With consistent practice and a hefty dose of patience on your part, you can teach your dog not to jump up within a one to four-week time frame. The younger your dog, the quicker he is likely to pick up on the new rules. Older dogs who are more set in their ways may take more time to adjust.
Top
Getting Started
The following training methods simply require consistency, patience, and a willingness to repeat these steps regularly until your dog masters this skill. Keep the training segments short and maintain a positive attitude at all times. If at any point you become frustrated, stop training for the day and start over tomorrow.
With these methods in mind, your large breed dog will better understand what you are asking him to do, and not to do. Soon he will learn that jumping up is improper behavior, and with your help, he will learn the right way to behave. If your dog is heavily influenced by food, have a few treats in your pocket to reward your dog for a job well done.
Top
The Repeated Re-entry Method
Enter through your front door
Walk into the front door of your home. When your dog jumps up on you, immediately turn around and walk back out the door.
Wait and see
Wait roughly 30 - 60 seconds, then walk back through the door again.
Greet your dog calmly
When you re-enter the house, be sure to greet your dog as calmly as possible. Don't add to his excitement by greeting him in an exaggerative way.
Repeat as necessary
If your dog jumps up on you when you walk back into the house, turn around and walk back out the door. Repeat this step until your dog doesn't jump up when he sees you.
Reward and praise
When your dog stops jumping up on you when you walk in the door, reward and praise him by petting him or giving him.a treat.
Tie your dog
To teach your dog not to jump up on guests or visitors, tether your dog to a tree, fence, or table, or hold onto your dog's leash.
Test your dog
Have a guest walk by your dog and greet him. If your dog jumps up, have the guest walk away from your dog.
Try a re-approach
Once your dog stops jumping up, have the guest walk back to him, thereby rewarding him for not jumping.
Repeat
Continue the process of approaching and withdrawing from the dog until the dog no longer jumps up on the guest.
Extend the practice to include others
Move from a guest to a passersby outside on the street. Give your dog as much exposure as possible to help reinforce that jumping up on people is not allowed.
Find some volunteers
Ask a couple of family members or neighbors to help your dog learn to not jump up when encountering people entering the house or walking by outside.
Toss some treats
Every time your dog wants to greet a person, toss a handful of small treats around 5 - 10 feet away from the person. Keep a small bag of treats near the door for quick access.
Wait for it
Repeat steps 1 and 2 a few times until your dog begins to associate the treats with avoiding the person walking in the door.
Reward and praise
Once your dog accomplishes this task, be sure to reward him with extra attention.
Repeat the process
Practice these steps with your dog repeatedly until you and your guests can walk in the door without having a dog jumping on them.
By Erin Cain
Published: 01/30/2018, edited: 01/08/2021
---