How to Train Your Older Dog to Use a Doggie Door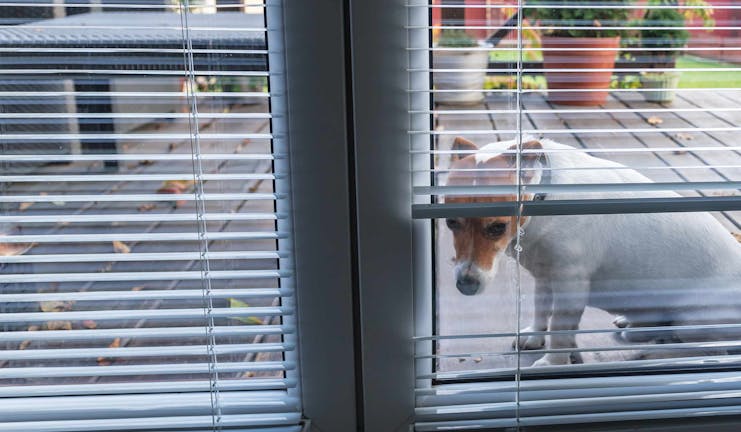 Introduction
As dogs age, their habits can go through some changes whether we're prepared for it or not. Some dogs sleep more often and eat less, while others may see a change in their activity level or ability to leap up onto furniture. No matter what changes the years may bring to your dog, they depend on you to help them navigate your home and their lives as best as you can to ensure they remain happy and healthy.

One specific change that some aging pups may experience is a shift in bathroom habits or the length of time they're able to hold it before having to relieve themselves. In some cases, their schedule changes but yours doesn't or can't! In this scenario, an ideal tool to have is a doggie door that can give your dog access to the yard whenever he may need to go. They're easy to install and can sometimes make your life--and your dog's--a lot easier and more convenient when it comes time to use the bathroom.
Top
Defining Tasks
Of course, for an older dog who isn't used to using a dog door to go outside, he may be hesitant and decide that he isn't so sure about this strange opening with a flap. Sometimes the freedom to come and go as he pleases is strange and unfamiliar, but with a little bit of coaxing, your dog can use the door confidently without issue.

Try to take things slow and steady for a dog who is hesitant and try not to startle him with the swinging flap, as that can be an area of stress if he isn't all that interested in getting hit in the face with it. Getting your dog used to the door may take a week or two of repeated use before he's confident enough to venture out on his own.
Top
Getting Started
To begin, find the appropriately sized doggie door for your dog. When in doubt, go larger rather than smaller. A stuck dog will be an unhappy dog. Make sure that it's installed in your door or wall properly to prevent it from breaking or coming off and hurting your dog.

Once that's done, grab some treats to entice your dog or a favorite toy that can be used as a reward for using the door appropriately. You may also choose to set your dog's food or water bowl outside for a little while to encourage him to go through the door himself. However, make sure you still take him outdoors several times during the day. 
Top
Find a friend or family member
Someone who lives with you is the best bet. Otherwise, invite a friend over who your dog is familiar with.
Go outside
While your friend remains inside with your dog, head outside with a toy or treats in hand.
Open the flap
This can be done by either removing the flap entirely or taping it open if it's not the kind that can be removed. This will give your dog a better view of where you are.
Call your dog
With lots of enthusiasm, ask your dog to come out to you. Use a happy and excited tone of voice. Using the doggie door should be fun!
Reward
The moment your dog decides to step through the door, offer him treats and lots of praise. Play with him and his toy for a little while.
Reverse the process
Once you're done outside, have your friend wait outside with your dog and return back indoors. Call your dog in the same way, but to come back inside. Reward as he comes to you.
Repeat
Over the next few days, try this exercise several times a day. Work your way up to lowering the flap so he can walk through without hesitation.
Lift the flap
Find a way to keep the flap open in order for your dog to have an unobstructed view of the lure.
Leave a lure
This can either be a trail of your dog's favorite treats or a string attached to a favorite toy. Determine which is more likely to have her moving towards and through the door.
Let your dog follow
Allow your dog to have at the treats or chase the toy through the doggie door.
Reward for using the door
Any time your dog uses the door in the appropriate way, celebrate and reward her enthusiastically.
Lower the flap
Continue using the lure method but do so through a closed flap. Reward if your dog decides to go through the door even if there is some hesitation.
Phase out the lure
Over time, use the lure less. Place fewer treats down or set the toy just outside the door instead of having your dog follow it through the door. Work until your dog is going through the door without any lure at all.
Adjust your dog to the door
Sit yourself by the doggie door and encourage your dog to come sit with you. Offer treats if he sniffs at or is curious about the door.
Hold the flap open with one hand
Use this to show your dog what is on the other side of the door, whether you do this inside or outside.
Get hands underneath your dog
This works best with smaller or lighter dogs. Larger dogs may just need a gentle push from behind to go through the door.
Place your dog through the door
With the least amount of stress possible, place your dog on the other side of the door by either reaching through it yourself or gently pushing them through it.
Offer a big reward
Because this method is more about sudden exposure, a large reward can be required to acclimate your dog to going through the door. Offer great treats or a really nice toy to let your dog know that the door is a fun thing to go through.
Call your dog back through
Now that you've placed him through the first time, see if he'll come back the other way on his own. Use a happy tone of voice or more rewards to entice him back through.
Practice
Do this as often as necessary until your dog develops the ability to go in and out of the door with ease. Use less rewards over time to limit dependence on them.
By TJ Trevino
Published: 01/05/2018, edited: 01/08/2021
---