How to Train Your Large Dog to Use a Litter Box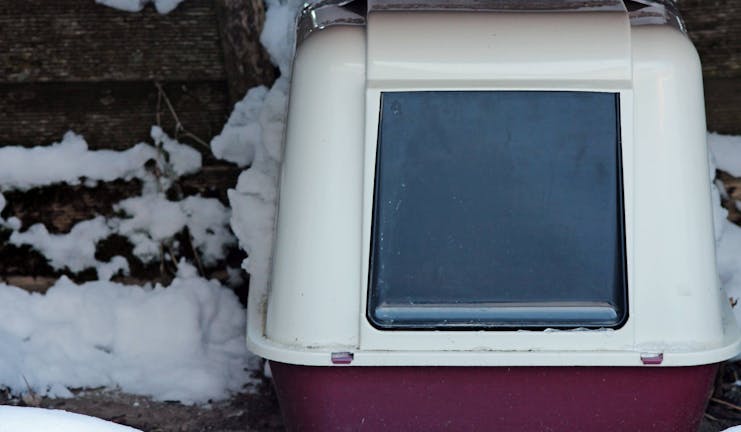 Introduction
There are many reasons why you might want to train your large dog to use an indoor litter box. Some dog owners are gone for long periods of time and don't want to run the risk of even their large guy have an indoor accident. Your adult dog large might feel as if he'll be punished if he has an accident indoors. With a dog litter box, you can give him the opportunity to relieve himself while you're away from the house. He will be able to go potty while keeping a clean house and staying out of trouble. If you know you're going to be gone for long periods of time, longer than your dog can handle holding it, setting up a large litter box for your dog is not hard to do.
Top
Defining Tasks
Don't think of a large dog litter box as the same as a cat litter box or a small box that you may use for a small breed dog. He just needs a space where he knows he can go without getting in trouble to relieve himself when he's unable to go outside. You can also use newspaper to line a box that your large dog can step into or set up a litter box using a tray liner or crate liner and a thin layer of cat litter. Potty training your large dog to use a dog litter box is not much different than house-training him. It's going to involve a lot of repetition, reminders, and rewards.
Top
Getting Started
 If you choose to train your large dog to use a litter box, be sure you have it set up and ready to go before you begin training. It will be best if you pick a confined area within your home that your dog can rely on anytime he needs to go. This means the area needs to be kept clean and cannot change from day-to-day or week-to-week. Be ready for some potty training exercises and lots of rewards for making it to the litter box and not having accidents in the house during training and while you are away from the house.
Top
Set up
You can use the bottom crate liner tray as a litter box for your dog. It is up to you if you choose to actually use the crate part or if you're just going to have the tray in the same place without the crate box on top. Place a fine layer of cat litter in the bottom of the tray. To contain the mess, you don't want the litter to be as high as the sides of the crate tray.
Introduce
Wait until your dog has to go potty. Your dog will show you he needs to go potty by barking or going to the door as he may normally do to head outside. Or you can wait until he wakes up or about 10 minutes after meals to introduce his new litter box.
Welcome in
Walk your large dog over to his new litter box and use command words you may have taught him when you were house training him to go outside. If you are just now house training him for the first time, these key phrases will be something like 'let's go potty' or 'do you need to go potty?'
Place him in litter
Place your dog in the cat litter. Since your dog is a large breed, you might not be able to pick him up and take him in there; just walk him over and gently guide him or coax him by following a treat at the tip of his nose into the box. The whole time you're walking him into the box use the key phrases he associates with going potty.
Success
If your dog goes to this new space and actually uses the litter box to go potty, celebrate with a treat and some verbal praise. Don't be too loud in your celebration while your dog is in the litter box because you don't want to scare him and make him feel as if he did something wrong.
Redirect
If your large dog has indoor accidents just redirect him in the moment or when you return home. Take him to the litter box, remind him what the box is for, and treat him afterward. Do not reprimand your dog with a loud angry voice, rub your dog's nose in his accidents, or scold or hit him. These methods are not productive and are often counterproductive.
Practice
Whether you are house training your large dog for the first time or retraining him to use a litter box instead of going outside, remember practice makes perfect. You are going to have to take the time to show him and remind him where his litter box is. Always reward a job well done and redirect an accident.
The Newspapers to Litter Method
Set up
Set up an area in your home with a large cardboard box with low sides and line it with newspapers.
Show dog
Walk your dog o this area and let him sniff around. If he happens to need to go potty and marks the newspaper, celebrate, give him a treat, and tell him what a good boy he is. Otherwise, just let him explore the area.
Potty time
Pay attention to when your dog needs to go potty, such as about 15 minutes after eating, as soon as he wakes from overnight sleep, or after extensive play time. Take him to his newspaper-lined box and encourage him to get inside to go potty.
Verbal cues
Be sure you are using verbal cues such as 'go potty' or 'let's go potty' while he's in the box with the newspaper.
Add litter
Once your dog has used the newspaper box a few times, you can slowly begin to incorporate a litter to the box. You can find specific low-dust litter meant for dogs or you can use small comfortable pellets like you may use for rabbits. Add this slowly so your dog gets used to the texture below his feet and the idea of peeing and pooping on this litter.
Repetition
Be sure you are taking your dog to his litter box every time you think he needs to go potty. There are definite cues your dog will make when it's time to go potty. Outside of after meals and upon waking, your dog may scratch or sniff around the house or begin to walk in circles. When you see these things happening, take him directly to this litter box and encourage him to go.
Reward
Be sure to reward your dog every time he goes to the litter box. While he's in training, if he goes to the litter box on his own without going potty, give him a reward for recognizing the box and exploring it. Once he starts using it to go potty be sure to reward him every single time.
Practice
Give your large dog lots of time to practice before having any concerns about whether or not he's getting it. Just like house training, this is going to take time and patience.
Box
Create a littler box for your large dog. This needs to be a box he can stand up and turn around in. Be sure the sides are not too high so he can step into the box without tripping. Also, make sure the litter inside is not too thick.
Go potty
Talk to your large dog an get him excited about going potty. If he's used to going to the door to head outside, walk with him, but do not open the door. If he's house training for the first time, use words he'll hear when you ask if he needs to go.
Box
Take him to the box and stand on one side with two treats in your hands. Hold one treat over the box and lure him inside. Once he's in, give him the treat and then use the verbal potty cues again.
Sniff and circle
If your dog needs to go potty, he may start to sniff or circle, letting you know he's ready to go. Encourage him with quiet verbal cues.
Success
Once your large dog goes potty in his litter box, celebrate with the second treat and give him lots of verbal praise.
Leave
Get him out of the litter box and playfully celebrate with him.
Repeat
Pay attention to the cues your large dog gives you when he needs to go potty and use your verbal cues while walking him to his litter box each time you think he needs to go. If he's house training for the first time, you may need to take him to the box every hour or so. Be sure to take him upon waking and after meals.
Rewards
When you catch your large dog using the litter box on his own, give him a treat. Do this during training as well when you are taking him to the box to remind him where to go.
By Stephanie Plummer
Published: 01/10/2018, edited: 01/08/2021
---