How to Train Your Dog to Wait for Food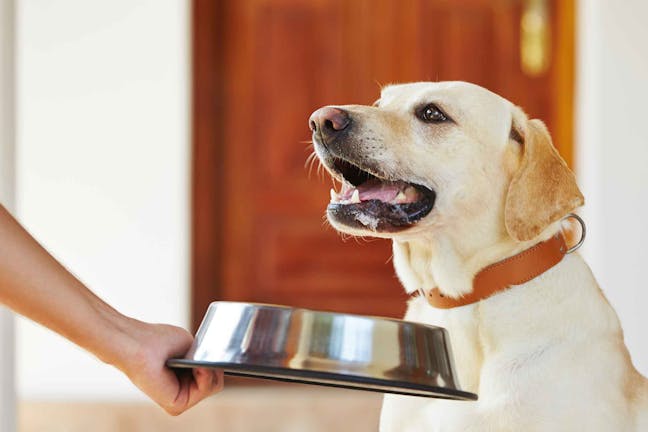 Introduction
Hungry dogs are eager dogs. An eager dog can knock down a food bowl and an owner in one exciting swoop. If you're tired of this happening at your house, put an end to your dog controlling how quickly you get his meals down and teach him to wait for his bowl. Even if your dog isn't jumping to get to his food bowl but instead patiently waiting instead for his bowl before trying to devour your hand as you set it down, he can also be taught some mealtime manners. Train your dog there is a better, less stressful way to wait for his food as you prepare it and as you set it down. He can also use these new manners to control excitement over toys and treats too. Mealtime manners just may be your favorite training because it could mean no more jumping all over you as you make your dog's dinner, no more tripping on a dog under your feet as your walk the bowl to his dinner table, and no more wet nibbles on your hands as you set the bowl down. 
Top
Defining Tasks
Training meal time manners teaches your dog patience. When dogs are excited, they show it in many ways. And meals are exciting indeed. Training your dog to control those impulses is not terribly difficult to do but will just take a little bit of time. You will be training your dog to put himself in a position such as sitting and using his manners until you give him permission to eat. 'Wait' can be a command for lots of different situations where your dog basically exerts his energy and excitement because of an activity about to happen. Teaching your dog to be patient opens doors for manners training across the board. Waiting for food doesn't necessarily mean your dog shows excitement later, but rather controls his excitement. Any dog in any household at any age can be taught to wait for his food, whether it's a treat or a meal.
Top
Getting Started
You won't need much to train your dog to wait for food. Have some patience and a little extra time set aside before your dog's meals to work on this training. It's best if you can train your dog in real life situations, so with his food bowl in place where he normally eats each meal. You will need his bowl and treats and some kibble for training. And for success, take the time to work together. 
Top
Bowl with meal
Fill your dog's bowl up partially with his mealtime food. Don't use the entire portion for training, just about a quarter of what he gets for his meal. This will give you more food to practice with once your dog eats this portion.
Lower bowl
Lower your dog's bowl down toward his regular eating place.
Knee level
Try to get the bowl to your knee level without your dog jumping or rushing the bowl. This might mean moving quickly to get it low enough to entice him.
Excitement
If your dog jumps or moves to get to his bowl, quickly move it back up, but only high enough for your dog to not reach it with a jump or fast movement. You don't want the dog to knock it out of your hands.
Patience
On the other hand, if your dog shows patience and does not rush you and the bowl before you get it to your knee level, take a piece of food from the bowl and offer it to your dog from your hand with verbal praise.
Repeat
Without letting the bowl touch the floor, repeat this a few times with the goal being getting the bowl to your knee level without the dog jumping on your or rushing the bowl.
Lower
Set a new goal once you and your dog have reached the knee level goal successfully with your dog waiting patiently for his reward. Try to lower the bowl a few more inches down, only a couple of inches off the floor and repeat the steps bringing it back up if your dog jumps or moves and rewarding if he shows manners and patience.
Floor
Repeating the steps you and your dog have been through already, set a new goal to set the bowl down in place on the floor or on his food stand. Repeat the steps above, pulling it up if he is not patient and rewarding him with a piece of food if he is. Continue to practice this until his meal is eaten, so the other portions of the meal can be put in the bowl for more training once the bowl is empty.
The From Empty Bowl Method
Empty bowl
Grab your dog's empty bowl and have your dog watch you place a treat inside.
Hold up
Hold the bowl up to your chest level so your dog can see you have his bowl but cannot get to it.
Sit
Ask your dog to sit. Do not reward yet for obeying the command.
Wait
Begin to lower the bowl. Ask your dog to 'wait'. This will be the command you will use each time your dog is overly excited and you need him to wait for his food until your are ready to give it to him.
Sitting
If your dog remains sitting, continue to lower the bowl. At some point, expect your dog to stand up and move.
Standing up
When you dog leaves the sitting position, stop lowering the bowl and stand up straight.
Repeat
Use the 'sit' command again and start new. Begin to lower the bowl again, using the 'wait' command. Expect your dog to stand again as the bowl gets closer to him. As you repeat this several times, you should be able to get closer to setting the bowl down on the floor, but you may need to repeat several times before your dog sits the entire time you are lowering the bowl.
Reward
Once your dog can stay in a sitting position as you use the 'wait' command and lower the bowl, give him the bowl and treat inside.
Practice
It may take several tries before your dog stays in his waiting sitting position while you place the bowl. Also, expect your dog to pounce on the bowl once you set it down. Getting him to wait until you have the bowl down and have stepped away may take a bit more practice, but continue to work with your pup and he will know he needs to sit patiently waiting until his bowl is in place before eating.
Bowl
Put a few high value treats in your dog's bowl.
Lower
Bring it down to set it in place.
Reaction
If your dog reacts in a negative manner, jumping on you or rushing to the bowl, yank it back up and out of the way.
Wait
Tell your dog to wait and try to place the bowl again.
Repeat
Try to place the bowl again. Repeat the steps above if he rushes you or the bowl. It may take a few tries, but once he realizes he's not getting the treats, he will either stand and wait or sit and wait patiently.
Reward
Once you can set the bowl down without being rushed, let him have the treats.
Be consistent
Do this for every meal and every treat you offer your dog so he knows he must wait each time he gets food.
By Stephanie Plummer
Published: 11/29/2017, edited: 01/08/2021
---