How to Train Your Dog to Walk on His Front Legs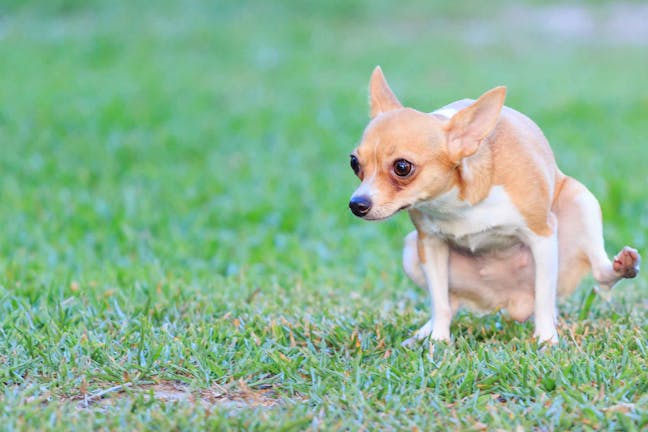 Introduction
Teaching your dog to walk on his front legs is more difficult than teaching your dog to walk on his hind legs. But much like teaching your dog to walk on his hind legs, it will take some time and a little bit of added strength for your dog to perform. Walking on front legs is typically a trick for tiny breeds and small breeds. Most large breed dogs or even medium sized dogs will not have enough strength in their front legs to walk on them. 
This is a very cute trick and an incredibly impressive trick, even for small breeds to do. Many dog owners who teach their dogs to walk on their front legs have also taught their dogs to walk on their hind legs and do other tricks. This is a fun trick to have children or even just friends and neighbors to ask your dog to do while they meet you around the neighborhood. Your dog could be the life of the party with his incredibly fun tricks.
Top
Defining Tasks
Walking on front legs starts with target training with his rear legs. From target training, he will learn to stand up in a handstand position and from there he will be walking. This will take time-- even more time than learning how to walk on his hind legs. Dogs' rear legs are typically stronger than their front legs, so your dog will need a few weeks to build up the muscle strength in his front legs in order to place all of his body weight on those two legs and then maneuver his legs into a walking position. Have some time and some patience with this one. It is a fun trick but it will require some work.
Top
Getting Started
To teach your dog how to walk on his front legs you are going to need to start in a handstand position. There are few ways to do this. Just make sure you have treats to reward for every step of the way no matter which method you choose. You're also going to need time to do short sessions to give your dog's body time to rest and for your dog's brain time to work and click with commands and actions. Have some patience. It may take a few weeks, but your dog, especially the little ones, should get this with lots of time and practice.
Top
The Stacking Books Method
Place book
Put a book on the ground behind your dog.
Touch
Have your dog touch the book with his rear legs.
Treat
Each time he can touch the book with his rear legs, give him a treat and have him move from the book.
Increase books
Increase by a book and practice by repeating the steps above.
Books support
You may need to push the stack of books up against a wall to keep them from tipping over. To give your dog more room, you can also stack them against a solid piece of furniture such as a couch. Just be sure they do not slide under the couch.
Practice
Build a stack of books each time your dog masters the last height until he's standing on his front legs.
Walk
Once your dog can stand on his front legs, begin to track him with a treat under his nose. Place a treat near the floor under his nose and slowly move it to encourage him to walk forward.
Command
Give this action a command and begin to take the books away.
Timing
To strengthen your dog's front legs, work up to this trick one book at a time each day.
Hind legs
Train your dog to target with his hind legs. Use an object such as a book or a piece of paper on the ground. Place your dog in front of it.
Touch
Have your dog touch his hind leg to the target on the floor behind him. You may need to maneuver your dog into position so he touches the object behind.
Reward
Once your dog's hind legs have touched his target, offer him a treat. If you are using a clicker, click and treat.
Move object
Once your dog has touched the object on his own with his hind feet, move the object up against a wall.
Treat lure
Use a treat to position your dog up against the wall and encourage his hind feet to touch the object you have placed against the wall. Click and treat when one of his hind feet touches the object. After working with your dog several times, getting him to recognize and touch the target against the wall with one foot, practice placing both feet on the object against the wall.
Command
Name this action by giving it a command. You can ask your dog to 'walk' or ask your dog to 'trick walk'. Naming it early will help him to associate his hind legs coming off of the ground and up in the air to the action of walking on his front feet.
Raise object
Raise the height of his target, still against the wall, and continue to encourage him to touch the target by using your command. You can do this by stacking books together to increase the height, getting his hind legs off of the floor.
Practice
Getting your dog to put both of his hind legs on a stack of books or an object leaning against the wall will take some time, so be sure to practice for several weeks on this before moving to the next step. Be sure to always use the same command and reward your dog for a job well done.
Take target away
When your dog has successfully placed his hind legs on a stack of books or on a target leaning up against a wall, begin to take the target away while still commanding him to target touch. With the target taken away use the command and have your dog raise up on his front legs while lifting his hind legs just as he would if the target were in place.
Lure
Give your dog some time practicing a handstand on his front legs before requesting him to walk forward. Once he has lots of practice and a handstand position, lure him forward with a treat in your hand close to the floor.
Treat
Start this training with a treat so you have your dog's attention and he knows he will be learning and rewarded.
Back legs
Go behind your dog and gently lift his back legs about an inch off the ground. Give him a treat once you are done.
Repeat and raise
Repeat the step above, raising his back legs about a half an inch each time you lift his legs. Be sure to treat each time you are lifting his legs up. Only keep his back legs in the air for a moment before setting him down and giving him a treat.
Command
Use a command such as 'walk' as you continue to raise his feet higher and higher each time. Pick a command you do not use for other tasks or tricks.
Repeat
Once you can lift your dog into a handstand position, start to tap the bottom of his feet and ask him to 'walk' with your command.
Practice
Once your dog can lift his back legs on his own, practice having him lift off on his own for a while before moving on to walking.
Move forward
With your new command, have your dog begin walking forward on his front legs. You can entice him with a treat low to the ground near his nose to get him to move. You may need to support his rear legs at first as he learns to balance and move forward at first.
Reward
Always be sure to reward your dog for a job well done.
By Stephanie Plummer
Published: 11/08/2017, edited: 01/08/2021
---