Introduction
Looking to name your next little lion after your favorite Little Witch Academia character? Any anime superfan might already have a name or two in mind of what name for their next feline friend. But with so many potential picks, you might need a little help choosing the "purrrfect" anime cat name. From iconic cartoon protagonists to anthropomorphic cat characters, here's a list of some of the best anime names for cats.
Anime Cat names Spotlight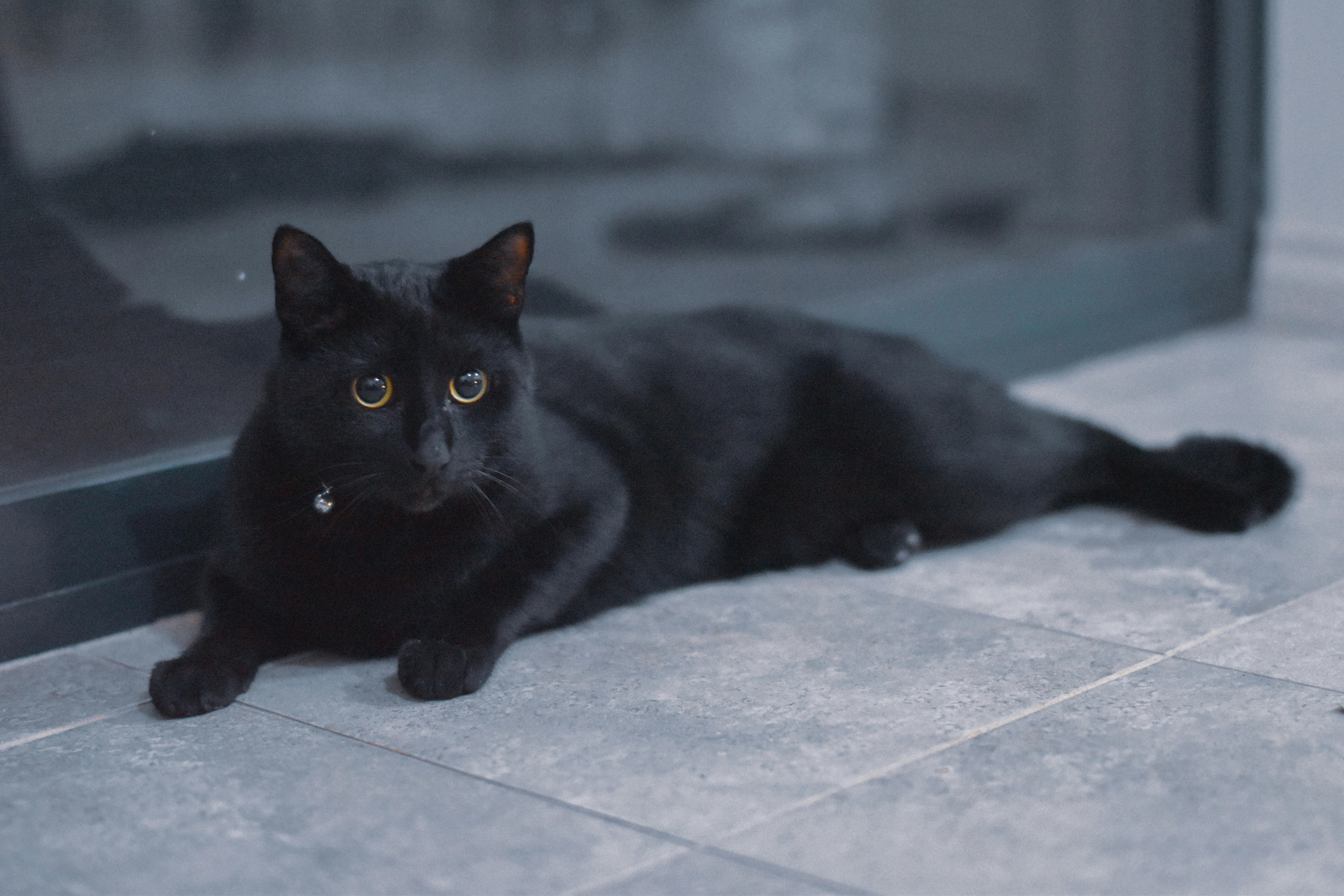 Featured Famous Anime Cat
Jiji
Studio Ghibli's magical masterpieces have produced dozens of famous anime characters, including a feline favorite, Jiji. Perhaps one of the most recognizable anime cats of all time (and there are a lot), Jiji is Kiki's familiar during her quest to become a full-fledged witch. This talking black cat is at the center of many of Kiki's early adventures, and at the end of the film, adorably has kittens with the aloof neighborhood cat, Lily.
Interestingly, Jiji's personality differs greatly depending on whether you watch the original Japanese version or the English dub. In the English dub, Jiji is sarcastic and wisecracking, while in the original, he is much more reserved and modest. Anybody who's a huge fan of Studio Ghibli and owns a black cat won't find a much better name for their new fur-baby than Jiji.
Anime Cat Name Considerations
While there's a whole clowder of cats on this list, you'll also find plenty of human characters whose personalities and appearances might match your tiny tiger. For example, anybody with a Sphynx cat might find Saitama from One Punch Man the perfect name. Alternatively, your new kitty might be strong-willed but kind, in which case Winry from Fullmetal Alchemist might make a unique choice.

With the cat names on the list, you might want to match the name with your cat's appearance or just branch and pick your favorite cat character. With so many anime characters around, it can be daunting to find the perfect name for your feline, but don't fret! Read on to find out some of the best anime cat names. 
Votes
Name
Vote
0

Jiji (Kiki's Delivery Service)

Kiki's familiar, Jiji is among the most famous anime cats and is a firm Studio Ghibli favorite.

0

Yugi (Yu-Gi-Oh!)

Protagonist of the smash-hit card game, Yugi's a fun name for anybody looking to revisit their childhood.

0

Ash (Pokemon)

One of the best-known anime characters of all time, naming your kitten after Ash Ketchum is sure to make you feel like the ultimate Pokemon trainer.

0

Puck (Re:Zero)

This cute gray and white cat is also known as The Beast of The End and the Great Spirit of Fire, perfect for adorable cats with a hidden fiery side.

0

Goku (Dragonball Z)

Another iconic protagonist, Goku suits black cats with endless strength but a goofy personality.

0

Artemis (Sailor Moon)

There are plenty of good cat name ideas in Sailor Moon, but why not name your dazzlingly white kitten after Sailor Venus' guardian cat, Artemis?

0

Jet (Cowboy Bebop)

While protagonist Spike might be a better inspiration for a canine companion, Jet makes a great name for a kind black cat with a rough exterior.

0

Brock (Pokemon)

Another Pokemon favorite, Brock is a unique name for any cat and may best suit a brown tabby.

0

Baron Humbert (A Whisker Away/The Cat Returns)

Appearing in two Studio Ghibli classics, Baron Humbert is an excellent namesake for a ginger cat with a classy personality.

0

Monkey Luffy (One Piece)

The lead character in the long-running anime One Piece, Monkey Luffy is an adorable and creative name for your new kitten.

0

Nekobasu (My Neighbor Totoro)

If you're searching for a quirky name for extra-large Maine Coon, consider Nekobasu (translation: Catbus).

0

Katsuki (My Hero Academia)

Izuku's archrival Katsuki makes for a "pawsome" pick from this smash-hit anime series.

0

Naruto (Naruto)

Think your tiny tiger is the ultimate ninja? Name them after the one and only Naruto.

0

Kuroneko (Trigun)

A background cat character that's made a big impression, Kuroneko is another fun name for a black feline.

0

Leorio (Hunter X Hunter)

There's no better Hunter X Hunter-inspired name for your next cat than Leorio.

0

Happy (Fairy Tale)

The cat-like Exceed race is common in Fairy Tale, and there's none more famous than the blue-furred Happy.

0

Alphonse (Fullmetal Alchemist)

One of two main characters along with brother Edward, Al a no-nonsense nod to this highly-rated anime.

0

Levi (Attack on Titan)

Another anime with plenty of unique name options, Levi is a strong, simple name for your new feline friend.

0

Dio (Jojo's Bizarre Adventure)

Main antagonist and vampire Dio is the perfect namesake for any kitten that loves to bare its fangs.

0

Saitama (One Punch Man)

Got a Sphynx cat or a feline that loves to box? Name them after unassuming hero-for-fun Saitama.

0

Mugen (Samurai Champloo)

Any Cowboy Bebop fan will no doubt be aware of Samurai Champloo and the misadventures of moody Mugen with companions Jin and Fuu.

0

Vash the Stampede (Trigun)

Vash is the perfect name for any kitten who loves to wake you up by running around your room at 3 am.

0

Madara (Natsume's Book of Friends)

Supernatural protagonist Madara is another iconic cat character and makes a superb name for a calico.

0

Anpu (The Disastrous Life of Saiki K.: Reawakened)

Searching for an anime-inspired name for your ginger cat? Look no further than Anpu.

0

Meow (Space Dandy)

Dandy's cat-alien companion Meow is an amusing and kooky namesake for a new feline.

0

Light (Death Note)

Death Note-fans welcoming a white cat into their family should consider naming them after the main character, Light.

0

Tobio (Haikyu!)

If your cat has an affinity for batting their favorite ball, name them after volleyball-star Tobio.

0

Korin (Dragonball)

Martial arts master Korin is a favorite among Dragon ball fans and is a superb name for a white cat with lots of wisdom.

0

Tai (Digimon)

A throwback anime that's recently been rebooted, Tai from Digimon is a great name choice for any pet parent feeling nostalgic.

0

Nagisa (Assassination Classroom)

Think your tiny tiger is the perfect assassin? Name them after Nagisa.
Votes
Name
Vote
0

Motoko (Ghost in a Shell)

You can't go wrong naming your kitten after one of the strongest and most popular anime protagonists ever.

0

Misty (Pokemon)

No Pokefan will want to miss out on naming their female feline after Cerulean Gym leader Misty.

0

Ryuko (Kill la Kill)

Kill la Kill's protagonist Ryuko is another excellent name for an independent, feisty feline.

0

Luna (Sailor Moon)

Sailor Moon's guardian cat Luna is sure to please any fan of this influential anime.

0

Diana (Sailor Moon)

Adding two female cats to your furry family? Why not name them after cat guardians Luna and Diana?

0

Chihiro (Spirited Away)

Spirited Away is a firm favorite among anime fans, and plenty of pet parents will want to name their feline after 10-year-old protagonist Chihiro.

0

Faye (Cowboy Bebop)

Even after 20 years, Cowboy Bebop is still hugely popular, and any fan, old or new, should consider naming their kitten after Bebop crew member Faye Valentine.

0

Akko (Little Witch Academia)

If your kitten is a lovable goof with plenty of guts, Little Witch Academia's Akko will be a great inspiration.

0

Asuna (Sword Art Online)

Smash-hit Sword Art Online has lots of memorable characters, and heroine Asuna makes a superb namesake.

0

Arrietty (The Secret World of Arrietty)

If you've got a small cat that loves to "borrow" your belongings, name them after Studio Ghibli's Arrietty.

0

Melody (My Melody)

Sanrio has tons of cutesy characters, and one of the best namesakes is Hello Kitty's best bud, My Melody.

0

Carla (Fairy Tale)

Exceed Carla is another of Fairy Tale's cat-like species and makes a "pawsome" name for a white cat with a stern attitude.

0

Rei (Neon Genesis Evangelion)

Classic anime Neon Genesis Evangelion is a must-see, and the main character Rei is the perfect inspiration for anybody looking for a simple, unique name.

0

Retsuko (Aggretsuko)

One Sanrio's most recent offerings, Retsuko is a fun name for any cat that loves to yowl their heart out.

0

Sophie (Howl's Moving Castle)

Sophie is always high on the list of iconic Studio Ghibli characters and will make a fitting name for any feline.

0

Mikasa (Attack on Titan)

One of the top animes of the last decade, Attack on Titan's Mikasa makes an excellent name for a strong and caring kitten.

0

Hinata (Naruto)

Hinata is one of many characters with an intriguing backstory in Naruto and will make a unique namesake for any female feline.

0

Winry (Fullmetal Alchemist)

One of the Elric Brothers' only companions, Winry is a great name for a lightly-colored kitty with a kind heart.

0

Sheeta (Castle in the Sky)

Castle in the Sky's Sheeta is the perfect name inspiration for the queenly cat in your life.

0

Kurisu (Steins;Gate)

Time-traveling anime Steins;Gate is a cult classic, and any fan will be thrilled to name their little lion after Kurisu.

0

Chi-Chi (Dragonball Z)

There are plenty of great name ideas in Dragonball Z, but few provide cuter inspiration than Goku's wife Chi-Chi.

0

Ponyo (Ponyo)

Are you a Studio Ghibli superfan? Name your next kitten after one of the company's most famous characters, Ponyo!

0

Taiga (Toradora!)

Taiga is a great name for any tiny cat with a big attitude (it also sounds a bit like "tiger").

0

Mei (My Neighbor Totoro)

No list of cat names would be complete without including My Neighbor Totoro's plucky 4-year-old protagonist, Mei.

0

Rukia (Bleach)

Got a black cat who you suspect has a dark side? Pick Soul Reaper Rukia as their new namesake!

0

Touka (Tokyo Ghoul)

Cute on the outside but a ghoul on the inside, Touka is the ideal name inspiration for any cat.

0

Nami (One Piece)

Name your new ginger cat after Straw Hat navigator and fan-favorite Nami.

0

Ezra Scarlet (Fairy Tale)

While not an Exceed, Ezra is a firm favorite among Fairy Tale fans and makes a unique name for your next female feline.

0

C.C. (Code Geass)

C.C. may not be the real name of Code Geass's mystery girl, but it does make an adorable name for a fur-baby.

0

Akame (Akame ga Kill!)

Is your kitten a keen hunter? Then Akame ga Kill!'s titular character might be the right name for your feisty feline.
Cats with Anime Names