Introduction
Arizona is the perfect destination to experience a wide variety of climates and environments geared toward the outdoor adventurer.  In less than a four-hour drive, visitors and residents alike can experience a plethora of dramatic change from deserts in bloom to snow-capped mountains or brilliant red rock formations to miles of waterways on the largest man-made lakes in the country.  Many times, outdoor enthusiasts bring their canine friend along for the experience to add to the joy of exploration.  What better way to express your enjoyment of all Arizona has to offer than by giving your dog an Arizona-themed name that has meaning to you and defines your special relationship with your best friend?
Arizona Dog Names in Pop Culture
Featured Famous Dog with an Arizona Name
Taco
The Chihuahua, a small Terrier type whose origins are shrouded in mystery, is said to be the unofficial dog of Arizona though most agree the dog officially developed in Mexico.  It is no surprise that Arizona loves its Chihuahuas considering the infusional of Mexican culture and tradition found throughout the state.  Chihuahuas are excellent companions and appear as docile pocket pooches on both the silver screen and among the masses.  Names such as Bella and Tink fit perfectly for these Arizona dogs, but one Chihuahua stands out among the rest.  In the 1990's and early 2000's, Taco Bell ran several television commercials featuring a taco-loving Chihuahua.  Though the Chihuahua was unnamed, most people referred to the Chihuahua as the Taco Bell Dog.  However, one of the featured Chihuahua's real names was Taco, though he was only a stand-in for the real star, Gidget.
The Chihuahua got a lot of attention during these years, and its breed popularity soared as a result, especially in Arizona.  Arizona is home to several Chihuahua inspired dog events.  In Tuscon in southern Arizona, country music station KIIM 99.5 holds an annual Chihuahua race while the Arizona Taco Festival at Salt River in the Phoenix Metro area holds an annual Chihuahua beauty pageant where all the proceeds go to local Chihuahua rescue groups.  The mid to late 2000's saw the much-needed decrease in unwanted Chihuahua populations and a decrease in euthanizations as a result of the rising popularity and increasing education on the importance of spaying and neutering pets.  The national attention of the Taco Bello Dog with its Mexican stylized Spanish dialect and signature catchphrase, "yo quiero, Taco Bell,"  may have played a large role in identifying the Chihuahua as an Arizona dog.  
While Chihuahuas inspire Arizona dogs names, other people recognize the unique beauty Arizona offers for the outdoorsy types.  Many people living in the state enjoy the outdoors and bring their dogs on vacation or day trips while traveling the state, so Arizona has a dog-loving culture.  Many restaurants, hotels, and lodges are dog-friendly and encourage you to play and spend time with your four-legged companions.  One does not have to look far to find dog-friendly establishments all over the state.  Almost all tourist attractions are dog-friendly in Arizona and can be used as inspiration for your dog's name.  Tombstone, for example, is a popular historical boom town turned tourist attraction that allows your dog in to see the sights, including the face Bird Cage Theater.  Arizona dogs live the good life with all the outdoor possibilities and a state culture geared towards fun and active lifestyles.        
Arizona Dog Name Considerations
Arizona dog name considerations are not usually dog breed, color, or size specific; however, owners may want to take some consideration when naming their dogs an Arizona theme name.  For example, you may consider naming your dog after a favorite destination in Arizona, like Greer for a male dog or Sedona for a female dog.  Sedona, which is world-renowned for its red rock formations may also suit a red-colored dog better, such as a Miniature Pinchers or a Dachshund.  You may also consider more subtle or "Arizona insider" names, like Biscuit, especially if you live in or near Prescott, Arizona.  The residents of Prescott pronounce the city's name "Pre-skit, like a biscuit" and they are eager to correct the out-of-towners.  If your dog is destined to be a behemoth of a canine, you may consider naming her Saguaro, which is an Arizona cactus that grows to 40 feet tall.  White-colored canines can enjoy a double name meaning with Cotton as both a reference to coat color and the cash crop that helped project Arizona's economy in days passed.  Breed specific names in might include Chimi or Margarita for a Chihuahua, which pays homage to the Mexican infused cultural so popular in Arizona.
Votes
Name
Vote
8

Dusty

The Arizona dust storms are notorious in the Southwest

6

Jerome

An old mining city built in the mountain and now a popular arts and music destination

5

Chimi

Short for the popular deep-fried burrito known as the chimichanga

5

Yote

The nickname Yotes is given to the Arizona NHL Coyotes

5

Blaze

The sun blazes hot in Arizona

5

Gilbert

William Gilbert provided land for the Eastern Arizona Railway

4

Saguaro

A towering cactus growing up to 40 feet tall and the Arizona state wildflower

4

Biscuit

"It's Prescott, like a biscuit"

4

Watson

A lake in Prescott, Arizona

4

Bear

Arizona is home to a large population of black bear

4

Lowell

One of the country's oldest observatories and located in Flagstaff, Arizona

3

Dune

The dunes, located near Yuma, Arizona, are excellent for off-roading in dune buggies

3

Monte

Reference to the famous Monte Vista hotel in Flagstaff, Arizona

3

Baxter

The Arizona Diamondback's mascot's name

3

Prescott

Prescott, a historic city in central Arizona, was once the Capitol seat

3

Hoover

The Hoover Dam is a site to see in Arizona

2

Cactus Jack

A local bar in Phoenix known for its live music and poker tournaments

2

Wren

Reference to the Arizona State bird, the cactus wren

2

Tonto

The fifth largest national Park in the U.S. and in Arizona

1

Picacho

Picacho Peak is a hard-to-miss peak situation between Phoenix and Tuscan, Arizona

0

Gilbert

An incorporated town in Arizona once known as the "hay capital of the world"

0

Tombstone

The famous silver mining boom town of Doc Holliday, Wyatt Earp, and the Clanton brothers

0

Taco

The perfect name for a spicy little Chihuahua, the unofficial dog of Arizona

0

Roose

Reference to the Lake Roosevelt, Arizona's largest lake

0

Lute

Homage to great Lute Olsen, the former Arizona basketball coach

-1

Humprey

Humpreys Mountain in Flagstaff, Arizona is home to the San Francisco Peaks

-1

Nanook

The name of Arizona brothers' dog in "The Lost Boys" film

-1

Winslow

"Standing on the corner in Winslow, Arizona."

-2

Copper

Arizona is the "Copper State"

-2

Greer

An Arizona town situated in the White Mountains
Votes
Name
Vote
8

Bisbee

A mining town in southeastern Arizona now know for its art and live music

7

Sahuarita

A small town in Pima county Arizona, first inhabited by the ancient Hohokam people

7

Zinnia

A small shrub with many colored flowers and common in Arizona

6

Sedona

An Arizona city most notable for its red rock formations

6

Cotton

Arizona is the birth place of Pima Cotton

6

Sharlot

Sharlot Hall was a poet, historian, and the first woman to hold an office in the Arizona Territory

6

Ruby

A ghost town in southwest Arizona

6

Chelly

Reference to Canyon de Chelly, an ancient pueblo built into the cliffs

6

Pink

Reference to the famous Pink Jeep Tours of Sedona, Arizona

6

Marana

A city near Tuscan well known for its hiking trails

5

Penny

The roof of the Arizona State Capitol building is made of copper and equivalent to 4.8 million pennies

5

Casablanca

A 1942 romantic drama filmed partially in Arizona

5

Juniper

An abundant tree in the Arizona desert

3

London

The original London Bridge was shipped and put back together stone by stone in Lake Havasu, Arizona

3

Sierra

Sierra Vista is an outdoor playground and the humming bird capital of the U.S.

3

Tuzi

Short for Tuzigoot, a National monument in Arizona

3

Estrella

A planned community near Goodyear, Arizona

3

Rita

Reference to Santa Rita Mountains near Tuscan

2

Sonora

Reference to the Sonoran Desert in Arizona

2

Mirage

The Arizona heat waves can play tricks on your eyes

2

Willow

The desert willow is native to Arizona

1

Senita

A columnar cactus with pink flowers

1

Holliday

A reference to the famous Doc Holliday

1

Turquoise

A brilliant blue stone and the gemstone of Arizona

0

Manzanita

A small tree found in Arizona with bright red branches

0

Danica

Famous racecar driver, Danica Patrick, is from Arizona

0

Catalina

A majestic mountain range in Oro Valley, Arizona near Tuscan

-1

Kachina

A spirit of the Hopi people that personifies things in the real world

-2

Margarita

A tequila cocktail so popular it has its own annual festival in Arizona

-3

Florence

A historic city in south central Arizona

-4

Page

A northern Arizona city situated on Lake Powell
Community Dogs with Arizona Names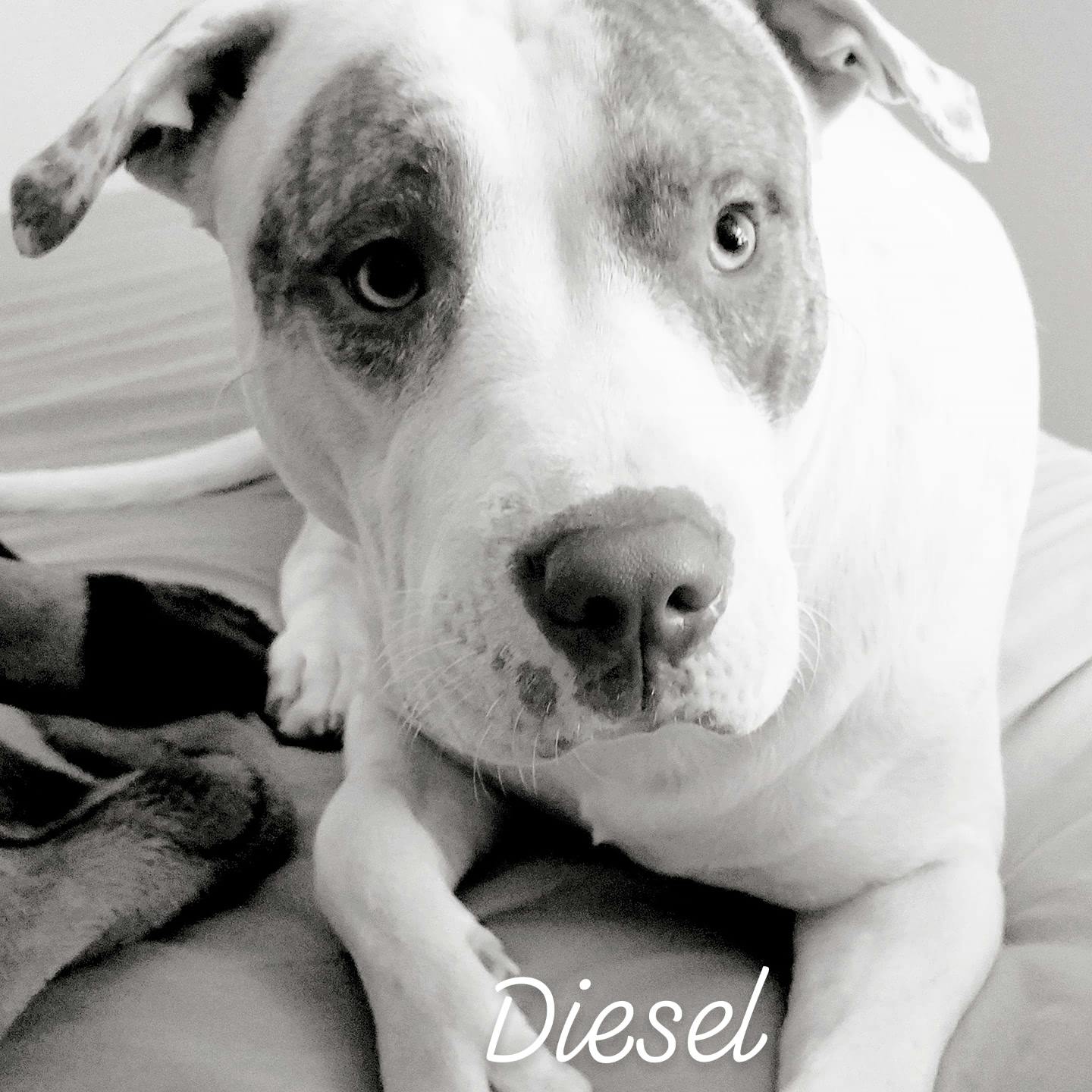 Diesel
Male
Pit Bull
Bullhead City, AZ
Diesel and Ace both are boys,In not sure they just looked like a Diesel and a Ace,Would only show one picture