Introduction
Basenjis are hunting dogs who were said to have originated in the central region of Africa. This African dog is a very unique and strange breed as they are incapable of barking. Outside Africa, this dog breed is typically referred to as "the barkless dog." Basenjis were originally used to hunt down rats and other small predators that possess a threat to the native Africans' livestock. Albeit unable to bark, a Basenji is not silent – it can produce various sounds such as growling, whining, yodeling, whimpering, and even screaming. This African dog breed can be stubborn and mischievous, but with adequate training, it can make for the perfect pet and companion.
Basenji Dog Names in Pop Culture
Featured Famous Basenji Dog
Lady
Basenjis are not the famous type. The African breed rarely gets featured in films or in works of literature. However, in the 1950s, the breed started to gain good publicity after author James H. Street published a novel entitled "Goodbye, My Lady." The novel features a Basenji dog as one of its major characters. "Goodbye, My Lady" is a story about a young boy's journey to maturity after he tames and befriends a stray Basenji dog whose name is "Lady."  This novel is regarded as one of the most touching and tear-jerking coming of age novels in literature.
In a university press, the author shared what ignited and inspired him to write the novel. According to Mr. Street, he was in a bar when his good friend showed him a photo of a young lady with unfamiliar dogs. He wasn't at all interested in writing a story about it until he learned of the breed. After delving further and learning about Basenjis, he decided to write story entitled "Weep No More, My Lady." The story got featured in The Saturday Evening Post in the 1940s and received a mixture of reactions, many of which were negative. This caused the author to revise some details and finally publish it under the title "Goodbye, My Lady" in 1954. The book immediately received an overall good response and became a best-selling book in America. Not long after, the novel got turned into a film under the same title.
Originally, James Street himself was supposed to be the film's principal advisor. Unfortunately, he died of a cardiac arrest before the film production even began. The director, William A. Wellman, then took over the responsibility and proceeded with the creation of the film. In the movie, Lady was played by a Basenji dog registered as "My Lady of the Congo." The dog actor, who is simply referred to as "My Lady," is owned by an England-based Basenji breeder named Veronica Tudor-Williams. Interestingly enough, the young lady in the photo that inspired James Street to write the novel is Veronica Tudor-Williams herself. My Lady was then flown to California and the filming commenced.
The film adaptation of "Goodbye, My Lady" featured magnificent, A-list actors and actresses who all have good comments about My Lady. According to one of the actors, My Lady was the "best behaved, most captivating Basenji who ever stole a film scene." The film became triumphant and received many awards and recognitions throughout the globe. The Daily Telegraph acknowledged the film's greatness and included it in its list of "Top Ten Best Films" during the year it was released. 
Basenji Dog Name Considerations
Without a doubt, Basenjis are easily one of the most unique and uncommon dog breeds in existence. There is no other breed like the Basenji, which is why it deserves a well-thought-out and extraordinary name. Naming your dog can be challenging. No dog owner wants an ordinary name for their furbaby but at the same time, dog owners can be too indecisive when it comes to choosing from endless options and ideas available online. As always, a name that reflects your dog's personalities and traits is always ideal.
The traits of a Basenji are both intriguing and distinctive. As previously mentioned, they are not capable of barking. However, they still have the ability to produce various sounds. For this reason, it would make sense to pick a name that embodies the unique trait. Names like Amrah and Monna, which both means "unique," are good examples.
Basenjis are also independent creatures, history shows that they managed to survive thousands of years solely by themselves and without the guidance of humans. They are highly clever, vigilant, quick-thinking, lively, and always up for adventures. Take all those details into consideration and choose a name that can reflect them. For example, "Akilah" would be great for female Basenjis or "Ayo" for male Basenjis. Since the breed originated in Africa, it can also be a good idea to pick an African name, or a name that can be associated with Africa and its culture.
Votes
Name
Vote
0

Akins

An African name that means "brave boy"

0

Gus

Means both "vigilant" and "watchful" in Dutch

-1

Winston

An Old English name that means "joyful"

-1

Boboto

Means "peaceful" in African

-2

Ayo

Means "full of joy" in African

-2

Jabari

Means both "fearless" and "brave" in African

-2

Dakarai

Means "happiness" in African

-2

Obo

A small community in Central Africa

-2

Leki

Means "little brother" in African

-2

Albert

An English name that means both "bright" and "noble"

-4

Amrah

Means "unique" in African

-4

Iyapo

Means "many trials" in African; reflects the resilient history of Basenjis

-4

Ippy

A town in Central Africa

-4

Dakari

Means "filled with joy" in African

-4

Mhina

An African name that means "full of delight"

-4

Hekima

Means both "knowledgeable" and "clever" in African

-5

Oringo

An African name that means "he who likes to hunt"

-5

Greg

Means "vigilant watchman" in Latin

-5

Sengo

From "Bisengo", which means "joy" in African Lingala

-6

Adalard

Means "brave" in German

-6

Gaillard

Means both "brave" and "spirited" in Middle English

-6

Kamau

African name that means "quiet warrior"; a top Basenji name

-6

Bangui

The capital of the Central African Republic

-6

Gahiji

An African names that means "the hunter"

-6

Ishaq

Means "laughter" in African; good name for lively and joyful Basenjis

-6

Damisi

Means "cheerful personality" in African

-6

Kayin

African name meaning "widely recognized"

-7

Argus

Means "watchful" in Greek

-8

Lebna

Means both "soulful" and "spirited" in African

-8

Krikor

Means "vigilant watchman" in Armenian
Votes
Name
Vote
6

Lacy

Means "cheerful" in French

1

Asha

Means "lively" in African

1

Kali

Means "energetic" in African

1

Alaia

Means both "joyful" and "happy" in Basque

0

Makena

An African name that means "full of delight"

-1

Monna

Means "unique" in African

-1

Damara

A town in Central Africa

-1

Ira

Means "watchful" in Hebrew

-3

Alisa

A Hebrew name that means "great happiness"

-3

Fahima

Arabic name meaning "a woman of great intelligence and knowledge"

-3

Bita

Means "unique" in Arabic

-3

Kaira

An Indian name that means both "peaceful" and "unique"

-3

Beatrice

An English name that means "bringer of joy"

-3

Grizelle

A German name that means "the one with wisdom and intelligence"

-3

Sana

Arabic name meaning "one who is brilliant"

-3

Electa

Means "a unique person" in Latin

-4

Nara

Means "joyous" in Japanese

-4

Davita

Means "unique individual" in Scottish

-4

Izel

Means both "unique" and "one of a kind" in Nahuatl

-5

Ada

Means both "prosperous" and "happy" in English

-5

Eshe

Means both "energy" and "life" in African

-5

Moseka

Means "young girl" in African Lingala

-5

Rufaro

Means "joy" in African

-5

Nuru

Means "filled with light" in African

-5

Sanura

Means "intelligent" in African

-5

Zakia

Means "woman of great intelligence" in Pashto

-5

Ronia

A Hebrew name that means "a cheerful child"

-6

Eelin

A Finnish name that means "warrior of intelligence"

-7

Oseye

An African name that means "the happy one"

-7

Fukayna

Means "knowledgeable" in African
Community Dogs With Basenji Names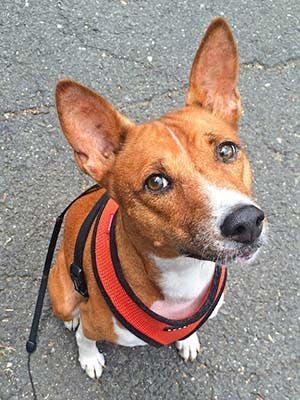 Athena
Female
Basenji
Lansing, KS
Personality
tries to please
Loyal
As a baby she was dangerously small and had beautiful brown eyes with her khaki colored fur