Introduction
Beer is one of those amazing things that is deep-rooted in human history.  Some of the first and earliest known farmers in agrarian societies brewed and drank beer.  Today, the world enjoys a vast diversity of brews and the term "craft beer" is widely known as it is consumed.  Though dogs might not appear to be connected directly with beer, expect by the colloquial expression, "hair of the dog that bit you," dogs are often named after a favorite craft beer or their names represent their owner's love and appreciation of beer.  Dog names within the beer theme are endless and non-restrictive to the size or breed of any dog.
Beer Inspired Dog Names in Pop Culture
Featured Famous Dog with a Beer Inspired Name
Hosehead
While it is not good for dogs to drink beer or any alcoholic beverages since it could lead to alcohol poisoning and toxicity, some dogs will occasionally sneak a sip of their master's brew.  However, there is one dog who stands out in history and is known for his love of beer, albeit, he is a fictional dog.  In 1980, Canadian-born comedians, Rick Moranis and Dave Thomas, were asked to include two minutes of identifiable Canadian culture on the sketch comedy show called Second City Television (SCTV).  The comedic duo developed Bob and Doug McKenzie, two dimwitted brothers who drank beer, ate back bacon, and postulated on all things ridiculous in a Canadian cultural parody segment called the Great White North.  The segment was often unscripted and became a huge success.  It also helped established pop culture references still applied to Canadians today, like ending sentences with "eh."  The success of the segment led to a movie spinoff called
Strange Brew
, in which the two McKenzie brothers get jobs at a local brewery and uncover the evil Brewmeister's plot to take over the world.  During the film, the only thing the brothers fear more than taking their father's last beer is taking the beer away from the family's dog, affectionately named Hosehead.  Hosehead is a black Labrador Retriever with the markings of a skunk who enjoys his fill of beer.  By the end of the film, Hosehead the Dog displays his superpowers and flies to the scene of Oktoberfest to save the world from the evil Brewmeister's plot for world domination.  The Brewmeister had added a mind-controlling drug to the beer and Hosehead saves the day by scaring everyone away with his skunk colors.   
The name Hosehead is often associated with beer drinking, thanks to the movie and dog bearing the name.  However, Hosehead is derived from Hoser, which is the name given to the losing team in a hockey game that must hose down the ice at the end of the game.  Hosehead, the Canadian beer drinking dog, will forever be associated with the pop culture of Canada and North American beer drinking.  Dogs with the name Hosehead demonstrate the cultural appreciation people have for the Canadian comedy skit and beer drinking dogs everywhere though Strange Brew was first produced in 1983.  
Beer Inspired Dog Name Considerations
Beer-themed dog names are unique in that no one breed of dog is better suited to bear the name Barley, Bomber, or Brewer.  However, males dogs are slightly easier to name after a favorite beer-inspired term than the female dogs.  The lady dogs are certainly not excluded, but often they will have subtler names, like Stella, Lace, or Amber.  Owners who love want to give their special new friend a beer inspired name should consider the color of their dog as well.  For example, Barley is described as a light, golden color whereas Porter is dark.  For female dogs, Amber would suit a red-colored dog well as Lace would work for a white-colored dog.  The size and sturdiness of your dog should also be considered.  Stout is excellent for a sturdy, low to the ground dog like an English Bulldog, whereas Brewer or Buster seems to suit Terrier-type dogs with rough or medium to long hair. Other than consideration for the size and color of your dog, any dog can easily fit into a beer-themed name. Some owners may wish to be subtler with their beer references or chose a name of their favorite microbrewery. Whatever you chose as your dog's beer-themed name, it is sure to have meaning for you and display your love of both beer and your dog.
Male Beer Inspired Dog Names
Votes
Name
Vote
11

Barley

A grain used to make beer

10

Hops

A bittering flavor added to beer

8

Tannin

A bitter, oak flavor in beer

7

Brewer

A person who brews beer

6

Chinook

A piney flavored beer hop used in pale ales

6

Goose

A reference to Goose Island Brewery of Chicago, Illinois

5

Brett

Short for Brettanomyces, a type of yeast

5

Bud

A nickname for Budweiser

4

Bomber

A 22 oz beer bottle

4

Porter

A style of beer

4

Grist

Ground malt and grains

4

Kolsch

A bright Pilsner malt beer

4

Wort

The extract from mashing malts in the brewing process

4

Hosehead

The name of Bob and Doug's beer drinking dog in the movie, Strange Brew

2

Fuggles

A type of beer hops used for stouts

2

Zythos

A beer hops and a Greek word for beer (ancient)

2

Yuengling

America's oldest brewery

2

Keg

A pressurized container of beer

2

Stone

A brewing company from Escondido, California

2

Miller

An American brewing company

2

Buster

A reference to Buster Nut Brown Ale

1

Stout

A style of beer

0

Lager

A type of beer

0

Shiner

A Texas brewery located in Shiner

0

Colt

A brand of malt liquor

-1

Growler

A 64 oz jug for take home draft beer

-1

Bock

A strong German lager

-2

Carboy

The container used as the fermentation vessel

-2

Gruit

An old fashioned bittering flavor used before hops became popular

-3

Mickey

A malt liquor by the Miller Brewing Company
Female Beer Inspired Dog Names
Votes
Name
Vote
7

Amber

A type of red beer

6

Lace

The beer foam left on a glass

6

Oktober

A reference to Oktoberfest, a beer folk festival last 16 days

6

India

A reference to India Pale Ale

5

Kirin

A Japanese brewing company

5

Laika

The first dog in space and a Russian Imperial Stout

5

Odell

A Fort Collins, Colorado brewing company

5

Noble

A class of hops

4

Avery

A brewing company from Boulder, Colorado

4

Harper

A brewing company in Lansing, Michigan

4

Blonde

A style of ale

3

Sierra

Reference to Sierra Nevada, a brewing company

3

Citra

A type of beer hops

2

Natty

The nickname for Anheuser-Busch Natural Ice

2

Abigail

An American blonde style of beer

2

Saison

A highly carbonated and fruity tasting style of ale

2

Ninkasi

The Sumerian goddess of beer

2

Willamette

A beer hops used for porter styles

2

Genny

A nickname for Genesee beer

1

Stella

No, not a Streetcar Named Desire but Stella Artois

1

Summer

A type of seasonal ale

1

Aileen

A subtle name sounding like Ale

1

Shandy

A beer mixed with a soft drink like carbonated lemonade or grapefruit

1

Heady

A reference to Heady Topper, a double IPA

1

Ester

A fruity flavor produced during the fermentation process

0

Schlitz

A brewing company from Milwaukee, Wisconsin

-1

Rogue

A brewery from Ashland, Oregon

-2

Galena

A type of beer hops

-3

Brooklyn

A brewing company located in Brooklyn, NY

-4

Jink

A beer from the Magic Hat Brewing Company
Community Dogs with Beer Inspired Names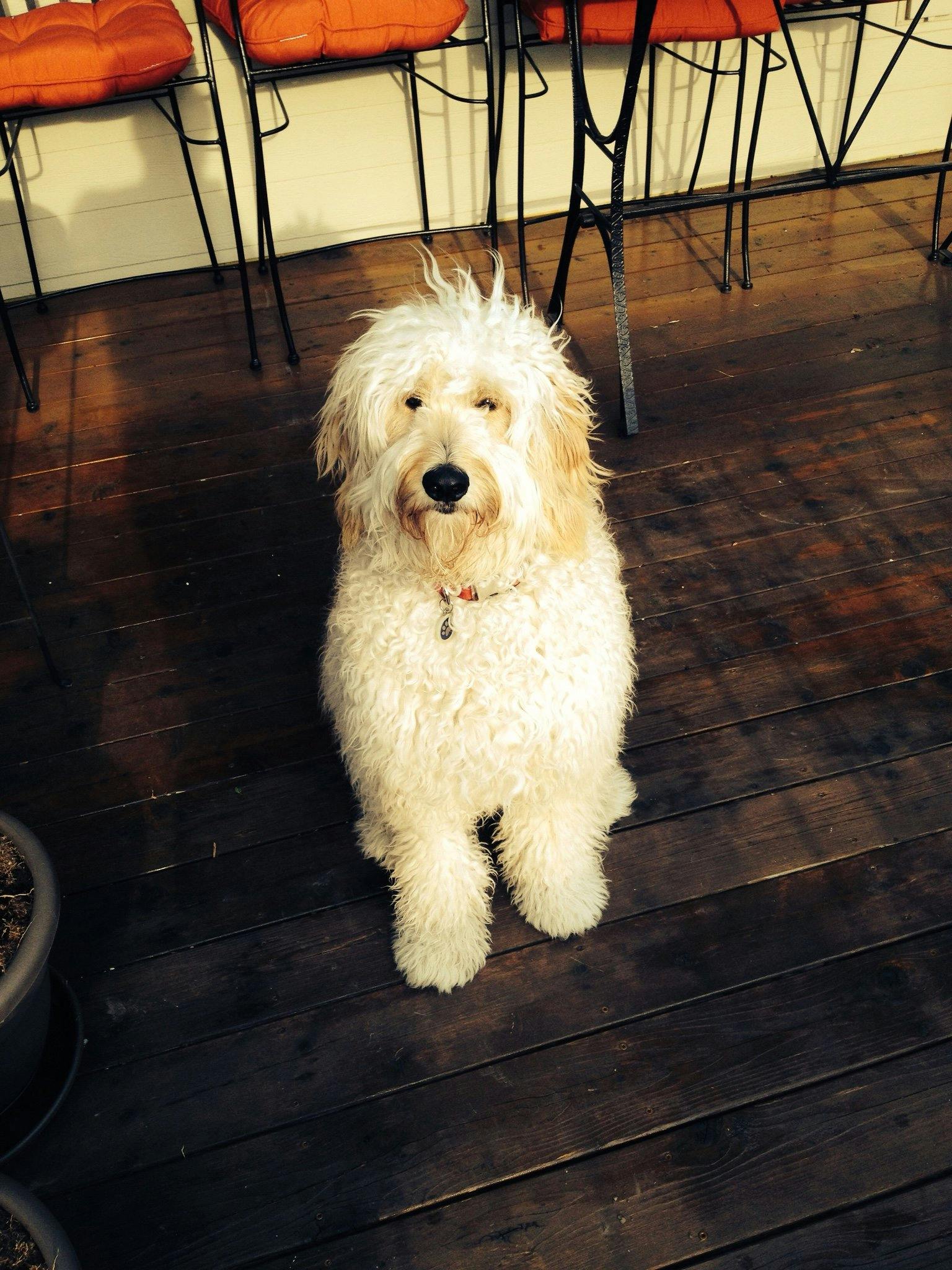 Yogi
Male
Goldendoodle
Lawrence, KS