Introduction
Finding inspiration in the Bible for your puppy's name can be daunting because of all the unique names that are difficult to pronounce and people would give you a weird look at the dog park. You do not want to embarrass your dog with an odd name, instead you want to inspire greatness. However, there are interesting and fun names in the Bible that would be the perfect fit for your newest family addition. So, when you are planning to add a puppy to your family, crack open the Bible to search for the best biblical name for him or her. 
Biblical Dog Names in Pop Culture
Featured Famous Dog With a Biblical Name
Barabbas
When you think of the name Barabbas, you think of the notorious criminal mentioned in all four gospels of the Bible. Barabbas was chosen by the crowd to be released over Jesus Christ. Therefore, it is amusing that in the movie, My Dog, the Thief, had a lovable Saint Bernard named Barabbas. The movie was released in 1969 and starred Dwayne Hickman as Jack Crandall and Mary Ann Mobley as Kim Lawrence. Jack was an air-traffic reporter who finds out that his partner and best friend, Barabbas, stole a priceless necklace from a group of jewel-smugglers. Throughout the movie the antics and tricks done by Barabbas keep you laughing and make you fall in love with the large canine crook. The movie aired as a two part episode on television on September 21, 1969 and September 28, 1969.
Actress Alicia Silverstone also had a dog with a biblical name. Her Rottweiler-Pitbull-Doberman mix was named Samson. Silverstone stumbled across Samson in East Los Angeles while she was filming True Crime, a detective thriller. When she found Samson, he was cut, bleeding and emaciated. After nursing him back to health, Silverstone decided to keep him. He became one of her five rescue dogs. While filming Clueless, Silverstone was able to get Samson a cameo appearance. With her love for Samson and her other rescued pooches, she has opened an animal shelter named Stone Haven on her estate.
Actor Bradley Cooper has stated on several occasions that his dogs are part of his family. In an interview to People magazine in 2009, Cooper stated that his dogs are his kids. Samson, a German Shorthaired Pointer, was Cooper's constant companion for several years after saving the dog from being euthanized. When Samson passed away at the ripe old age of 15, Cooper was devastated and found a way to always remember the love and devotion they had for each other. A life-sized photograph of Samson was hung in Cooper's home.
The largest dog in Britain is named Samson. This giant stands 6 feet five inches when he is on his hind legs. Samson has a 59 inch chest and his neck measures 29 inches; therefore, he cannot wear traditional dog coats. He has to wear pony coats and his collar has to be special made. His owners, Julie and Ray Woods believe that Samson is still growing. They make sure he gets plenty of exercise, going for four walks a day that cover two miles each. 
Biblical Dog Name Considerations
Whether you are devote Christian or not, you can find a wealth of interesting names in the Bible. Both male and female names abound, some fairly common and others rather obscure or slightly wacky. Some people choose to name their canine companion after they get to know their personality; others have a name picked out before they even find their new puppy. Many of the biblical names can be used exactly as they are found within the Bible, or they can be shortened to give them a friendlier feel such as Abe instead of Abel or Zeke instead of Ezekiel.
When you are choosing a name for your puppy, think about the dogs in your neighborhood or family and try to avoid naming your new friend the same name or even something similar. This will help avoid some confusion when playing in the dog park or having doggy play dates. Family gatherings will also be less confusing if your puppy has a completely unique name from the other dogs in the extended family. Take the time to think through name ideas and get to know your puppy a bit before settling on the official name. Many times, you will know their perfect name when you meet and spend time with them. 
Votes
Name
Vote
12

Abel

Adam and Eve's son that was murdered by his brother

8

Rufus

Son of Simon a Cyrenian who helped carry the cross of Jesus Christ; found in the Book of Mark

6

Luke

Author of the third gospel in the New Testament

6

Gideon

Great warrior; military leader found in the Book of Judges

6

Ezekiel

Strength in God; name of Hebrew prophet

6

Asher

Son of Zilpah and Jacob and younger brother of Gad; found in Genesis

5

Micah

One of the 12 minor prophets of Tanakh; contemporary of Isaiah, Hosea and Amos

4

Samson

Israelite warrior with extreme strength from his uncut hair; found in the Book of Judges

4

Jethro

Father or Zipporah and father-in-law of Moses; found in Exodus

4

Elijah

Yahweh is God; name of Israelite prophet

3

Seth

Son of Adam and Eve; found in Genesis

3

Reuben

Eldest son of Jacob and Leah; founder of the Tribe of Reuben

3

Barabbas

Lovable Saint Bernard from the movie My Dog, a Thief

2

Solomon

The son of King David; also known as Jedidiah

2

Noah

Builder of the infamous ark that saved animal pairs during the great flood

2

Moses

Led the exodus Israelites out of Egypt and across the Red Sea; brought the 10 commandments to his people

2

Meshach

One of three Jewish boys thrown into the fire by King Nebuchadnezzar

2

Levi

The third son of Jacob; apostle Matthew's name before he began following Jesus

1

Mark

Author of the second gospel in New Testament; only one to refer to Jesus as the son of Mary

1

Josiah

The son of King Amon and grandson of Manasseh

1

Jared

Called the forefather of Noah in Genesis

0

Simon

The Zealot was an apostle of Jesus and can be found mentioned in Acts, Luke, Matthew and Mark

0

Jonah

Prophet in the Book of Jonah; story of Jonah and the whale

-1

Matthew

Author of the first gospel in New Testament; apostle of Jesus

-1

James

Apostles of Jesus; James the son of Zebedee and James the son of Alphaeus

-1

Adam

The first man created by God

-2

Isaac

He will laugh; son of Abraham and Sarah

-2

Gabriel

God is my strength; angel that delivers message of Jesus' birth to Mary

-3

Jacob

Father of the 12 tribes of Israel

-7

Joshua

One of the 12 Israelite spies sent by Moses into Canaan
Female Biblical Dog Names
Votes
Name
Vote
12

Mara

Meaning bitter it is the name Naomi gave herself when she returned from Moab

8

Naomi

Wife of Elimelech and mother-in-law of Ruth; meaning my joy

7

Miriam

Sister of Moses and Aaron; Prophet that appears in Exodus

6

Anna

Means grace or favor; the first woman Christian missionary

5

Vashti

First wife of Persian King Ahasuerus

5

Kezia

The second daughter of Job; beautiful

5

Eve

The first woman created by God; from Adam's rib

5

Angel

Heavenly being or messenger of God

4

Mary

Mother of Jesus; many other women were named Mary throughout Scripture

4

Esther

The Jewish woman who became the wife of Persian King Ahasuerus

4

Adah

Beauty or adornment; the first woman named after Eve in the Bible

3

Phoebe

Deacon of the church of Cenchreae; found in Romans 16

3

Lydia

Woman baptized in Acts 16; meaning beauty

3

Dinah

Daughter of Jacob and Leah of the Old Testament

3

Delilah

Woman who deceived Samson; found in the Old Testament

2

Tamar

A palm tree; Canaanite who married Er

2

Abigail

Means cause of joy; wife of David in the Old Testament

1

Susanna

White lily; one of the women healed by Jesus

1

Sarah

Abraham's wife; mother of Isaac

1

Leah

Became Jacob's wife through the deception of her father, Laban

1

Jezebel

Wife of King Ahab; convinced King Ahab to worship other gods besides Yahweh

1

Hannah

Means Grace of God; the mother of Samuel

1

Chloe

A convert of Paul; means blooming

0

Candace

Ruler of children; Ethiopian queen mentioned in Luke

-1

Orpah

The daughter-in-law of Naomi; means young doe or fawn

-3

Drusilla

Granddaughter of Herod; means watered by the dew

-4

Rachel

Jacob's second wife; daughter of Laban

-5

Zillah

Shadow of darkness; one of Lamech's wives

-5

Jael

The woman who murdered a man while he slept; wild

-7

Beulah

The land of Israel as described by the prophet Isaiah
Community Dogs With Biblical Names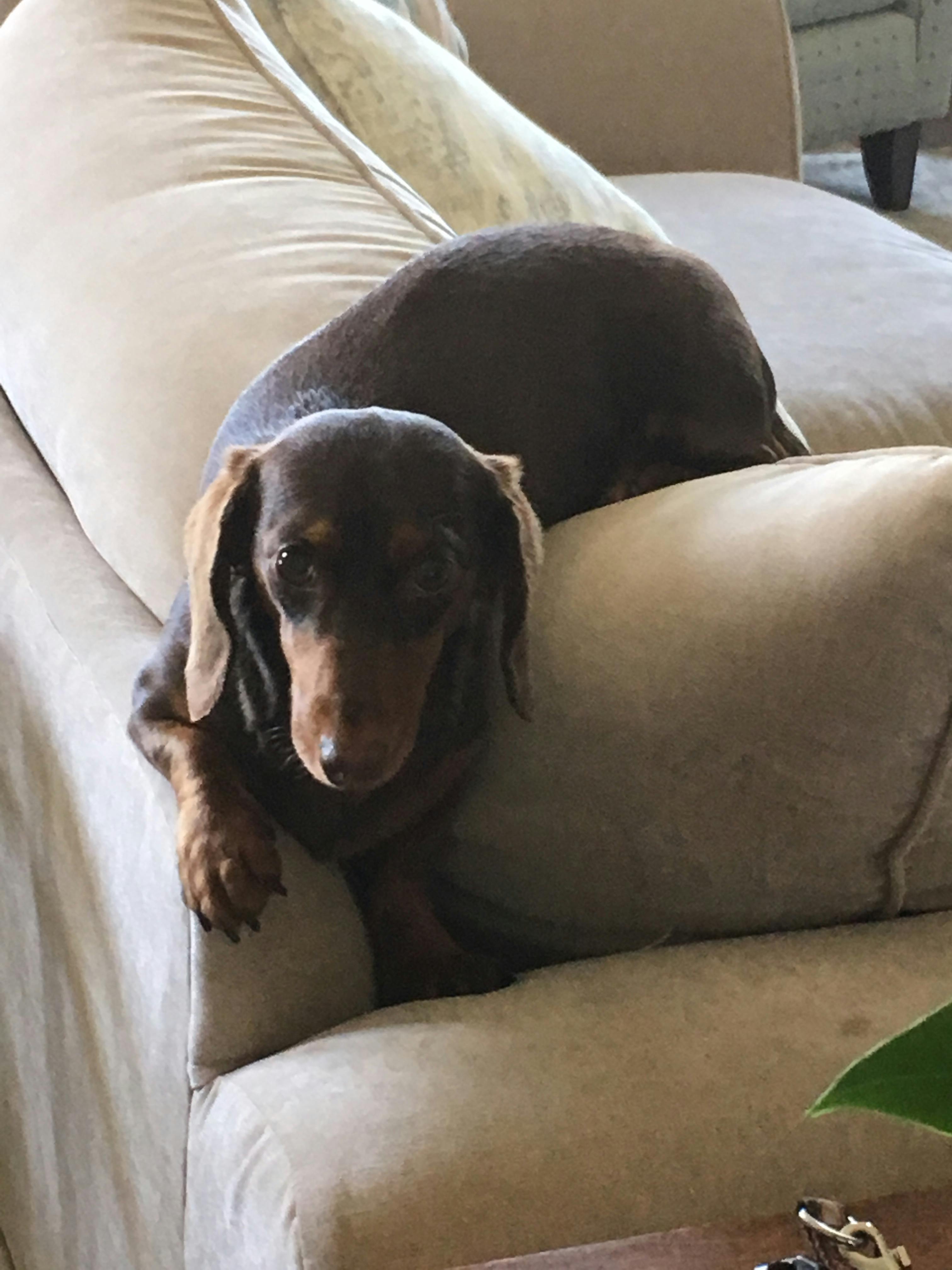 Saint
Male
Dachshund
Baton Rouge, LA
Had a friend whose last name was St. Romain. He was called Saint in college. I was grieving from loss of my husband. After a visit with my friend I was urged to get a male dog and to name him Saint. The dog's personality has proved he has been a Saint in helping me through my grief.
Grace (gracie)
Female
French Bulldog
Long Beach, MS
Grace (or Gracie) reminds us of God's allowance for us to experience His power and presence in our lives