Introduction
Many unique and fun dog names have been inspired by numerous genre, including bird inspired names. Usually instigated by the hunting niche, dogs often take their name because they excel in their field. In this case, dogs who are great at hunting and retrieving game can have names such as Snuff (because they have a great nose on them to locate the prey), or Scout which is self-explanatory, meaning the dog is excellent at finding prey. But other names such as Lonan (an Irish name that means Little Black Bird) is a nod to their field of expertise (as a bird dog) as well as describing the dog which in this case could mean a cute canine that was small in stature and black in color. 
Bird Inspired Dog Names in Pop Culture
Featured Famous Dog with a Bird Inspired Name
Mac
Bird inspired names often come from the hunting and game field, where keen owners name their dog after their sport. Bird names can also be used to describe an outstanding characteristic within the dog, such as a dog being named Eagle because of his excellent eyesight. People often are inspired by dogs they see in the movies or on YouTube clips and naming their dog after these celebrity animals brings back many happy memories for them. Perhaps they hope that their dog will magically acquire the skills of the celebrity dog because of the name? Whatever the reason, we name our dog friends after things that we consider important to us or that have inspired our experience in life.
A fun film from the land of down under (Australia) is called The Real Macaw, and tells the tale of Mac - an ageing Blue and Gold Macaw Parrot and his sidekick – a boy named Sam. Mac knows the whereabouts of buried treasure from its days with a pirate. This treasure could help save Sam's grandfather from a nursing home. So, the unlikely pair (Mac and Sam) set out to find the treasure. This light-hearted movie suits both young and old. The Macaw is a beautiful bird, with vibrant color and personality. Mac or Macaw would make an ideal dog name for the pooch with a lively, mischievous and outgoing personality.
There have been many movies with dog actors who have caught the public's imagination. And while I found it difficult to find one with a dog who was named after a bird, many movies have fun sidekicks who we love just as much and often their names remind us of happy times. One such movie is Homeward Bound; The Incredible Journey. The storyline follows what happens when three pets (Chance, a young dog with much to learn, Shadow an ageing, wise dog, and Sassy- a snobby spoiled cat) are left behind when their family heads out on vacation. The animals are not sure about why they are left alone, and become determine to set out on a quest to find their beloved family. An epic journey across America follows, with the pets never sure whether they will ever see them again, as they navigate dangerous terrain and areas of wide open country. Unbeknown to them, their family is searching for them in the same area. What will happen to them in this classic tale of courage, adventure and friendship? Names that can remind us of this epic tale include Shadow, and Chance. Others can be taken from the birds they saw or encountered such as the Condor, or Drake (after a male Mallard duck) or Hawk, which are inspiring dog names.
Bird Inspired Dog Name Considerations
Naming a dog has certain obligations – after all, your dog (and you) are stuck with it for the rest of the dog's life. It has to be something that suits the dog, something that you won't be embarrassed about as the dog grows older. Fifi may be fine for the cutest of puppies, but a 140-pound hound called Fifi? Nah, its just not going to cut it. So - what do you call a good hunting dog? Something that showcases its talents, makes it unique and suits your dog I would imagine.
Think about what you are going to train your dog to do. What characteristics do you want it to have? A name like Bird Dog says it all – it's a dog that retrieves birds. And like the movie The Real Macaw, the dog named Macaw is a canine that has an oversized personality. Raven describes a black Labrador Retriever perfectly. Small dogs suit the name Finch, while larger dogs would be better with Ajax, which is Greek meaning Eagle.
Consider the size of your dog, his or her personality, the color of the dog, and what your dog enjoys. Small cute dogs can suit the name Sparrow (they eat like one and are almost as small) while larger pooches are more suited to Drake, Iago (the parrot in Aladdin) and Zazu (bird from The Lion King). Check out our list of bird inspired names for dogs below, you just may find the perfect one for your new family addition.
Male Bird Inspired Dog Names
Votes
Name
Vote
8

Buzz

Short for the word Buzzard, a bird that eats almost anything- like a lot of dogs given the chance

6

Aspen

Grouse habitat that is safe to live in and is attractive in the fall

6

Falcon

A beautiful but deadly hunting bird with speed in flight and amazing eyesight

6

Shirke

A bird known for their habit of preying on other small birds or small animals

5

Efron

A Hebrew name meaning a singing bird - perhaps a good name for a hound

5

Griffen

Shortened from the Griffon Vulture, a species that cleans up carrion

4

Condor

A large type of vulture indicating power, speed and that it is a hunter

4

Talon

Yep, those nasty razor sharp claws that can inflict injury or death - or maybe a tough dog who can put an intruder in its place

4

Algon

A great mythical hunter which is perfect for a hunters dog

4

Goose

A large bird that is often hunted, but love the name for a dog

4

Grebe

Small to medium freshwater diving bird who are excellent swimmers

3

Grouse

A game bird species or a dog that is a little quiet and reserved in nature

3

Chukar

A game bird that congregrates around the Great Basin and Southern Canada

3

Rosco

Another term for a pistol but sounds like a friendly Labrador

2

Drake

A male Mallard Duck but would sound great for a distinguished looking dog

2

Rocky

Habitat where many bird or small mammal species live - strong and fortified

2

Altair

Arabic name that means bird but really sounds more like a hero or superstar

2

Decoy

A trick to get the ducks to land in a pond - ideal for a retrieving dog

2

Raptor

A predatory bird that preys on other bird species - indicates a toughness and a fighter

2

Vega

Arabic interpretation means swooping eagle

1

Macaw

The name of a species of brightly colored outgoing boisterous parrots - ideal for a dog with a colorful nature

1

Wolfram

A combination of the name Wolf and Rambo - a movie tough guy

0

Ayah

A Hebrew name meaning Falcon - swift and accurate in the hunt

0

Pistol

A hand held firearm used in hunting but also implies courage or power

0

Nighthawk

Medium sized bird that usually nests on the ground yet this name sounds awesome and more like a medieval warrior

0

Black Hawk

A large powerful bird of prey that have hooked beaks for tearing flesh

-1

Torio

Japanese name that means a bird's tail but it sounds more like a challenge

-1

Strix

A name given to all types of owls but would suit a small dog

-2

Bird Dog

You got it - a dog that retrieves birds
Female Bird Inspired Dog Names
Votes
Name
Vote
9

Ava

Latin name meaning bird - its a soft dainty name and ideal for a soft fluffy miniature dog

9

Storm

A Fork-tailed Storm Petrel who is graceful and swift in flight

8

Cinnamon

Takes its name from the Cinnamon Teal which is a type of duck, but it is also the name of a yummy spice

7

Murrelet

Named after the ancient Murrelet seabird who raises its young at sea

6

Wren

This basically means a small brown bird - an ideal name for a small dog

6

Lark

This is the name of a bird that has a glorious song that is sweet and pure in sound

6

Tundra

Land tht is close to the mountain tops - forbidding yet a beautiful habitat for many small creatures

6

Siskin

Named after the tiny Pine Siskin which is a nomadic Finch - a name that would suit a small cute dog

5

Ladybird

A combination of the word lady and bird that sounds elegant and sophisticated

5

Maggie

A take on the Magpie's name - a friendly comforting name

5

Blossom

A tree laden with blossom is a gift of life to many birds

4

Jabiru

A type of Stork that is large, heavy and long legged but yet it sounds impressive

4

Bella

Italian for beautiful, and what dog or bird for that matter is not beautiful - it suits a dog that is beautiful inside and out.

3

Dava

A word that has Hebrew roots and means bird of prey

3

Aleta

Spanish name meaning winged - which could be a bird or an angel perhaps

3

Bluedove

A soft and lovely name combining color with the gentle Dove

3

Puffbow

A combination of Puffin and bow, ideal for a small delicate dog

2

Rogan

Another name for redhead which is perfect for a red colored dog

2

Snow Goose

After the bird of the same name yet sounds intriguing and distant

2

Inca

A tiny Dove with tan feathers and blends into her surroundings

2

Dovekie

A small chunky bird of the Atlantic Ocean that is black and white in color

2

Cassin

A small Sparrow who is mostly greyish brown and dainty in shape

1

Hawkeye

A character out of the television series Mash

1

Raven

A large glossy black bird - the name sounds mysterious like a sorceress

1

Robin

A small attractive bird that is quick and flighty

1

Lorcan

Means little wild one who hunts birds - which covers a lot of dogs who just love to chase birds

1

Skylark

This bird species name would suit an active, mischievous dog who is swift on her feet

1

Kalani

The interpretation mean the sky which is wide open and endless with the freedom to fly

0

Mikado

After the Mikado Pheasant but has impressively foreign and posh

-1

Willow

The draping trees by the water where a lot of bird communities hang out

-2

Redhead

A type of duck but is the perfect name for a red colored dog
Community Dogs with Bird Inspired Names
Kestrel
Female
Border Collie
Seattle, WA
We thought it was a name that described her. She was a dog of prey, a falcon.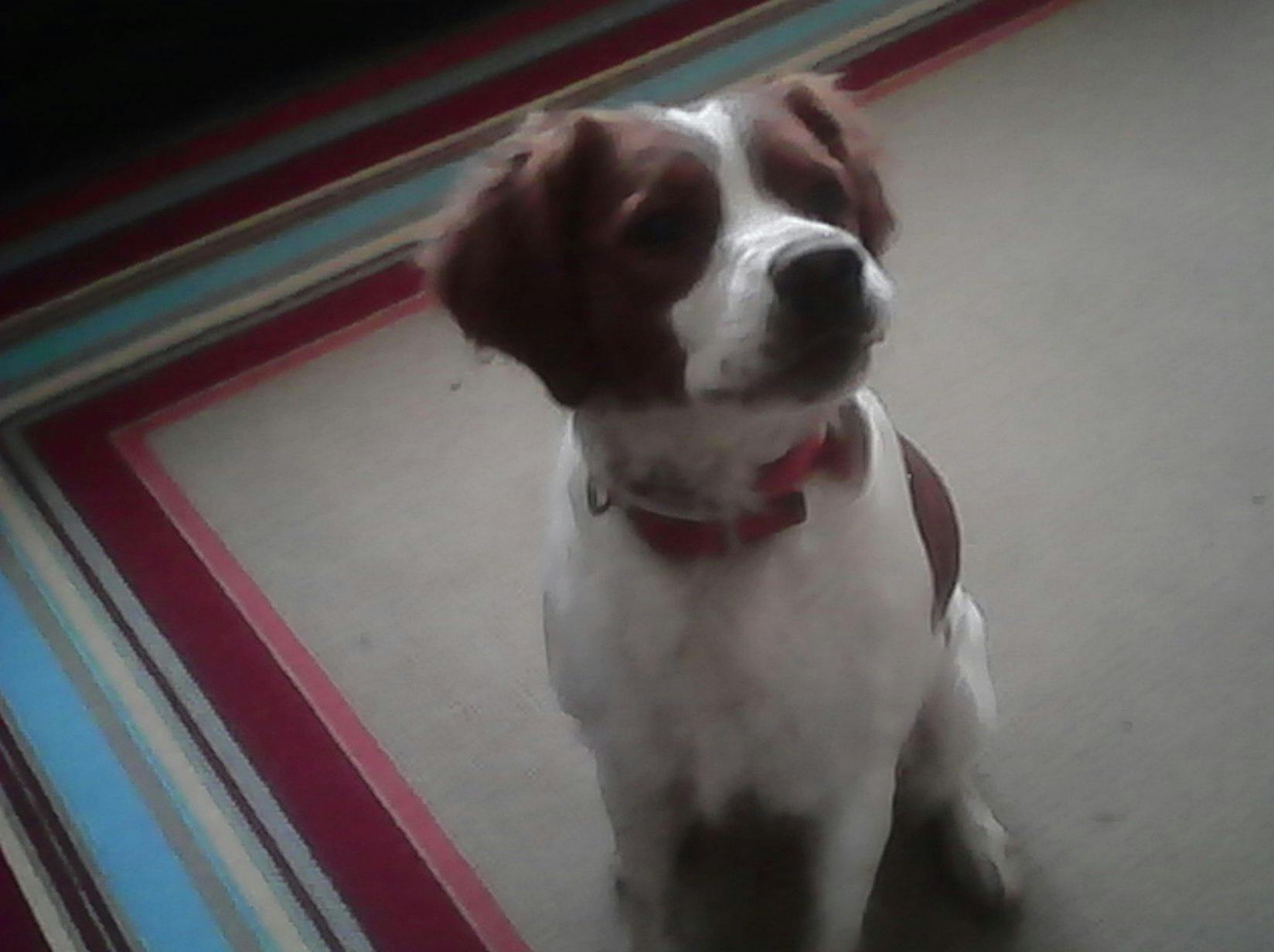 Paxton
Male
French Brittany
Kirksville, MO
Personality
Gentle
Kind
Happy
Persistent
Snuggler
Paxton's name was chosen by my mom because he was going to be a dog of peace!!!!