Introduction
If an energetic, rugged and fearless working dog is what you are looking for, then there's no need to look further than the Black Mouth Cur. The breed was named after the black coloration on their muzzle, while the term "cur" is generally used to refer to a mixed-breed dog. This medium-sized breed is an all-around dog that originated in southern United States. Black Mouth Curs are often referred to as "multitalented" dogs because of how they can adapt to a variety of purposes, including herding, hunting, tracking and watching. Popular in the United States, the breed is an exceptional choice for a pet due to their versatility and loyalty to their owners.
Black Mouth Cur Dog Names in Pop Culture
Featured Famous Black Mouth Cur Dog
Old Yeller
Despite being popular in its home country of the United States, especially in the southern areas, the Black Mouth Cur is not relatively known in other parts of the world. In fact, the breed's exposure in pop culture works and media is limited compared to other dog breeds of the same build and appearance. However, the Black Mouth Cur was notably featured in the 1956 children's novel entitled Old Yeller.
Written by author Fred Gipson, the novel tells the story of a yellow Black Mouth Cur named Old Yeller and his relationship with the Coates family. Set in the 1860s in Texas, the story begins when a young boy named Travis and his family are temporarily left behind by their father to go on a cattle drive. During this time, a yellow dog wanders off into the family ranch and stays there without consent from the family. Not being able to get rid of the dog, the family ends up taking him in. Travis names the dog Old Yeller. The name refers to both the dog's yellow coat, which is pronounced "yeller" in the south, and because the dog's bark sounds more similar than a person's yell than an actual bark.
At the beginning, Travis does not take well to the dog, even referring to him as a "rascal". In fact, he tries to get rid of the dog on multiple occasions. However, as time passes, he starts to warm up to Old Yeller, especially after the dog goes out of his way to save Travis and his loved ones on several instances. These include helping Travis escape from wild hogs, rescuing his brother Arliss from a bear and saving his mom and their friend from a wolf. After Old Yeller has proved his worth, Travis eventually falls in love with the dog and they form a strong friendship. Even when the true owner of Old Yeller shows up in the ranch, he decides to let the dog stay after seeing the bond that Old Yeller has built with the family.
Unfortunately, this was also the time when an epidemic among animals was spreading. While trying to save the family from a rabid wolf, Old Yeller gets bitten and infected by the disease. Not wanting to risk Yeller turning on his family, Travis decides to kill the dog despite their friendship. At the end of the story, Travis takes in one of Yeller's puppies with a friend's dog. The puppy slowly helps him get over Yeller's death and start anew.
Old Yeller is considered a classic and received several awards, including a Newbery Honor in 1957. Disney also adapted the book into a film, which also became a success. To date, Old Yeller remains a favorite and helped make the Black Mouth Cur breed a favorite choice for a pet, especially in southern USA.
Black Mouth Cur Dog Name Considerations
Once you decide to get a new dog, there are many responsibilities that fall on your lap. One of the first ones that you must attend to is choosing your furbaby's new name. As a general rule, dog experts typically recommend a name that is no longer than two syllables. Their reasoning for this is actually logical; dogs are programmed to remember only the first one or two syllables of any word. Therefore, a long name will be difficult to recall for your dog. Experts also recommend avoiding names that sound like basic commands. For instance, the name "Kit" and the command "Sit" sound too similar and your dog might end up confused.
More often than not, the breed of your new pup will have a huge influence on the name that you will end up picking for them. An ingenious but effective way to choose a name for your dog is to take inspiration from their attributes. For Black Mouth Curs, their appearance involves a rugged build with a black-colored muzzle and a coat that comes in a variety of colors such as fawn, red, brown, brindle and yellow. In terms of their behavior, they are immensely energetic, athletic and friendly towards humans, including children. They are also skilled when it comes to hunting. Any of these characteristics can serve as an inspiration for a name.
Male Black Mouth Cur Dog Names
Votes
Name
Vote
7

Ace

English name meaning "unity"

3

Ranger

Keeper of a certain area

2

Rocky

A fictional boxer portrayed by Sylvester Stallone

2

Scout

To make a search for something or someone

0

Hunter

One who hunts

0

Wyatt

English name meaning "guide"

0

Monty

French name meaning "mountain belonging to the ruler"

0

Shadow

A black shape produced when a body comes between a surface and light

-1

Jackson

English name meaning "Jack's son", famous Southern name

-1

Buddy

Another term for "friend"

-1

Max

Short for "Maximus", which means "greatest" in Latin

-2

Dwayne

Irish name meaning "dark"

-2

Elvis

After Elvis Presley, a Southern-born music superstar

-2

Ford

An American car manufacturer

-2

Chase

To pursue something or someone

-2

Hawkeye

Someone with great vision

-2

Rosco

Another word for "pistol"

-2

Sarge

Shortened version of "sergeant"

-3

Gunner

Scandinavian name meaning "bold warrior"

-3

Khaki

A dull brown-yellowish color; good for tan Black Mouth Curs

-3

Jager

Means "hunter" in German

-4

Alonzo

Italian name meaning "noble, ready"

-4

Angus

Celtic name meaning "one choice"

-4

Beau

Means "handsome" in French

-4

Brock

Old English name meaning "badger"

-4

Ammo

Shortened term for "ammunition"

-4

Gauge

Slang term for "shotgun"

-4

Boomer

Something big or notable of its kind

-4

Hardy

Old French name meaning "bold, courageous"

-4

Leon

Means "lion" in French
Female Black Mouth Cur Dog Names
Votes
Name
Vote
1

Roxy

Persian name meaning "bright"

1

Meadow

A piece of grassland

1

Kona

Hawaiian name meaning "lady"

0

Belle

Means "beautiful" in French

0

Shiloh

A Biblical place meaning "peace"

0

Luna

Means "moon" in Latin

0

Athena

Greek goddess of arts and literature

0

Dame

Means "lady" in German

-1

Willow

English name meaning "graceful"

-1

Sasha

Russian name meaning "defender of mankind"

-1

Xena

Warrior princess

-1

Sadie

Hebrew name meaning "princess"

-1

Stella

Means "star" in Latin

-2

Ella

Greek name meaning "torch"

-2

Dixie

Slang term used to refer to the southern states of the USA

-3

Bear

A large mammal with thick fur

-3

Dakota

Native American name meaning "ally"

-3

Arrow

A hunting weapon

-3

Mona

Gaelic name meaning "little noble one"

-3

Ora

Hebrew name meaning "light"

-3

Michiko

Japanese name meaning "beautiful wise child"

-3

Aria

Hebrew name meaning "lion of God"

-4

Filo

Greek name meaning "lover, friend"

-4

Karina

Greek name meaning "pure"

-4

Beretta

An Italian firearm company

-5

Artemis

Goddess of the hunt in Greek mythology

-5

Kodiak

A city and island in Alaska

-5

Taryn

Welsh name meaning "thunder"

-6

Leona

French name meaning "lioness"

-6

Huntress

A female who hunts
Community Dogs With Black Mouth Cur Names
Sunny
Female
Black Mouth Cur
Las Flores, CA
We adopted her from a lady who got her from Mexico. we finally decided on the name Sunny because of how happy she was and how she just brightened everybody's day. She was our little ray of sunshine. so we just thought it was perfect to name her Sunny.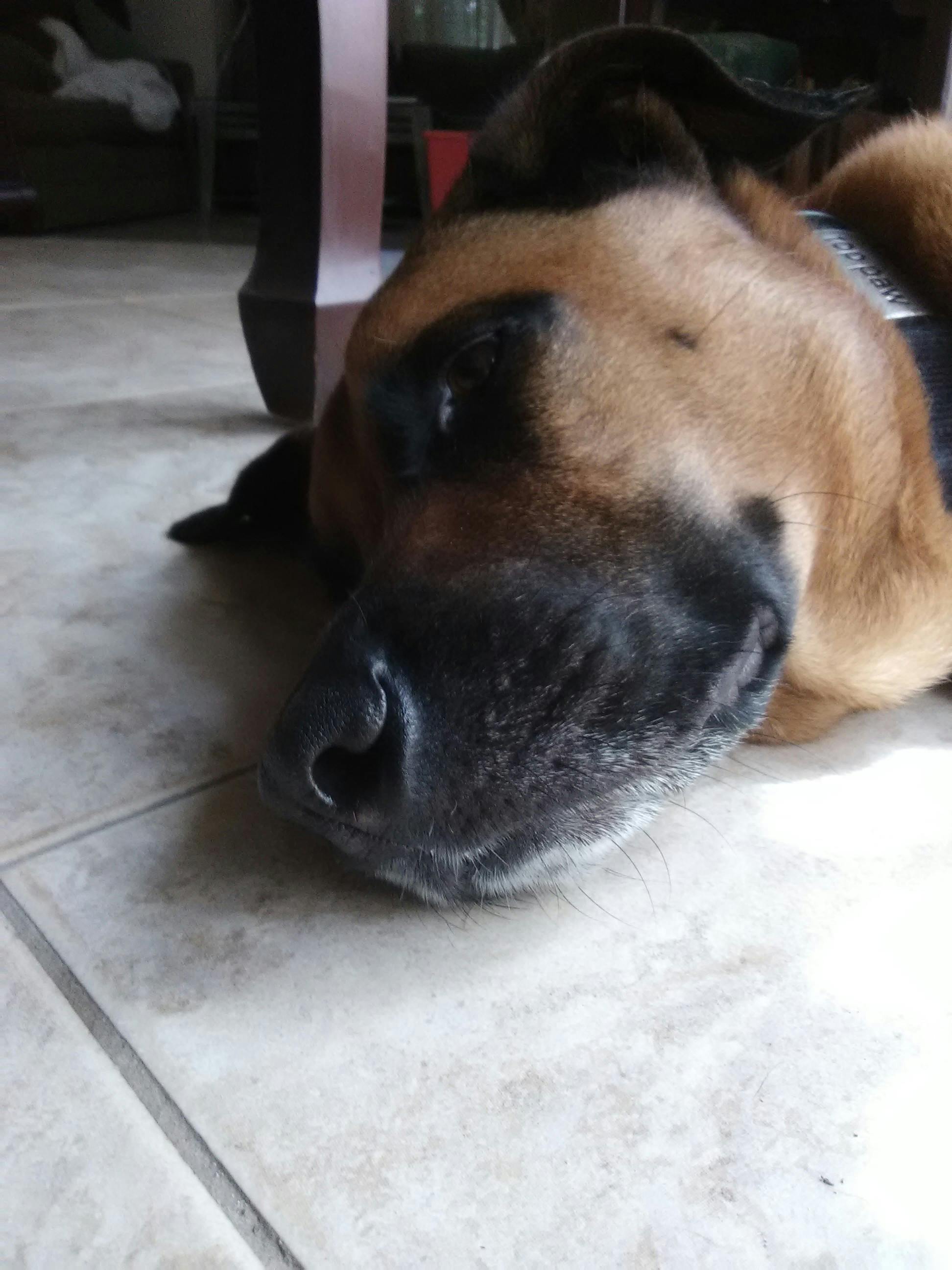 Jake
Male
Black Mouth Cur
Cooper City, FL
He was named by previous owners.
Angel
Female
Black Mouth Cur
New York, NY
Personality
Digging
Playing
Hunting
Cuddling
Our nabbors named her monkey face in Florida then they abandoned her and all her 10 puppies were abandoned with her so then she came to us for care and we sold her 10puppies because we could not keep them all. We sold the house at Florida and we moved here!