Introduction
The Bloodhound is a big hound-type dog that was intentionally bred for trailing and hunting humans. The breed is characterized for their sunken eyes, wrinkled face and long ears and has a remarkable sense of smell that allows them to easily follow scents. This makes them one of the best choices for search and rescue operations and an excellent canine aid. While their eyes make them seem sad-looking and sensitive, the Bloodhound actually has a comical sense of humor with lots of affection for their owner. Their innate abilities, coupled with their fun, loving nature, makes the Bloodhound a good choice for a family companion.
Book First Walk Free!
Bloodhound Dog Names in Pop Culture
Featured Famous Bloodhound Dog
McGruff the Crime Dog
The Bloodhound can be frequently seen in a variety of pop culture references, particularly in television, film and animation. In the United States, one of the most memorable Bloodhound characters is McGruff the Crime Dog. The character was created by former top-tier agency Dancer Fitzgerald Sample for the National Crime Prevention Council. McGruff is an anthromorphic dog that was used as the face of crime awareness and safety in the country during the 1980s.  During this period, numerous public service announcements regarding security measures were released in an attempt to lower the crime rate. McGruff costumes were also worn by officers, especially around children, during police outreach efforts.
The use of McGruff the Crime Dog campaign proved to be a success, spawning a lot of donations and had a sizeable reach. Moreover, the McGruff campaigns went beyond security measures and started to tackle other crime issues such as bullying, drugs and child abduction. Other than that, multiple municipalities took part in the McGruff house program, which is an initiative that provided temporary refuge for children who might be facing imminent harm. The recognition that McGruff received over two decades helped make the Bloodhound a highly recognized dog breed.
The Bloodhound can also be seen in a number of animations. In the animated series called King of the Hill, the dog owned by Hank Hill is a Bloodhound named Ladybird. Another memorable animated Bloodhound is Trusty, from Lady and the Tramp and Lady and the Tramp 2. Other animated works where Bloodhounds can be seen include The Aristocats, Cinderella, Cinderella II: Dreams do Come True, Sofia the First, Pogo, Clue Club and The Fox and the Hound 2.
Several films and television series also feature a Bloodhound, be it in a starring role or a minor one. Among the films where a Bloodhound has a starring role the 2001 film Cats & Dogs. In the film, the tumultuous relationship between cats and dogs are highlighted. With the intense rivalry they have, each side is trying to use certain tactics and moves in an attempt to outwit each other. One of the dogs that has a central role in the movie is a Bloodhound named Buddy. Cats & Dogs received praise from critics and also became a box office hit.
Other examples of films and television shows where the Bloodhound has appeared include Best in Show, Santa Buddies: The Legend of Santa Paws, The Beverly Hillbillies, Alice in Wonderland, A Christmas Story and My Summer Story, to name a few.
Bloodhound Dog Name Considerations
With the responsibility of owning a Bloodhound comes the task of choosing an appropriate name. With so many possibilities and options, naming your dog can be quite overwhelming. One of the most simple but clever ways to come up with a name for your new dog is to use their physical attributes as inspiration. The Bloodhound is known for their loose skin that forms wrinkles around the face, throat and head. They also have long ears that drop past their face. Their stance is also very regal and dignified, making them appear like a noble dog. You can choose to come up with a name based on all these characteristics.
Another easy way to choose a name for your Bloodhound is to use their coat color as a basis. The possible coat colors of the Bloodhound include red, a mixture of liver and tan or black and tan. You can come up with a fitting name depending on your Bloodhound's coat. For instance, if you have a red Bloodhound, you can name them "Crimson", which refers to a brilliant shade of red.
The Bloodhound's personality is also a good basis for a name. Generally, the Bloodhound is a calm and well-mannered dog with a hint of liveliness. Sometimes, they can be a bit stubborn but in a playful way. These are all good personality traits that can help you conjure a name.
Male Bloodhound Dog Names
Votes
Name
Vote
7

Rufus

Means "red-haired" in Latin; good for red Bloodhounds

3

General

A commander of an army

3

Hunter

One who hunts

3

Gunner

Swedish name meaning "battle strong"

3

Scout

To make a search for someone or something

2

Kane

Irish name meaning "fighter"

1

Odin

God of wisdom, culture and war in Norse mythology

0

Audrick

German name meaning "noble friend"

0

Drugi

Belgian name meaning "a man who is strong and powerful"

0

Dante

Italian name meaning "enduring"

0

Jethro

Hebrew name meaning "abundance"

0

Otis

German name meaning "wealthy"

0

Kalua

Hawaiian name meaning "second child"

0

Blaze

A fiercely burning fire

-1

Andy

Scottish name meaning "manly"

-1

Baz

Greek name meaning "royal"

-1

Castor

Greek name meaning "to shine"

-1

Jett

A black gemstone; good for black coated Bloodhounds

-1

Leroux

French name meaning "red-haired"; good for red Bloodhounds

-1

Walt

German name meaning "ruler of the army"

-1

Sarge

Shortened form of "sergeant"

-1

Sniffer

Someone who sniffs

-1

Darcy

Irish name meaning "dark"; good for dark-coated Bloodhounds

-1

Coltrane

English name meaning "young horse"; can be shortened to "Colt"

-3

Deman

Dutch name meaning "tame"

-3

Larkin

Irish name meaning "silent and fierce"

-3

Romeo

The lover of Juliet in Shakespeare's "Romeo and Juliet"

-3

Dareau

French name meaning "open"

-3

Koji

Means "filial ruler" in Japanese

-4

Joshka

Belgian form of "Joshua"
Female Bloodhound Dog Names
Votes
Name
Vote
2

Hazel

A kind of tree

1

Cheri

Means "darling" in French

1

Nova

Means "new" in Latin

1

Belle

Means "beautiful" in French

0

Juno

Roman goddess and protector

0

Scarlet

A vivid shade of red; good for red Bloodhounds

0

Reine

French name meaning "queen"

0

Mimi

French name meaning "faithful guard"

0

Skylar

A variation of the name "Schuyler", which means "shelter" in Dutch

0

Brandy

Dutch name meaning "burned wine"; good for red Bloodhounds

0

Jolie

French name meaning "pretty"

0

Lana

Gaelic name meaning "little rock"

-1

Amber

A honey-yellow fossilized resin used to make jewelry

-1

Agathe

Greek name meaning "good"

-1

Sahara

The largest desert in the world

-1

Tinker

An Irish traveler

-1

Zaira

Arabic name meaning "rose"

-1

Ginger

English name meaning "pure"

-1

Lara

Greek name meaning "cheerful"

-1

Lulu

Latin name meaning "famous warrior"

-1

Zara

Arabic name meaning "star"

-1

Heidi

German name meaning "noble one"

-1

Veronika

Latin name meaning "honest"

-1

Cerise

Means "cherry" in French; good for red Bloodhounds

-1

Leila

Means "dark-haired" in Persian; good for dark-coated Bloodhounds

-1

Stella

Spanish name meaning "star"

-1

Alexia

Greek name meaning "defender of men"

-1

Dame

Means "lady" in German

-1

Isolde

Welsh name meaning "beautiful"

-1

Katia

Russian name meaning "pure"
Community Dogs With Bloodhound Names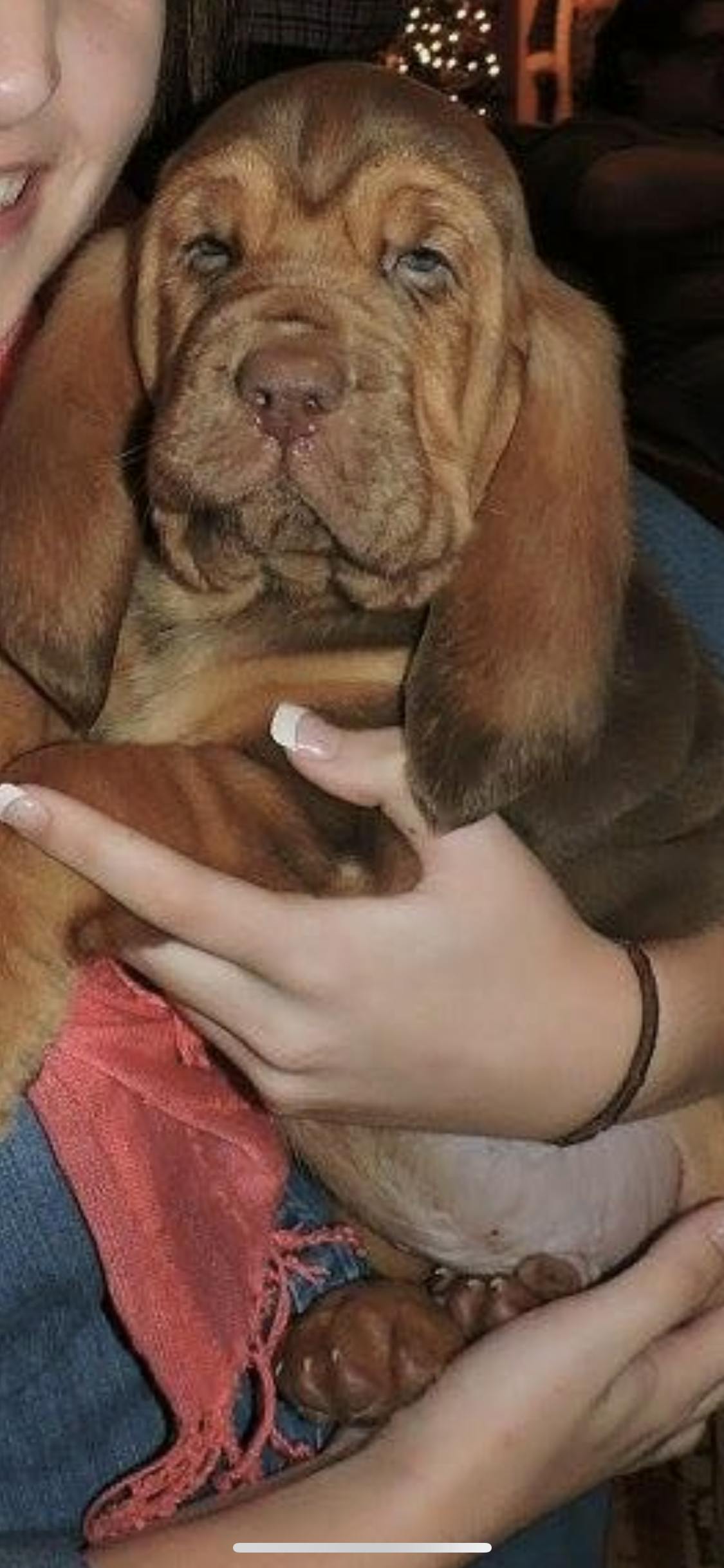 Hank
Male
Bloodhound
Madison Heights, MI
Hank just seemed like a good name for a bloodhound.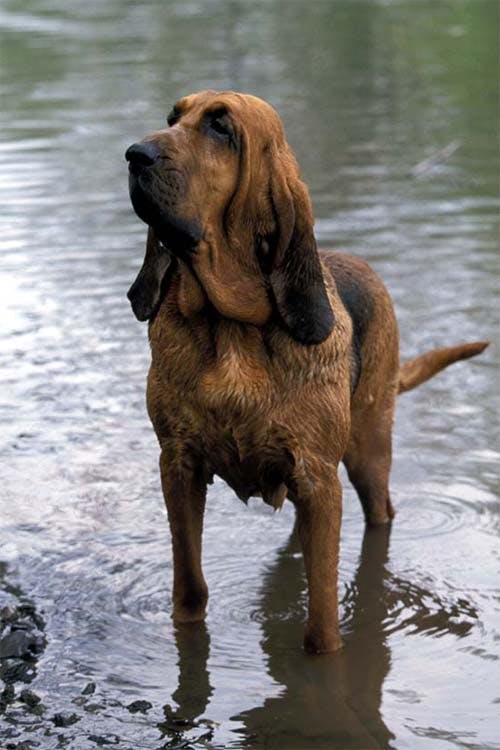 Ranger
Male
Bloodhound
Taylor, TX
When we first got him as a puppy, even though he made a good hunting dog, he would guard and protect our other pets. It reminded me of the way a ranger would help protect wildlife.