Introduction
The Bouvier des Flandres is a type of herding dog that was initially developed in the country of Belgium. The name Bouvier des Flandres is in French and means "cow herder of Flanders" when translated, in reference to the Flemish origins of the dog breed. Originally, the Bouvier's primary role was limited to farming purposes, such as pulling carts and herding sheep and cattle. At present, however, they perform a wide variety of roles, including competition show dogs, guide dogs for the disabled, police canines or simply as house pets. The Bouvier des Flandres is an immensely intelligent breed with strength and agility to boot. Given its working background, the breed can handle lots of activity and learn commands with ease. Their devotion, fearlessness and versatility make Bouviers an excellent choice for a household companion.
Bouvier des Flandres Dog Names in Pop Culture
Featured Famous Bouvier des Flandres Dog
Lucky
When it comes to breed popularity, the Bouvier des Flandres lies somewhere in the middle - not as "popular" as some of the usual household dog choices but recognizable enough to be remembered. One of the reasons why the Bouvier des Flandres is well-known despite their uncommon and foreign status is because of its role in history.
Among the earliest known Bouvier des Flandres dogs is Belco, who escorted Edmee Bowles when she escaped from occupied Belgium and fled to the United States. Belco also became the pioneer stud of the Clos du Cereberes kennel at Belco Farm, located in Pennsylvania. Another historical Bouvier is Soprano de la Thudinie, hailing from Belgium's de la Thudinie kennel, owned by Justin Chastel. Soprano was the foundation stud of the kennel and is the most renowned predecessor to the present-day kind of Bouvier des Flandres.
The Bouvier became even more prominent in the United States, thanks to the introduction of Lucky. Owned by the then-president of the United States Ronald Reagan and his wife, Nancy, Lucky is a Bouiver des Flandres who was given to the couple as a gift in 1985, when she was still a nine-week old pup. She was named after the First Lady's mother.
Lucky's place in the White House made her a sort of a canine celebrity. She was often photographed playing or walking with Ronald or Nancy. The dog was also known for having a mischievous streak, which made her a bit difficult to train. In addition, she was growing at a fast rate, weighing over 80 pounds and standing at around two feet tall as an adult dog. Due to her size, Lucky could no longer be kept in the White House. This prompted the Reagans to move Lucky to their Rancho de Cielo property, where she ended up living out the rest of her days with the family's other pets. In spite of her short stint in the White House, her stay became a memorable one.
The Bouvier des Flandres has also appeared in a number of fictional works. The Presidential Agent series, written by W.E.B. Griffin, features Bouviers named Max and Madchen. More notably, the 1872 novel A Dog of Flanders, written by Marie Louise de la Ramee, features a Bouvier des Flandres named Patrasche. The novel is about an orphan boy named Nello who found a beaten dog. With his grandfather's help, Nello helped the dog recover. He adopts the dog, naming him Patrasche, and soon develop a friendship like no other. The novel is considered a classic in several countries and was adapted into various forms of media such as film, television series and animation.
Bouvier des Flandres Dog Name Considerations
One of the many joys that come with getting a new pup is the opportunity to pick out a name. As simple as it seems, the task of choosing your dog's new name should be given serious thought. Remember, the name that you choose will be the one that your dog will carry forever, so be smart about it.
A Bouvier des Flandres is not your run-of-the-mill, everyday pet, which is why it deserves a special and well thought-out name. One of the simplest but ingenious ways to come up with a name for your Bouvier is to look at its history. The breed was originally from the Flanders region of Belgium, which means you may pick from a long list of Belgian names or anything in relation to the country and its culture.
Another simpler idea is to look at the variety of characteristics that your dog possesses. From a purely physical standpoint, the Bouvier is a large-sized dog with a powerful build and tousled double coat that comes in a variety of colors, such as black, fawn and brindle. For example, for black-coated Bouviers, the names "Sable" or "Ebony" would be a great fit. You may use any of your dog's attributes, physical or not, as a source of inspiration for your new pooch's name. 
Male Bouvier des Flandres Dog Names
Votes
Name
Vote
0

Albrecht

German name meaning "intelligent" or "noble"

0

Dimitri

Greek name meaning "earth lover"

0

Maximus

Means "greatest" in Latin

0

Hendrik

Dutch name meaning "rules his household"

0

Audrick

German name meaning "noble friend"

0

Aleck

Scottish name meaning "defender of mankind"

0

Ame

German name meaning "eagle"

0

Amory

Means "brave" in German

0

Bren

German name meaning "flame"

0

Gunther

German name meaning "warrior"

0

Zwart

Means "black" in Dutch; good for black Bouviers

0

Beau

Means "handsome" in French

0

Norice

French name meaning "caretaker"

0

Bruno

Means "brown" in German; good for brown-coated Bouviers

0

Fluffy

One that is fluff-like; a cute name for the fluffy Bouvier

0

Milo

German name meaning "calm"

0

Indigo

A dark shade of bluish gray; good for gray Bouviers

0

Antoine

French name meaning "highly praiseworthy"

0

Jett

A black gemstone; good for black Bouviers

0

Leon

Means "lion" in Latin

0

Jester

One who likes to make jokes

0

Lewis

Means "fame and war" in German

0

Mieke

Dutch name meaning "beloved"

0

Harry

English name meaning "house protector"

0

Victor

Roman name meaning "conqueror"

0

Elmo

Means "protection" in German

0

Tawny

Of a yellowish-brown color; good for fawn Bouviers

0

Gerrit

Dutch name meaning "brave with a spear"

0

Karel

Means "strong, manly" in Dutch

0

Pieter

Dutch form of "Peter", which means "rock"
Female Bouvier des Flandres Dog Names
Votes
Name
Vote
0

Amy

French name meaning "dearly loved"

0

Adali

Means "noble" in German

0

Amina

Arabic name meaning "trustworthy"

0

Mina

Short for "Wilhemina", which means "resolute protector"; also means "love" in German

0

Sierra

Irish name meaning "dark"; good for black Bouviers

0

Sofie

Dutch name meaning "wise"

0

Brandy

Means "burning wine" in Dutch

0

Fleur

Means "flower" in French

0

Coco

A usual French pet name

0

Nutmeg

A brown type of tropical seed; good for brown Bouviers

0

Anka

Hebrew name meaning "grace"

0

Delmira

German name meaning "noble protector"; can be shortened to "Mira"

0

Holle

German name meaning "beloved"

0

Belle

Means "beautiful" in French

0

Roxy

Persian name meaning "bright"

0

Hanne

Female form of "Hans", which means "God's gift"

0

Elsie

German name meaning "noble"

0

Honey

A brown-colored sweet liquid; good for your sweet, fawn-colored Bouvier

0

Kali

Sanskrit name meaning "the black one"; good for black Bouviers

0

Irmina

German name meaning "war goddess"

0

Henriette

After Marie Henriette, the Queen of Belgians

0

Sadie

Hebrew name meaning "princess"

0

Duchess

A woman holding a high rank; female counterpart of a duke

0

Godiva

Famous Belgian brand of chocolate; good for your brown or black Bouvier

0

Dame

Means "lady" in German

0

Karin

Danish name meaning "pure"

0

Una

Means "one" in Latin

0

Maud

Old German name meaning "powerful battler"

0

Pax

Means "peace" in Latin

0

Sasha

Russian version of "Alexandra", which means "defender of man"
Community Dogs With Bouvier des Flandres Names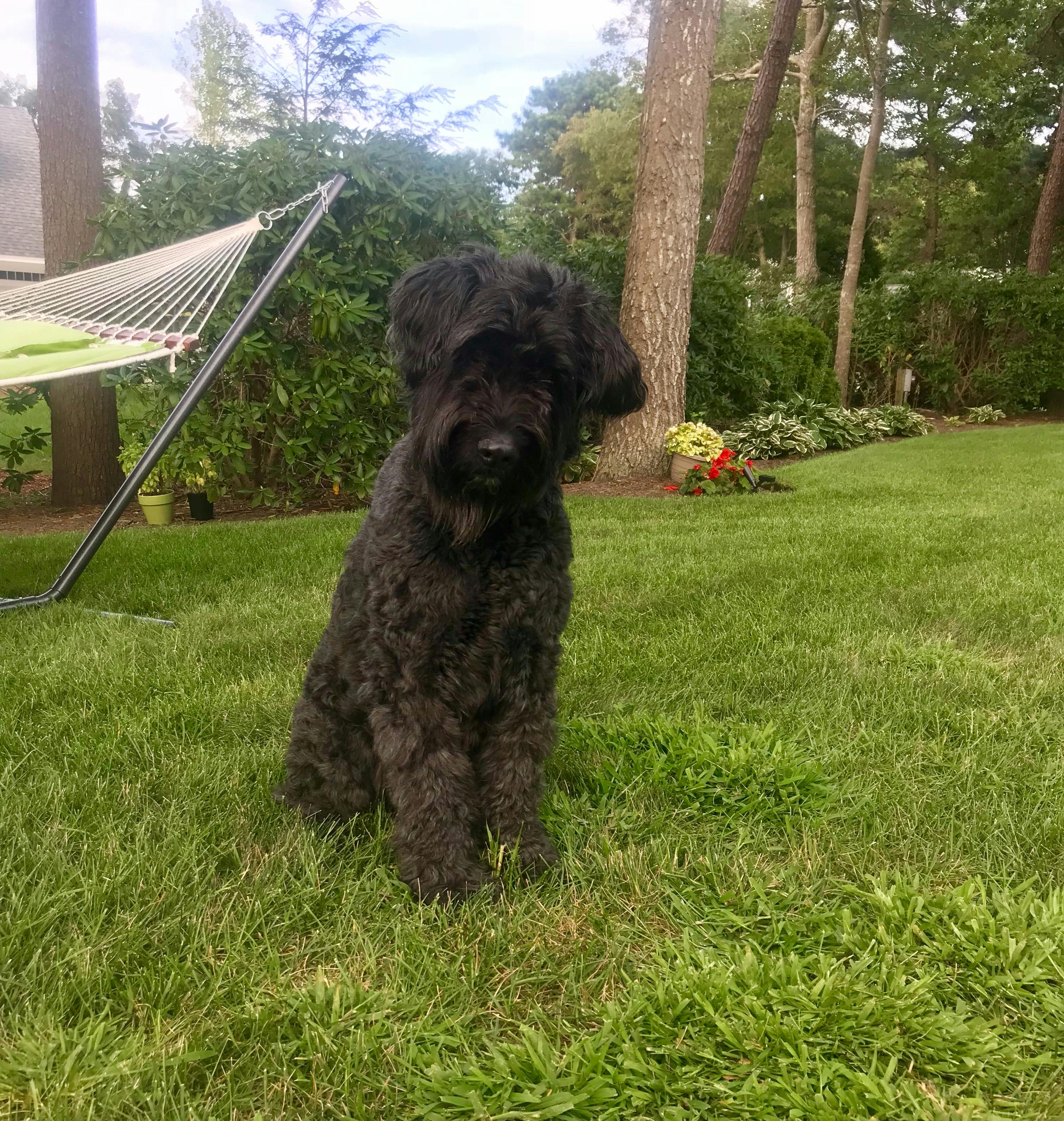 Allie
Female
Bouvier des Flandres
Worcester, MA
She's the sweetest dog ever !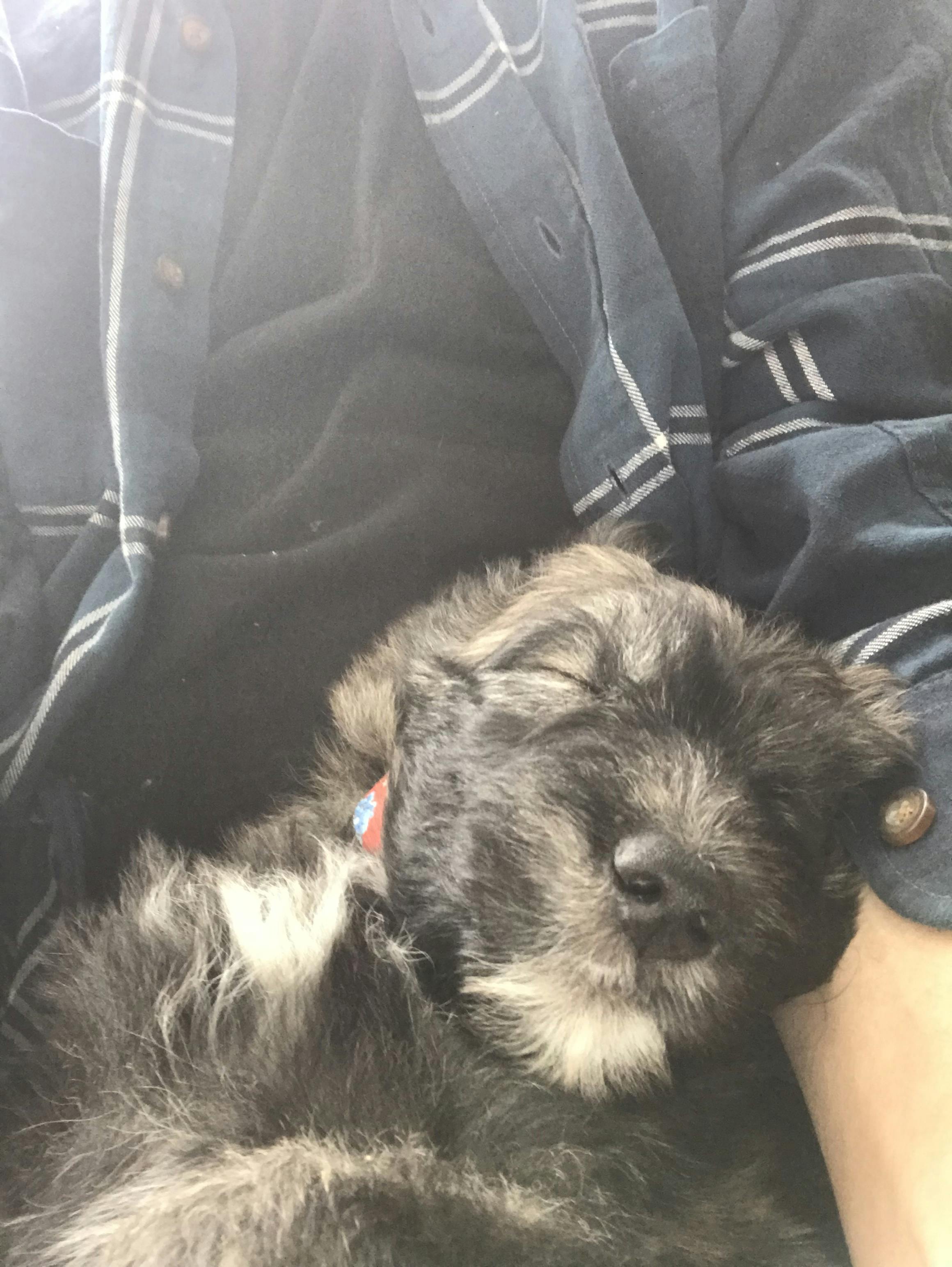 Nadia
Female
Bouvier des Flandres
Bolton, MA
The really nice esso rep really helped me out and her name was Nadia