Introduction
When talking about the many endearing attributes that dogs possess, one of the most admirable is their innate bravery, especially in times of trouble. Oftentimes, we hear numerous accounts of how dogs demonstrate their courageousness in a variety of situations, such as saving their owner's lives, fighting off others to protect their families, or being a part of important search and rescue operations. One way of highlighting your dog's inborn bravery and valor is to give them a name that exemplifies this quality. Names that mean brave or represent boldness and bravery are fitting for almost all dog breeds, whether small or big.
Brave Dog Names in Pop Culture
Featured Famous Dog with a Brave Name
Courage
Dogs are a huge part of pop culture works, whether in film, television, art or literature. In most of these works, they are depicted as brave and fearless creatures. Naturally, these characters come with names that highlight their valor. There are, however, a few exceptions to the rule. One of these is Courage, a fictional dog from the animated comedy-horror television series entitled Courage the Cowardly Dog.
The show, which was a part of the "Cartoon Cartoons" block of Cartoon Network, revolves around Courage, a pink, anthromorphic dog. Courage's owners are an elderly couple named Muriel and Eustace Bagge. As a puppy, he was abandoned after a crazy veterinarian sent his parents into outer space against their will. He was found by Muriel in an alleyway, and she decided to adopt him. He grew up in the couple's house in the middle of Nowhere, a fictional town in Kansas. Muriel is a sweet and lovely woman who shows affection for Courage. On the other hand, Eustace is a bad-tempered farmer who typically abuses Courage, often calling him a "stupid dog".
Contrary to his name, Courage is actually a coward who gets frightened easily. Unfortunately for him, their home is a usual target for paranormal and odd events. In fact, Courage and the couple normally encounter supernatural creatures such as zombies, monsters, demons, aliens and other similar characters. Most of these figures are antagonistic towards the trio but there are some who are friendly and are simply acting out due to distress. The stories featured in each episode are similar to the standard plots found in horror movies.
With the couple being elderly and incapable of some activities, the role of the protector must be taken on by Courage. While Courage is a true coward and would rather hide from the monsters, he often disregards his fears and does everything that he can in order to fight off or befriend the creature (whichever is featured for the episode) and fix whatever damage they might have caused. At the end of the episode, Muriel and Eustace go back to their normal lives, unaware of the actions of Courage that saved their lives.
Even though Courage is described as a fearful, cowardly dog, he is deserving of his name. This is because he is willing to overcome any dread and trepidation he is feeling and goes to extreme lengths to defend and save his owners, which makes him worthy of a valiant name. 
Brave Dog Name Considerations
There is nothing more exciting than welcoming a new dog into your home. Having a dog has numerous perks; not only do you have a wonderful addition to your family, you also get to have a companion who can keep you safe. Owning a new pooch means that you have to choose a name, one that represents your dog well.
Brave dog names are usually a popular choice because valor is one of the most prominent qualities that a dog has. These types of names can be anything from names which literally mean "brave" or any word synonymous to it. These may also include individuals known for their bravery, such as famous warriors, historical figures, well-known adventurers or fearless leaders. Other possible ideas include valiant characters, including ones in work of fiction.
Generally, it is also a good idea to keep your dog's new name short. Unbeknownst to some, dogs have limited capacity when it comes to memorizing names and commands. In fact, nearly all dogs can only recall the first one or two syllables of a word. With that said, it is best to choose a name for your dog that does is no longer than two syllables, or three at most. This way, your dog will be able to learn their new name sooner.
Votes
Name
Vote
3

Bernard

German name meaning "brave as a bear"

3

Harte

English name meaning "brave, strong"

2

Courage

Means "bravery" or "valor"

2

Kuno

German name meaning "brave and gallant"

1

Baldo

German name meaning "bold" or "brave"

1

Adalard

German name meaning "noble and brave"

1

Abhi

Sanskrit name meaning "fearless"

1

Ajax

A warrior in Greek mythology known for his bravery

1

Erhan

Turkish name meaning "brave man"

1

Valor

Means "bravery" or "courage"

1

Conrad

German name meaning "brave counsel"

1

Baldwin

German name meaning "brave friend"

1

Calhoun

Celtic name meaning "warrior"

1

Akins

Egyptian name meaning "brave"

1

Leonidas

A brave warrior king from the city of Sparta

1

Coen

A variant of Conrad, which is a German name meaning "brave counsel"

1

Polo

English name meaning "brave wanderer"

1

Mato

Native American name meaning "brave"

0

Dustin

English name meaning "brave warrior"

0

Conley

Irish name meaning "valiant"

0

Eyal

Hebrew name meaning "courage"

0

Devlin

Irish name meaning "brave"

0

Basel

Muslim name meaning "brave"

0

Spartacus

A famous skilled gladiator

0

Alexander

From Alexander the Great, a Greek king known as a greatest general

0

Mert

Turkish name meaning "manly, brave"

0

Farrell

Celtic name meaning "brave"

0

Emery

German name meaning "brave, powerful"

0

Gerard

German name meaning "brave spear"

0

Willard

English name meaning "brave or resolute"
Votes
Name
Vote
2

Tarsha

Native American name meaning "brave"

0

Brava

Means "brave, valiant" in Esperanto

0

Bernadette

German name meaning "brave as a bear"

0

Rita

Means "honest, brave" in Sanskrit

0

Val

From "Valencia", a Latin name meaning "brave"

0

Prea

North-African name meaning "brave heart"

0

Everley

German name meaning "brave as a wild boar"

-1

Amory

English name meaning "brave, powerful"

-1

Nanna

Danish name meaning "daring, brave"

-1

Abhita

Sanskrit name meaning "fearless, brave"

-1

Leoma

German name meaning "brave woman"

-1

Arely

Hebrew name meaning "brave"

-1

Andrina

Greek name meaning "brave"

-1

Drea

Greek name meaning "courageous"

-1

Casey

Gaelic name meaning "brave"

-1

Rian

Gaelic name meaning "powerful and brave"

-1

Lenny

German name meaning "brave lion"

-1

Riku

Finnish name meaning "powerful, brave ruler"

-1

Vafara

French name meaning "brave"

-1

Jaunie

American name meaning "brave and courageous woman"

-1

Laure

From "Chrislaure", which means "brave" in French

-1

Vlora

Albanian name meaning "brave"

-1

Keena

Celtic name meaning "brave"

-1

Amerie

German name meaning "bravery and power"

-1

Basilah

Muslim name meaning "brave, fearless"

-1

Heroine

A female known for her bravery and gallantry

-1

Tibby

Old English name meaning "God's brave one"

-2

Kelsey

Irish name meaning "brave"

-2

Tracy

English name meaning "brave"

-2

Kabili

Swahili name meaning "honest, brave"
Community Dogs With Brave Names
Kuno
Male
Belgian Malinois
Taylors, SC
Personality
Intelligent
Intuitive
His father is Ringstar F-Kuno 2015 NVBK champion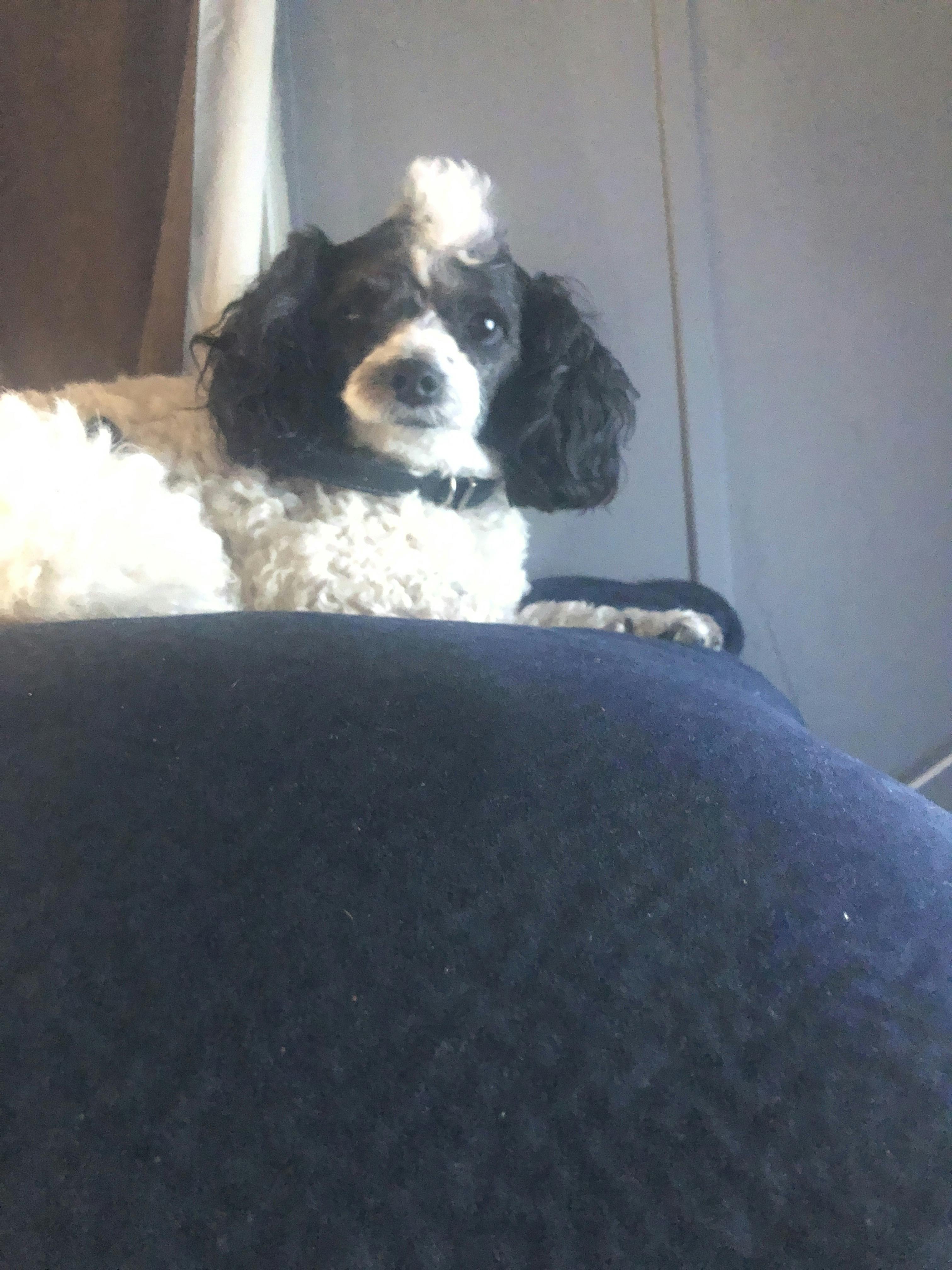 Maxwell
Male
Poodle
Saluda, SC
Personality
Brave
Adventurous
Friendly
Loyal
Sensitive
Dominant
Loving
My husband names him Maxwell because his hair was kinky and crazy and my husband said he looked like a Maxwell Smart. He immediately took to his name like it has always been his name