Introduction
Brindle dogs are strikingly gorgeous, with a different type of appearance than any solid or even multi-colored dog. This is because the colors blend together, but at the same time stand out individually. Many of the colors are shades of browns, tans, greys, and even gold, and not all brindles look the same. That is what makes them so unique! There are also many full-bred or mixed breeds of this color, such as Boxers, Bull Terriers, Akitas, and Mastiffs. Brindle coated dogs have different patterns, depending on the genes. Some brindle dogs have more of one color than the others and some have a blended mixture. When you see a dog with this type of coat, it definitely catches your attention!
Brindle Dogs in Pop Culture
Featured Famous Brindle Dog
Winn Dixie
In the movie
Because of Winn Dixie
, a young girl adopts a stray dog. She chooses to name the dog Winn Dixie because Winn Dixie is the grocery store in which the dog was found. Since the girl only lives with her father and is new to town, Winn Dixie helps comfort her loneliness. Abandoned by her mother, the ten-year-old needs love and companionship and finds that in her new companion. Winn Dixie also helps Opal meet new friends, and with his silly and mischievous antics, causes many of the townspeople to like him, and Opal, too!
The dogs that were brought in to play the part of Winn Dixie are a more rare breed known as a Berger Picard, or Picardy Shepherd. This breed is loyal, loving, and makes a great family dog. Berger Picards usually have a fawn or brindle coat that is wavy. 

If you have ever seen the classic movie The Wizard of Oz, then you know who Toto is! Toto is Dorothy, the main character's, loving and loyal dog. This brindle Cairn Terrier stays right by Dorothy's side throughout the whole movie.
Towards the beginning of the movie, Dorothy saves Toto from being taken by her mean neighbor, Almira Gulch. Almira tries to take Toto because she says he bit her. Once a horrific tornado comes through her town, Dorothy's house is whipped away into the strong winds and lands in the Land of Oz. Dorothy and Toto wake up in a strange place only to find that they are far away from home. Toto protects Dorothy as she ventures through Oz, following the yellow brick road, to find her way back to Kansas. 
The pair meet many friends along the way. They meet a Scarecrow, a Tin Man, and a Lion and they all tell her that in order to get back to Kansas, she has to meet the Wizard of Oz. Eventually, the three of them venture through Oz to try to get to Emerald City, where the wizard is. They encounter many obstacles along the way, like the Wicked Witch, the flying monkeys, and talking trees. 
Dorothy and Toto eventually make their way to the wizard and get back to Kansas where she belongs. Although Dorothy is the main character, Toto is always with her. He is almost like the main character, and even though he doesn't talk like the other fictitious characters that are not human, Toto's personality shines through by the way he walks, trots, and his facial expressions. It is very easy to fall in love with the little guy!
Brindle Dog Name Considerations
So, you may be thinking about or have already acquired a brindle coated dog. kudos to you, as this coloring is stunning! You will need to be prepared to receive many compliments on your new family member! Also, you will need to be ready to find the perfect name for your companion. 
Fortunately, since there are so many colors within a brindle coat, finding a name is easy. This is if you choose to name your dog after the appearance. Since there are so many shades of brown and gold, and plenty of shades of grey, red, and black, finding a name to suit your furbaby should be no challenge at all. 

You may lay eyes on your dog for the first time, and a name comes right to you. You may see your brindle dog and think  Caramel, or Mocha. Or, you may choose to get to know your dog for a few days before deciding on a name. You may consider a name based on a different characteristic, like your new dog's personality, anything funny you see your companion doing, or based on their actual breed. Any name you choose, though, will be special. It will be well thought out by you, the new dog owner!
Votes
Name
Vote
3

Pepper

Brindle coats are peppered with different colors

2

Bear

Bears can be brown or black

1

Tiger

Tiger strips are patterned

1

Copper

Shades of copper can be found on a brindle dog

1

Smoky

Some brindle dogs have shades of a greyish-brown

0

Shadow

Brindle coats are shadowy

0

Tanner

A name variation of the color tan

0

Cinna

Short for cinnamon

-1

Fleck

Flecks of color adorn a brindle dog

-1

Sarge

Like a solder in camouflage

-1

Tawny

Brindle coats have a tawny color

-1

Choco

Short for chocolate which is brown

-2

Marble

Brindle dogs have a marbled coat

-2

Khaki

A dark tan color

-3

Camo

Short for camouflage, a mixture of blended colors

-3

Mosaic

Many colors in a design

-3

Spotty

Brindle dogs have spotty fur

-4

Blotch

Brindle dogs have blotches of color

-4

Streak

Streaks of color are on a brindle coat

-4

Mash

Brindle dogs have colors mashed together

-4

Chestnut

A brown nut and the color of brown that can be found on a brindle coat

-4

Mahogany

A shade of brown

-4

Brownie

A delicious dessert of the color brown

-4

Hugh

Brindle dogs have different hues on their coats

-4

Shade

Brindle coated pups have different shades of color

-4

Walnut

A brown nut

-4

Splotch

Brindle dogs have splotches of color

-6

Tumbleweed

Tumbleweed is a shade of brown

-6

Desert

The desert has hues of brown

-6

Pat

Shortened for patchwork quilt
Votes
Name
Vote
7

Cammi

Shortened for camoflauge

7

Brinn

Shortened for brindle

7

Mocha

Mocha is a shade of brown

6

Amber

A golden color that can be found on a brindle dog

5

Honey

A lovely color found on brindle coats

5

Brandy

An alcoholic beverage that is brown in color

4

Shelly

Named after a tortoise shell

4

Cinnamon

A dark brownish-red color

4

Sandy

A name indicative to sandy, the color of light brown

4

Java

Another name for coffee

4

Olive

Of brownish color, can be in different shades

3

Goldie

Golden hues can be seen on a brindle dog

3

Sienna

Burnt Sienna is a shade of brown in the Crayola 64 box

3

Coco

Short for cocoa, which is brown

3

Sprinkle

Different sprinkles of color are seen on a brindle coat

2

Patches

Colors on a patchwork quilt

2

Latte

A latte is a coffee beverage that is brown

2

Pecan

A medium brown nut

1

Mary Jane

A delicious, classic candy of a brown color

1

Freckles

Freckles are brown, like on a brindle dog

1

Bruin

Of Dutch origin meaning brown

1

Kanella

Of Maltese origin meaning brown

1

Tabby

A synonym for brindle

0

Brassy

Some brindle coats can look brassy

0

Dotty

Dots of color can be seen on a brindle coat

0

Espresso

A strong coffee beverage that is brown

-1

Kalaidescope

A mix of beautiful colors

-2

Sepia

Another brownish color in the Crayola 64 box

-2

Coffee

A delicious beverage that is brown

-2

Almond

A brownish nut
Community Dogs With Brindle Names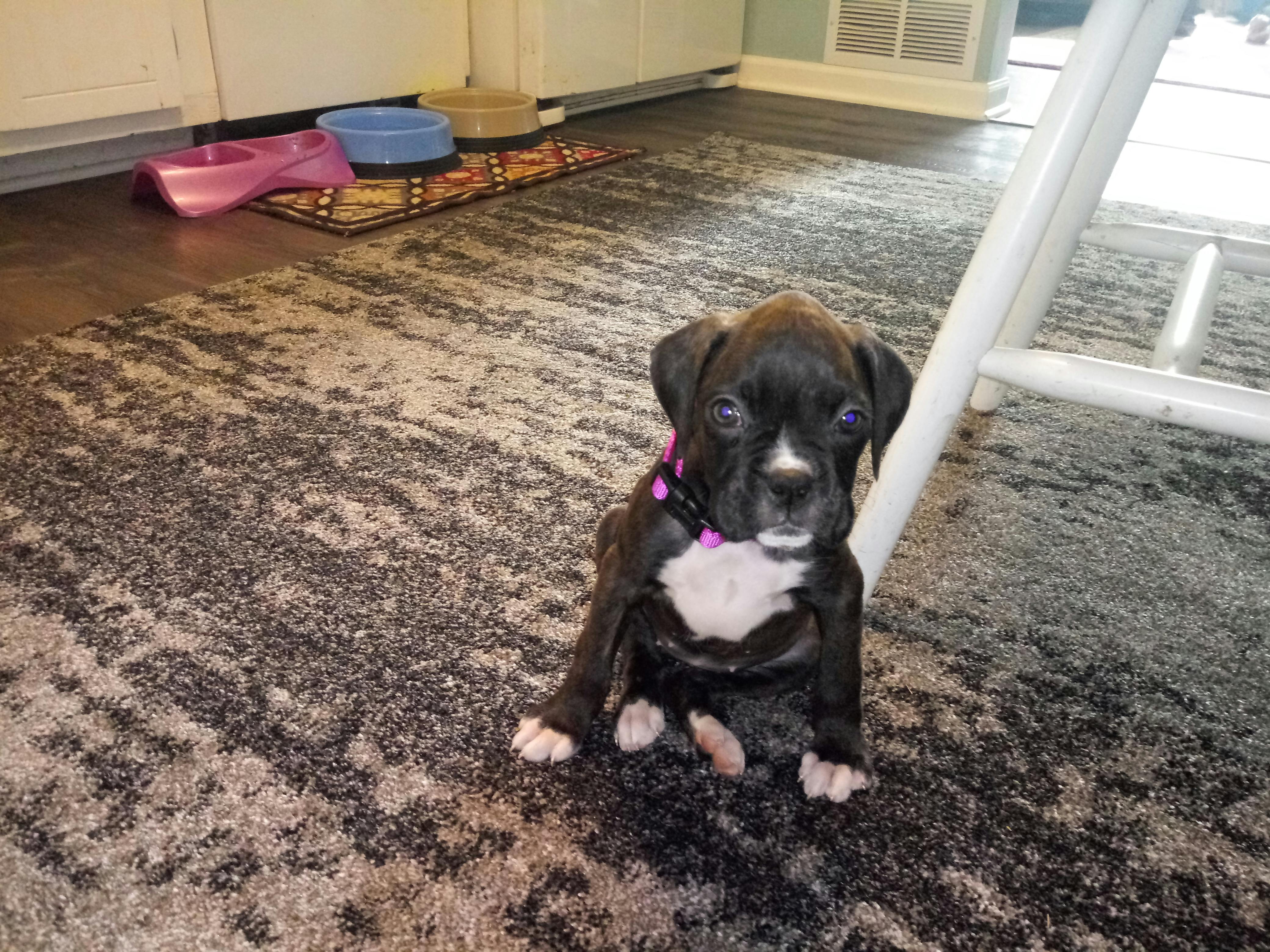 Raven
Female
Boxer
Flintville, TN
She's a 7 week old brindle female.Just got her so i will update her story in the future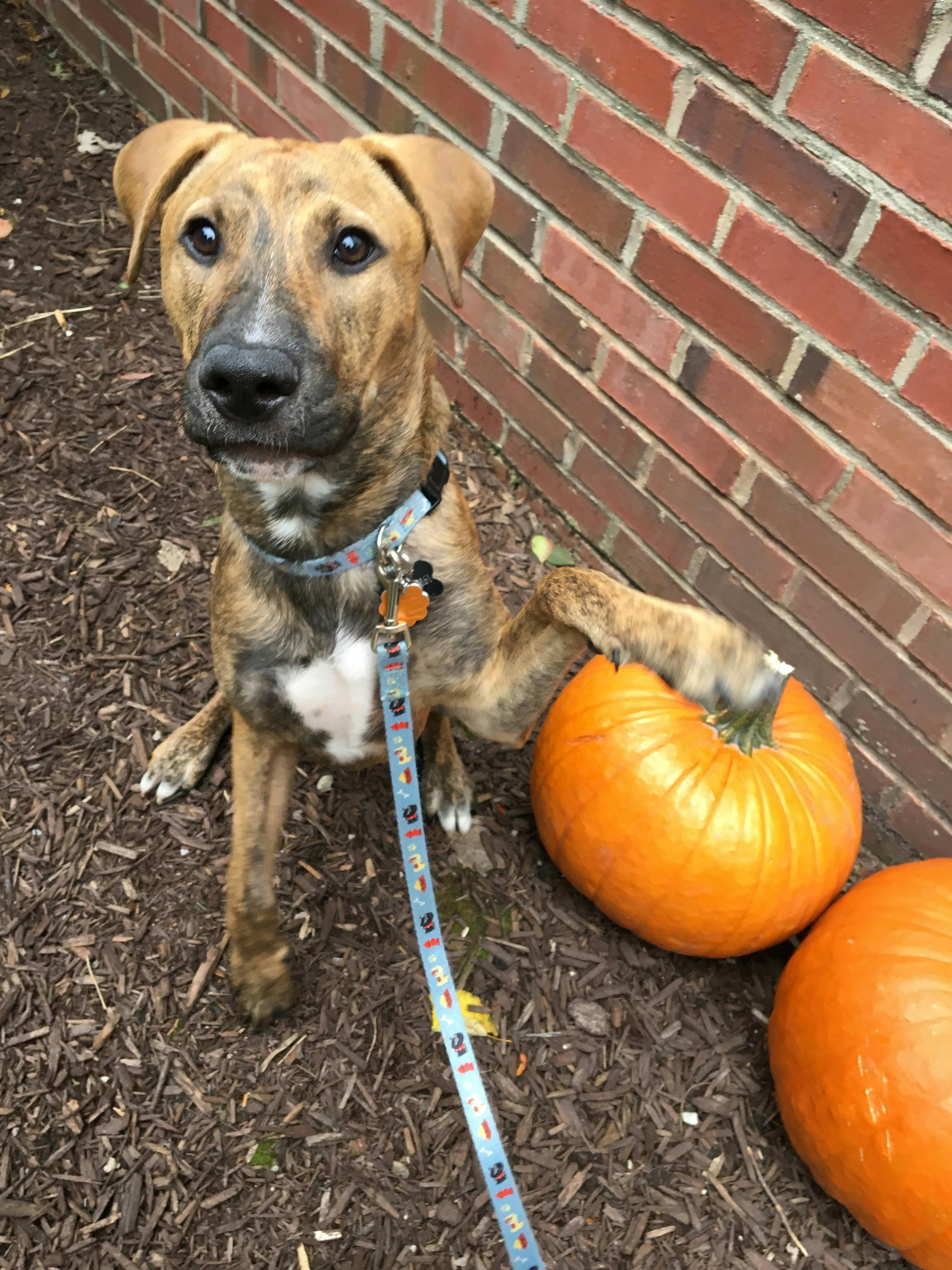 Tiggr
Male
Mountain Cur
Minooka, IL
Personality
Energetic
Affectionate
Floppy
I called him using various names and he responded to Tiggr!