Introduction
The Chinese Crested is one of the most unique dog breeds out there today. With their "crested" look, feathery tail, and spotted skin, there is no mistaking this breed for any other. With its extraordinary look comes an elegant and regal attitude. The Chinese Crested comes in two varieties – Hairless (without fur) and Powderpuff (with fur). Despite their name, the breed did not actually originate in China. Instead, their name is due to the breed being used as ratters in Chinese ships. Small, animated, high-spirited and extremely affectionate, Chinese Crested dogs can make for a perfect house pet and daily companion.
Chinese Crested Dog Names in Pop Culture
Featured Famous Chinese Crested Dog
Sam
Because of their one-of-a-kind look, it is no surprise that Chinese Crested dogs have been featured in international media. Unfortunately, the breed is often portrayed as an "ugly" dog. Perhaps the most notable Chinese Crested dog with this image is Sam. A pure-bred Chinese Crested, Sam was rescued in 1999 by Santa Barbara resident Susie Lockheed. Sam was blind, toothless and hairless. He made headlines, both local and international, because of his odd and undesirable appearance.
Sam's "ugliness" brought him fame and attention. From 2003 to 2005, Sam became a three time champion in the "World's Ugliest Dog Contest", held in the yearly Sonoma-Marin Fair in Northern California. Aside from the contest, Sam was also used for various roles. In 2005, he appeared in the Halloween special episode of Criss Angel's Mindfreak, which was shown in the A&E Network. In the special, Sam was dressed up in a costume and played the role of Criss Angel's cat. Aside from Mindfreak, Sam also made appearances in different forms of media, including England's Daily Telegraph, New Zealand radio and Japanese television. Sadly, at 15 years of age, Sam passed away on the 18th of November in 2005, due to heart problems and cancer. His death became a major news item, even several days after his passing.
Chinese Crested dogs are also prevalent in a number of feature films and television shows. The character Peek, featured in the 2001 film Cats & Dogs and its 2010 sequel, Cats & Dogs: The Revenge of Kitty Galore, is portrayed by a Chinese Crested dog. The films, as their titles suggest, are about a group of cats and dogs, their rivalry and how they are plotting against each other.
Another famous canine film wherein a Chinese Crested can be seen is in the 2010 comedy film Marmaduke. In this movie, the titular character is a Great Dane who moves to a new city and befriends a group of street canines. One of these gang members is Giuseppe, a Chinese Crested dog who seems to be afraid of everything. Giuseppe serves as one of Marmaduke's first friends in his new city and helps him adjust to his new life.
Numerous other characters in films and TV shows are portrayed by Chinese Crested dogs, including Krull the Warrior King from the film How to Lose a Guy in 10 Days, Fluffy in 102 Dalmatians, Halston in Ugly Betty, Lackey in Good Boy!, Romeo in Hotel for Dogs and Bobby in The Young and the Restless.
Chinese Crested Dog Name Considerations
Chinese Crested dogs are highly unique and are chosen by wannabe dog owners specifically because of their special traits. There are many qualities that set this breed apart from others, which is why they deserve a name that matches their individuality.
One of the first things that you will notice about the Chinese Crested is the coat, or lack thereof. This exotic look adds to the breed's distinctiveness. Cresteds are also tiny in physique and come in a variety of coat colors, including apricot, black, blue, cream, chocolate and tricolor mix. These physical characteristics may be used as a basis for a name.
Aside from the physical attributes, Chinese Crested dogs also have some special quirks and behaviors that make them stand out. They are known for being lively and dexterous, being able to leap and climb despite their small size. However, in spite of this agility, Cresteds can be lazy and do not enjoy running around like other dog breeds. The breed also falls under the "Velcro dog" category, which means that they can be immensely clingy towards their owners. In fact, they get easily attached to their masters and can become quite needy, to a fault. However, their loyalty knows no bounds and their devotion is admirable. Their many funny quirks and temperament may become a source of inspiration for a name. 
Male Chinese Crested Dog Names
Votes
Name
Vote
2

Banzai

Japanese battle cry

1

Spunky

Slang term meaning "determined"

1

Beau

Means "handsome" in French

1

Chico

Means "small boy" in Spanish

1

Devo

Derived from "devotion"; for your devoted pup

1

Shorty

Slang term referring to someone short

1

Archibald

German name meaning "genuine"

1

Baldwin

German name meaning "brave friend"

1

Neutron

A subatomic particle

1

Poco

Means "a little" or "somewhat"

1

Dobby

After the famous house elf in the Harry Potter franchise

1

Nano

Denoting something very small

1

Pip

A small seed of a fruit

1

Tardos

Hungarian name meaning "bald"

1

Stalk

To follow around or pursue steadily

0

Pequeño

Means "little" in Spanish

0

Fizz

Means "bubbly" or "effervescent"

0

Chipper

Referring to someone upbeat

0

Atom

Smallest unit of an element

-1

Ace

Means "one" in Latin

-1

Yoda

A fictional character from the Star Wars franchise

-1

Calvin

French name meaning "bald"; funny name for your hairless pup

-1

Peewee

Slang term used to refer to something or someone small

-1

Buddy

Another term for "friend" or "pal"

-1

Mini

Used to describe a miniature version of something or someone

-1

Hairball

A ball of hair; ironic name for a hairless Crested

-1

Rollick

To act in a jovial way

-1

Hobbit

A fictional race of dwarf-like beings

-1

Yoshi

Means "good" and "virtuous" in Japanese

-1

Baldy

An informal term referring to someone bald or without hair
Female Chinese Crested Dog Names
Votes
Name
Vote
1

Tiny

Another term for "small"

1

Adora

Means "loved child" in Latin

1

Bambi

Means "little girl" in Italian

1

Chica

Means "little girl" in Spanish

1

Bonbon

Means "marshmallow" in Spanish; for your sweet pup

1

Bonita

Means "pretty" in Spanish

1

Pippa

English name meaning "to love"

1

Venus

The goddess of beauty in Roman mythology

1

Button

A small knob found on clothes

1

Jamila

Arabic name meaning "beautiful"

1

Cher

Means "darling" in French

1

Amie

Means "loved" in French

1

Nugget

A small chunk of gold or another mineral

1

Aphrodite

Goddess of love and beauty in Greek mythology

1

Aika

Means "little love" in Japanese

1

Shotzey

Means "loved one" in German

1

Petunia

Native American name meaning "flower"

1

Cara

Irish name meaning "friend"

1

Pixie

A small supernatural being in folklore

1

Mausi

A German term of endearment

-1

Belle

Means "beautiful" in French

-1

Cuddles

From "cuddle", which is an act of holding someone close

-1

Tinker Bell

A fictional fairy character in Peter Pan

-1

Smooch

Another term for "kiss"

-1

Dollface

A gangster term of endearment

-1

Buttercup

A small wild flower; also used as a term of affection

-1

Sweetie

Slang term of affection, shortened version of "sweetheart"

-1

Bebe

Means "baby" in French

-1

Minnie

The name of famous Disney character Minnie Mouse

-1

Precious

Means "valuable" or "prized"
Community Dogs With Chinese Crested Names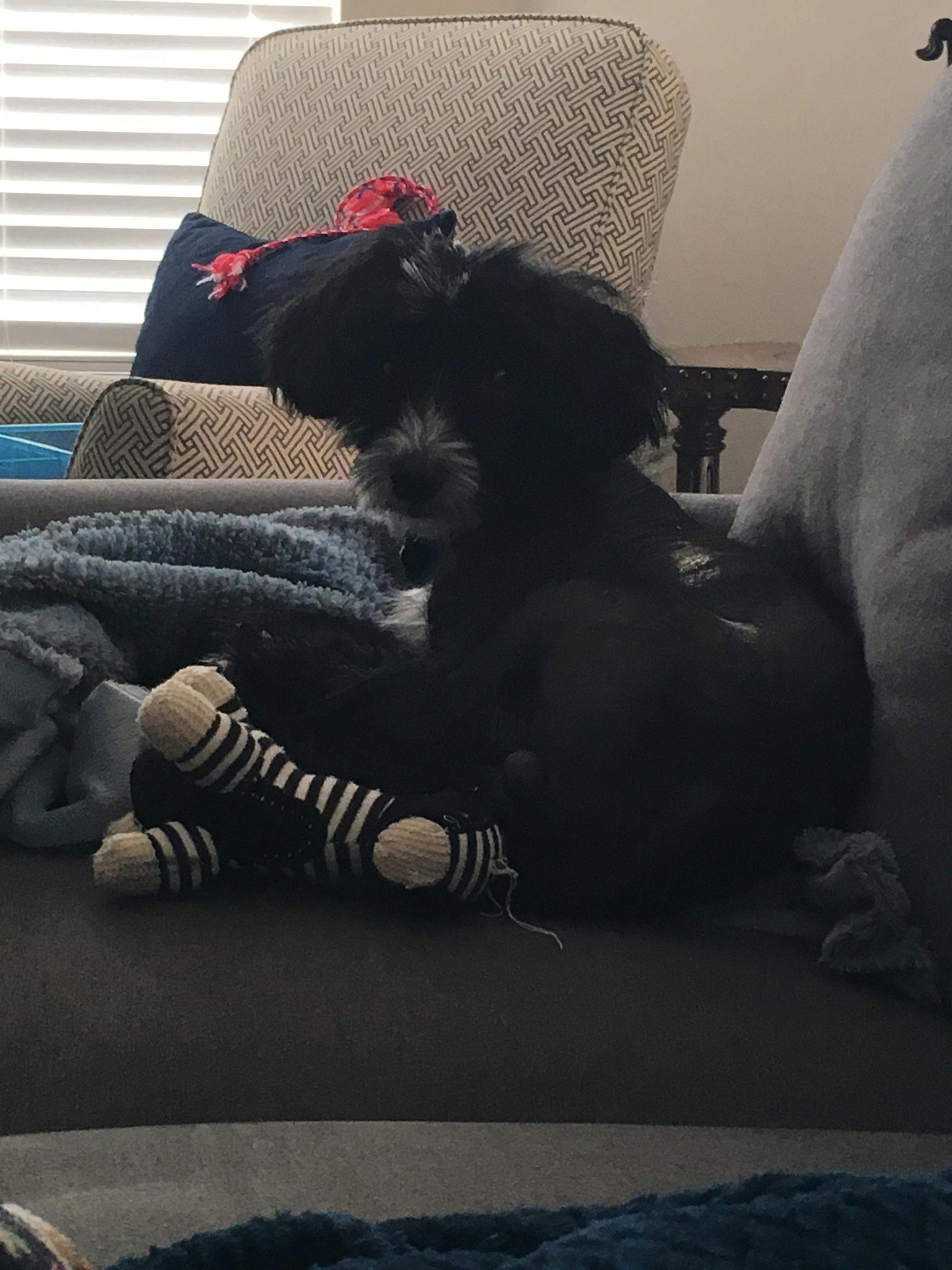 Henry
Male
Chinese Crested
Centerville, KS
Personality
snuggly
Passionate
Loving
Cute
Henry was very nervous when we got him and the breeders had already named him Henry so we kept the name as to not confuse him.